Paula Deen made three apology videos after admitting to using using racial slurs (and not showing up for a TODAY appearance to discuss it) but her many mea culpas weren't enough to save her job -- Food Network announced Friday her contract won't be renewed.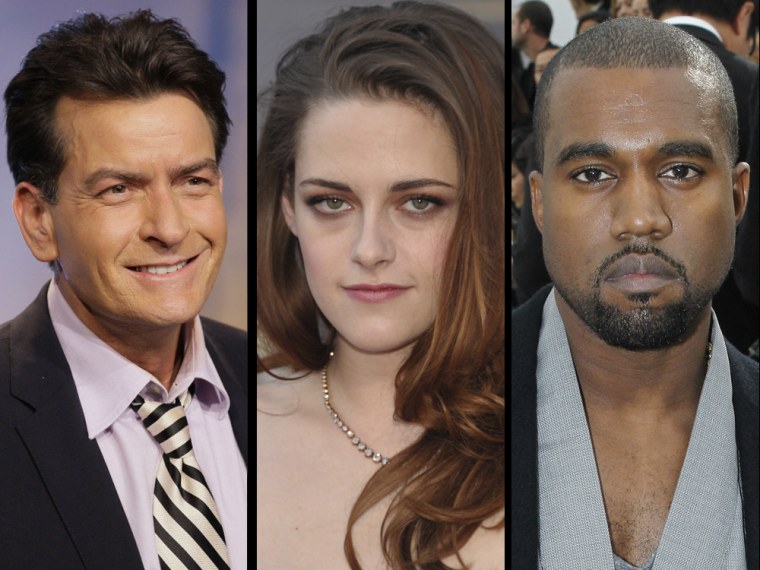 Deen's not the only celebrity who's had to publicly admit an error after a less-than-stellar act. Here are eight eating-crow moments.
Kristen Stewart: Sorry for cheating
In 2012, Kristen Stewart had a fling with Rupert Sanders, the married director of her film, "Snow White and the Huntsman." The "Twilight" star apologized not only to her boyfriend Robert Pattinson, but to her fans, saying "I apologize to everyone for making them so angry. It was not my intention." That didn't stop the terribly tacky T-shirts braying, "Kristen Stewart is a Trampire."

Fans know her best as Bella from "Twilight," but the young actress already has an extensive movie career.
Lance Armstrong: I'm sorry, but everybody did it
Cyclist Lance Armstrong had the right venue for a public celebrity apology for his doping -- he went on TV with Oprah Winfrey, the queen of the celebrity confessional. But he wanted to apologize about as much as he wanted someone to pass him in his numerous Tour de France races. "I made my decisions, they are my mistakes, and I am sitting here today to acknowledge that and to say I'm sorry for that," he said. But he also went on to say using banned substances for a cyclist was like having "air in our tires." Cycling fans viewed the whole apology as a lot of hot air.
Tiger Woods: 'I had affairs'
Thanksgiving 2009 wasn't a nice family occasion for golfer Tiger Woods. His well-publicized one-car crash revealed that he was cheating on his wife, the mother of his two young children. "For all that I have done, I am so sorry," Woods would say in his apology months later. "I had affairs, I cheated. What I did was not acceptable, and I am the only person to blame." He piled praise on wife Elin, but there wasn't enough praise in the world for what she'd found out. They divorced that August.
Mel Gibson: Where did those slurs come from?
Actor Mel Gibson bragged that he "owned Malibu" when he was arrested there for DUI in 2006, but he only got worse when he started bellowing anti-Semitic remarks to the Jewish police officer arresting him. "I said horrible things to him," Gibson later admitted. Later at the station, he called a female officer "sugar (expletive)." In his televised apology, Gibson laughed uncomfortably and claimed he didn't know where the slurs came from. The apology didn't convince everyone, but in 2011, Robert Downey Jr. begged his fellow actors to forgive Gibson, saying he'd helped him through his own struggles and deserved compassion.

From "Mad Max" to "Braveheart" to "The Passion of the Christ," Gibson's rocky road to success and infamy.
David Letterman: Funny man gets serious
Talk-show host David Letterman couldn't apologize without a little humor. When a 2009 extortion plot revealed that Letterman had a relationship with his former show assistant, the comic joked that even "the navigation lady (in my car) wasn't speaking to me." Then he got serious, apologizing to his wife and his staff. But the jokes were everpresent. He also said, "This is only phase one of the scandal. Phase two, next week I go on 'Oprah' and sob."
Hugh Grant: What the hell WAS he thinking?
Jay Leno got right to the point when actor Hugh Grant went on "The Tonight Show" after being caught with a prostitute in 1995. "What the hell were you thinking?" Leno asked. Grant ran down the excuses he could have used and then discarded them all, admitting, "I did a bad thing and there you have it." His willingness to face up to his "bad thing" makes his apology one of the best-received in a crowded field of star "I'm sorrys."
Charlie Sheen: I'm sorry, kind of, but not really
Google "Charlie Sheen apology" and you fall down a rabbit hole of options. "Sheen apologizes for party comments," "Sheen apologies for gay slur," "Sheen apologizes to Ashton Kutcher." But one of our favorites was when Sheen apologized to "Two and a Half Men" co-star Jon Cryer, whom he'd called a "turncoat, a traitor and a troll," apparently for not going to bat for Sheen when he was fired from their hit sitcom. Sheen apologized, then took half of it back because he was apparently still mad. "It's a little bit a half apology," he said. "An apol."

The actor's found success in films like "Wall Street" and TV shows like "Two and a Half Men," but his off-screen life hasn't been as smooth.
Kanye West: Mom wouldn't be happy
Like Hugh Grant, rapper Kanye West took to "The Tonight Show With Jay Leno" to apologize for his infamous 2009 interruption of Taylor Swift at the MTV Video Music Awards. "It was rude, period," he said of his behavior. Then Leno asked him what his late mother Donda would've thought of the incident. West, who was very close to his mom, paused for a long break before admitting she wouldn't have been happy. Mother knows best.