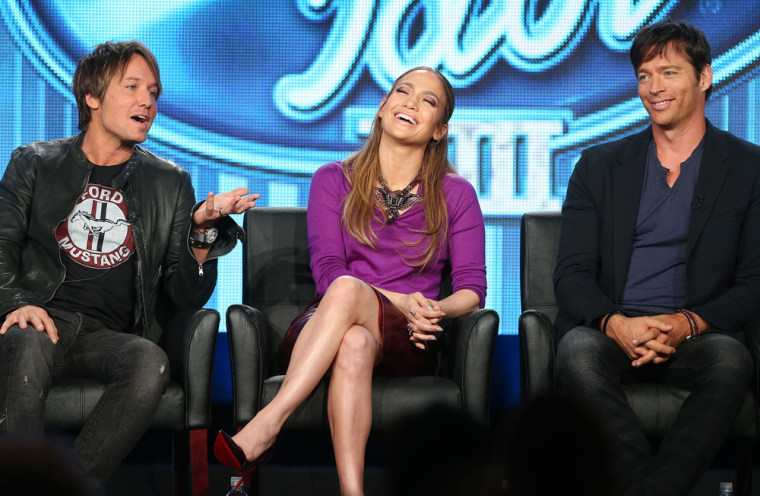 Fox's "American Idol" returns Wednesday with a new lineup of judges, and unlike last year, the trio actually appears to get along. During the Television Critics Association press conference on Monday, the three judges— Jennifer Lopez, Keith Urban and new addition Harry Connick Jr. — gathered to offer a few glimpses into what to expect for the show's run.
"You want to see people having fun and having a laugh," host Ryan Seacrest said about the "Idol" judges. "I mean, this group here definitely does that. They take the job very seriously, but we have so much fun doing it. I think that definitely shines through."
Last season Connick was a crowd- and contestant-favorite mentor, so bringing him on the show felt like a no brainer. The crooner loved being a guide for the musicians, and now his turn as judge requires he take a step away from "fostering talent."
"The only frustrating thing about being a judge is that's not really what the job is," Connick reflected. "I love the idea of fostering a talent. That's what Randy (Jackson) gets to do, and he's going to be amazing at it, by the way. But just to be able to have a dialogue about music and entertainment and careers in this business is so stimulating to me."
Last year's lone remaining judge, Urban, told the group how excited he was to work with this year's group of contestants.
"I think we just have such a mutual respect for these guys and girls," Urban noted, reminding everyone how nerve-racking it must be to audition for the panel of judges. "It's a really daunting thing. I never forget that. They've got no microphone, no audience, no band, no music — nothing. They stand in front of us and sing. All three of us have so much respect for that."
Sticking to the familiar format of auditions, performances and cuts until the pool of musicians is whittled down to a winner remains the same this year, but "American Idol" producers did introduce some new elements to keep the audiences engaged. A single-occupancy room where each contestant waits before they audition for the Judge's Panel known as "The Chamber" is featured in Wednesday's episode and offers a chance for audiences to see just how nervous or ecstatic the performer is before they put themselves out there.
And the time between Hollywood Week and the live shows has been shortened with the intention to introduce the contestants earlier, allowing for the audience to make connections during a single Tuesday, Wednesday and Thursday round called "Rush Week."
Lopez believes the panel of judges provides this year's contestants with "all our experiences from over the years" but she does have one wish for them: to stop singing the judges' songs in auditions. "You want them to be great. You don't want to have to say no to the person who's singing your song."
The thirteenth season of "American Idol" debuts Wednesday at 8 p.m. on Fox.