Miranda Lambert took home an incredible fourth straight female vocalist of the year award at the CMAs Wednesday, but newly-trim figure was a major talker, too.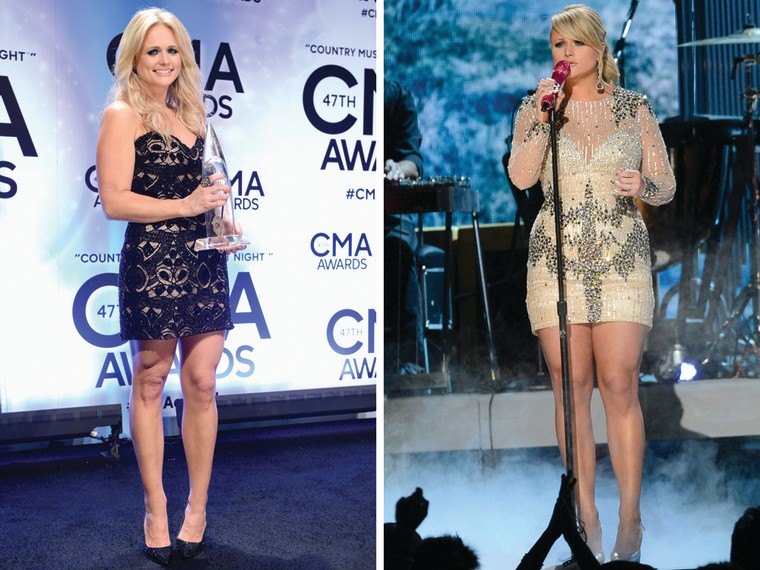 Lambert started the evening alongside her husband Blake Shelton, rocking out a blue halter-top dress bedecked in beads, then she changed into a lacy, strapless black number. 
On the red carpet, Lambert spoke of her trim look to E! News telling them it's about working out, drinking juice and "just running, running around."
But her weight fluctuates, she admitted, and that's just an annoyance she knows she'll have to live with. "I'm going to be 30 in like four days, so I'm like, 'I need to get ahead of this thing!'" she continued. "They say when you hit 30 it doesn't get easier."
That said, she told People that "I didn't give up really a lot" of foods she loved to get slim. "Just Cheetos, mostly! But I might have some tonight, just to celebrate."
Shelton was certainly appreciative of his wife's fresh look:
Fans chimed in, too:

This was Lambert's most public outing since turning her always-fab bod into a more slender version, though she did show up Tuesday at another major industry event, the BMI Awards, in a form-fitting little black dress that hinted at the changes she'd undergone since appearing at the Grammys in February.

But based on what she's said before, Lambert is aware that ultimately it her size is about health, not just looking good.

Lambert told Self magazine in 2012, "I don't care about being stick-thin. I don't want stuff to jiggle. Really skinny actresses make me hungry," she said. 
"I see them and think, Honey, you need to eat! I'm lucky I don't have to live like that," she added. "I feel my best when I'm a toned, not flabby, size 8. Women come up to me and say, 'You're beautiful and confident,' and that makes me feel I can be, too."