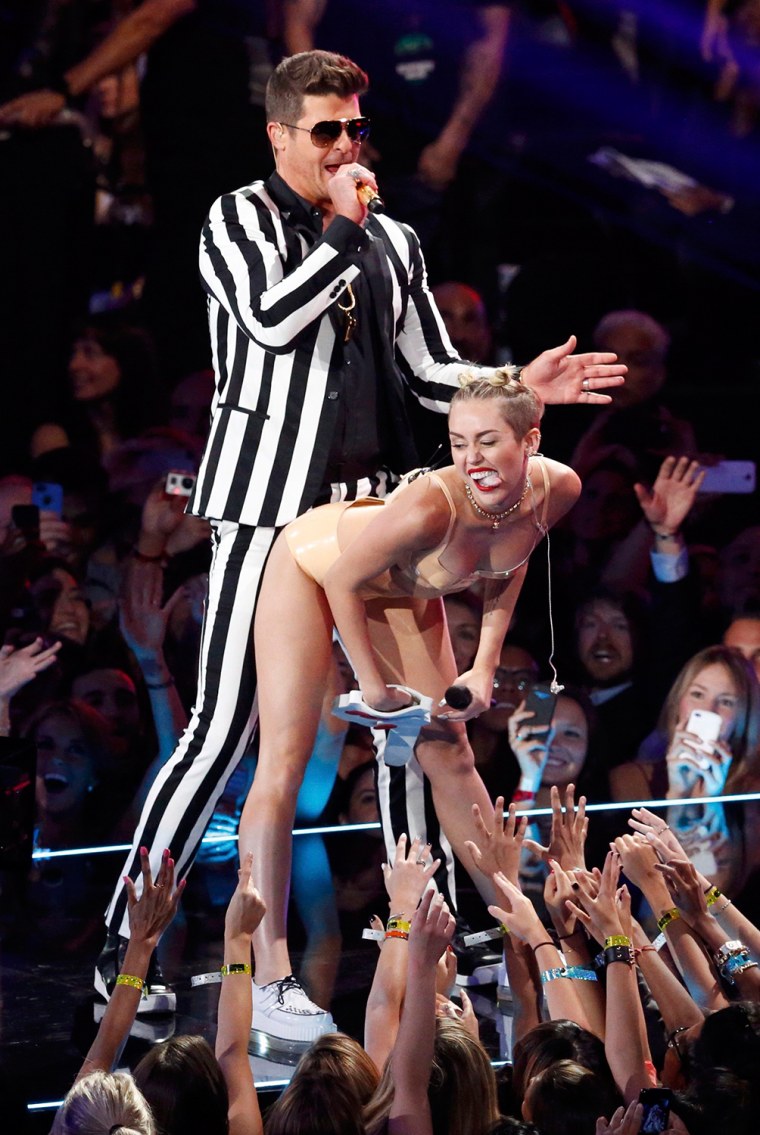 Justin Timberlake may have brought "SexyBack" on MTV's Video Music Awards Sunday night, but it was Miley Cyrus who turned things embarrassingly raunchy.
Crotch grabbing? Check. Stripping and gyrations worthy of a strip club? Done. Prancing around in flesh-toned latex bra and panties? No prob. Grabbing and sticking her face in a dancer's rear end? You better believe it. Excessive tongue? As if you had to ask. 
And that was just during the first part of her performance, when she pranced about with dancers dressed as giant teddy bears for "We Can't Stop."
Things got even dirtier when Robin Thicke joined her on stage to perform his massive summer hit, "Blurred Lines." That's when Ms. Cyrus If You're Nasty decided to twerk her behind right up against the singer's crotch, and also ran her giant foam finger down the front of his pants.
His wife, Paula Patton, must've been so pleased.
During her risque act, MTV's cameras panned the audience, and some of the reactions were priceless. Rapper Drake was caught looking down at the floor. Rihanna looked bored. The One Direction guys appeared expressionless.
Comedian and actor Kevin Hart later joked about her performance, "Better go get that pregnancy test after all that grinding!"
The former "Hannah Montana" star, who has been distancing herself from her sweet image the last few years by showing off more skin and dirty moves, recently explained the change as "puberty." (Seems a bit delayed, seeing as how she's already 20.) While she thought she was being all shades of sexy and grown up at the VMAs, audiences instead were cringing in embarrassment for her. 
At least she called it an early night, heading home before the show even ended.
One can only hope she'll watch her performance with fresh eyes in the morning and realize that going through puberty doesn't have to mean going to such extremes in front of a national audience.