Organizers behind a hip-hip music video featuring a cameo by Michelle Obama hope the first lady's appearance will help encourage kids to get active.
The song featured in the video is one of 19 on an album from the Partnership for a Healthier America, in collaboration with Hip Hop Public Health. The two organizations teamed up with celebs to produce songs they hope will motivate children to exercise and be more physically active.
The project is not part of the first lady's "Let's Move!" initiative, but has been confused with Obama's pet program because both share similar goals: To encourage kids to make healthier lifestyle choices and to lower the national childhood obesity rate.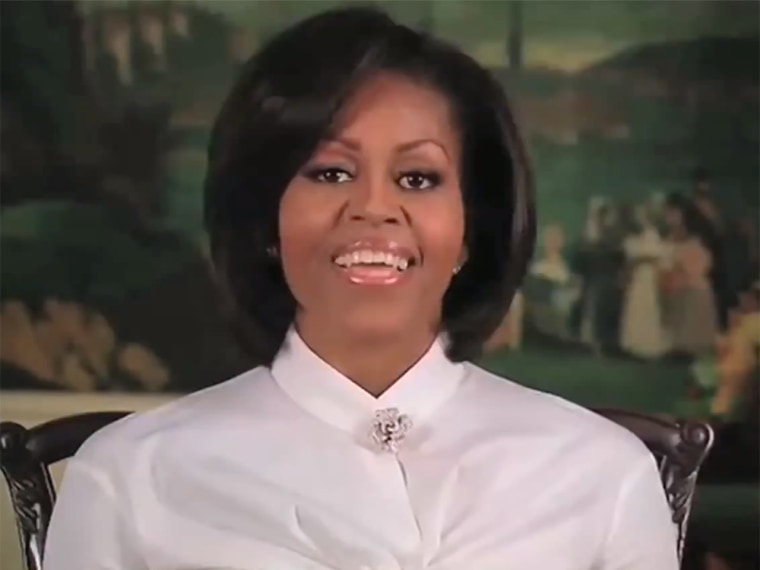 "What this underscores is the idea that you don't need special apparel, you don't need a membership card. The simple act of getting up and dancing is a great way to be active," Drew Nannis, PHA's chief marking officer, told TODAY.com.
The full 19-track album, which will feature a combination of pop and hip-hop songs, will be free for download beginning on Sept. 30.  
In the video for the album's first single, "Everybody," the first lady talks about her efforts to battle childhood obesity. The song is sung by Jordan Sparks, a former American Idol winner, and features humorous rap passages by Dr. Mehmet Oz.
"I don't think they intended to do a video until they saw Dr. Oz rap in the studio. At that point they knew they had to do a video," Nannis said.
"Everybody" was released June 3 and can be downloaded for free on PHA's website, where the full album also will be available in late September. In addition to Sparks, other artists featured on the album include Ashanti, Doug E Fresh, DMC, and Hip Hop MD.