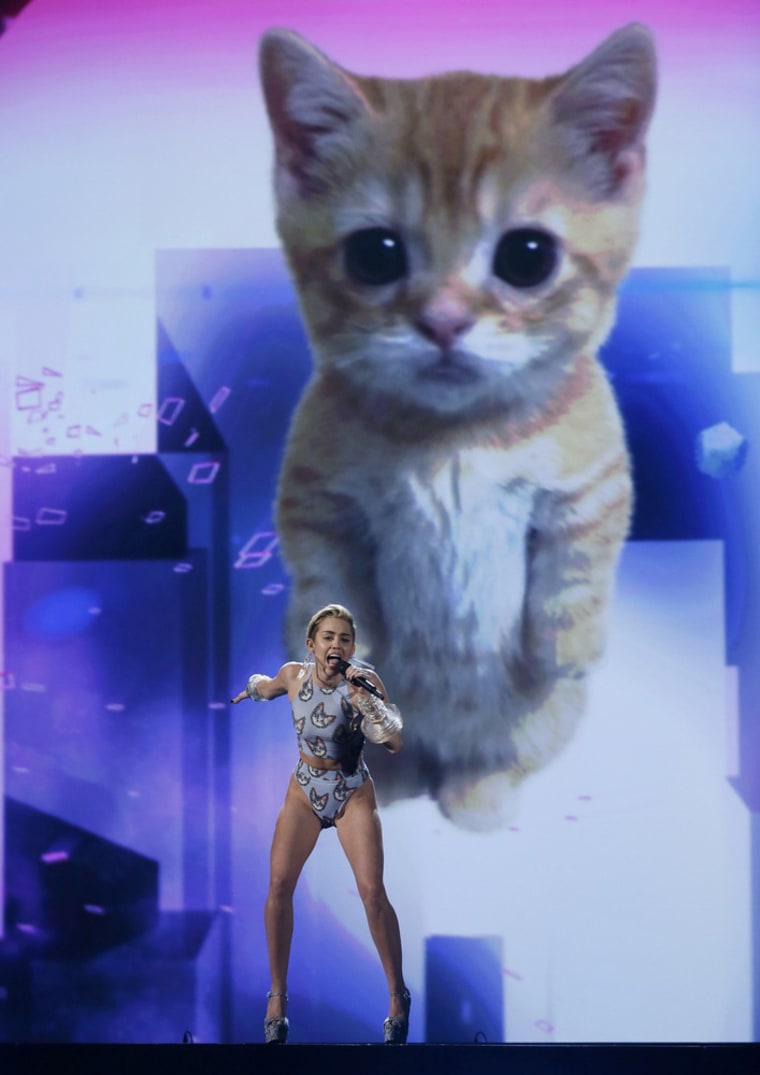 Miley Cyrus has twerked, possibly lit up a joint on stage, and danced with teddy bears on awards show stages this year, so for Sunday's American Music Awards, the big question was: Would she try to top herself? 
Nope. Instead, Cyrus, who turned 21 on Saturday, went the other way, into the realm of sweet, cute and innocent. She just wanted to give audiences a big fuzzy kitten to look at while she sang "Wrecking Ball" at the Los Angeles awards ceremony.
That's right: Cyrus, wearing a skimpy but not-too-revealing bikini outfit festooned with little cat heads, closed out the show with a soulful rendition of her hit while standing against a background that resembled a screensaver circa 1996, complete with a giant floating (and sometimes, crying) kitten that lip-synched the song along with her. No nude bra and panties, no foam finger, and no sledgehammer licking. Although as the song ended, the kitten did stick out its tongue and wink at the crowd, Miley-style.
It was a bit psychedelic, a bit goofy, and will almost certainly be interpreted dozens of ways by a hundred fans, critics and media outlets ... but it felt, maybe, like a conciliatory gesture from the artist, who has been generating headlines for months for her controversial moves. 
Cyrus' cat-centric number had artist of the year winner Taylor Swift rocking out. "I'm really out of breath," Swift said as she accepted the night's biggest award shortly after Cyrus performed. "I was really going hard with the 'Wrecking Ball' thing."