"Antiques Roadshow" traveled back in time yet again in a new episode which aired Monday, and this time the PBS hit brought along a passport.
A 1964 passport belonging to the late great singer Marvin Gaye was appraised on the show after a man who used to work for the Motown Museum in Detroit said it literally fell into his hands out of a record album he bought at an estate sale for 50 cents. (Video of the episode is on the PBS web site.)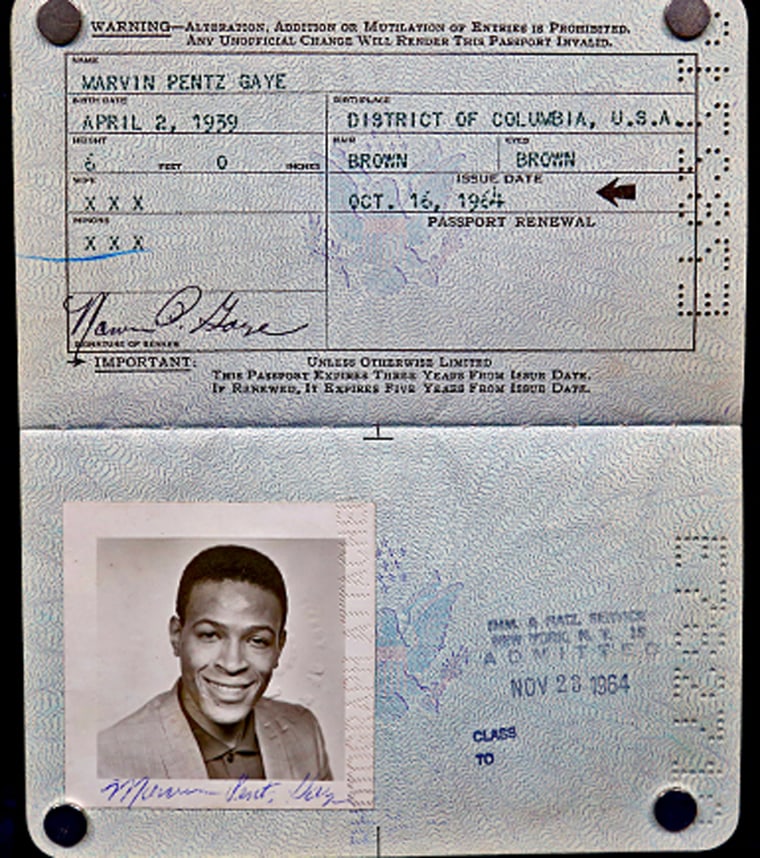 The man said he had gone to the house of a musician who had died to pick up some items the family wanted to donate to the museum. The man returned that weekend to buy some albums and 45s from the musician's collection. The musician had worked with Gaye, but it's unclear how Gaye's passport ended up stashed in the record. The man on "Roadshow" made the discovery when he returned home.
"The thing I'm in love with is how young he is here," appraiser Laura Woolley said as she noted that the document was dated 1964. Born April 2, 1939, Gaye was 24 years old at the time of his smiling passport photo. She said this was after Gaye had added the "e" to his last name.
"This is such an innocent time, and people love passports because they also show where he was all over the world, what he's doing during these years — he's obviously traveling, he's touring," Woolley said. "People also like them because we know that they're real signatures, because you have to sign your own passport."
When the man told Woolley what he paid for the records at the estate sale, her reaction was, "Wow. For insurance, I wouldn't put less than $20,000 on the passport if you were to insure it."
"Are you kidding me?" the man said. "Wow. I never would have thought. I mean, I'm just shocked. I mean ... wow. Oh gosh, thank you."