Lupita Nyong'o is People's Most Beautiful person for 2014, the magazine revealed Wednesday morning on TODAY. The Oscar winner with the perfect smile and the style to match beams from a cover that promises "her inspiring story."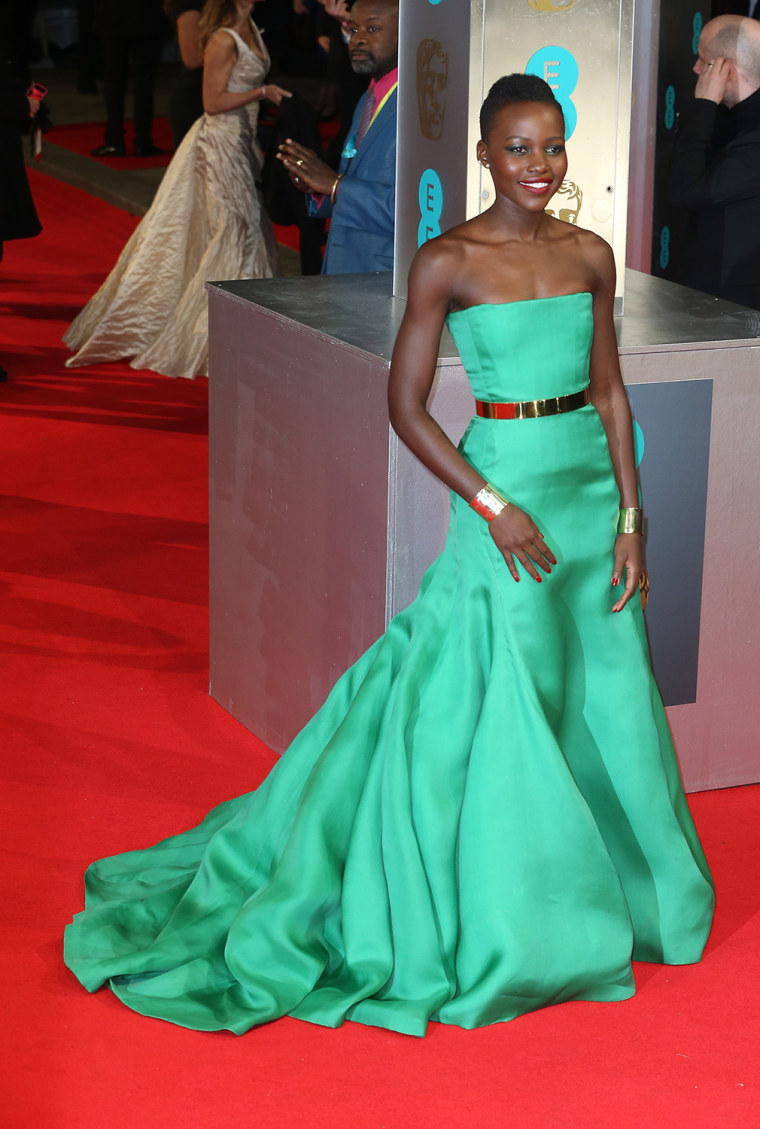 For the 31-year-old Mexican-born Kenyan actress, it's a story that largely came to light during awards season as she collected trophies at every turn for her role in the film "12 Years a Slave." Along the way she turned heads on all the red carpets upon which she set foot, as her poise and beauty landed her on best-dressed lists and countless other magazine covers.
PEOPLE: Most Beautiful women, then and now
With the full range of the color spectrum at her effortless disposal, Nyong'o wowed in red Ralph Lauren at the Golden Globes and stole the show in emerald green Dior at the BAFTAs. 
Appearances in purple, pink, white and more were only trumped when she completed her run as a picture of perfection in blue Prada at the Oscars.

TODAY's Savannah Guthrie recently sat down for an exclusive interview with Nyong'o, who expressed her appreciation for the People cover nod.

"I'm flattered, but flattered sounds like such a flighty word, you know?" Nyong'o said. "I'm flattered with, like, gravitas under it."
When she was honored in February at the Black Women in Hollywood luncheon, a speech she gave on beauty and "dark beauty" in particular touched a viral nerve. She said she remembered a time when she felt "unbeautiful," when she was "teased and taunted for her night-shaded skin" and how her complexion "had always been an obstacle to overcome."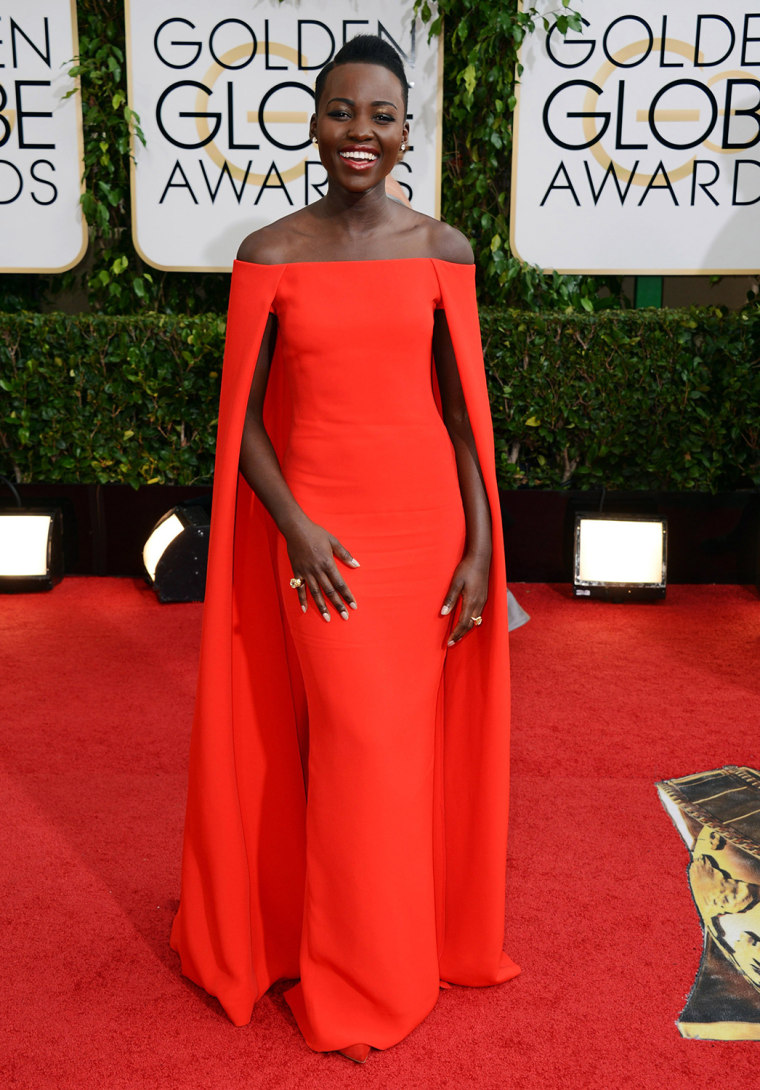 Nyong'o said her mother's words encouraged her to understand that "you can't rely on how you look to sustain you. What does sustain us ... what is fundamentally beautiful is compassion for yourself and for those around you. That kind of beauty enflames the heart and enchants the soul."

"What an incredible journey to go from that feeling to being on the cover of this magazine," Nyong'o told Guthrie. "I mean, you could have never told me that that would happen when I was 16 and insecure about my complexion."
PEOPLE: From child stars to grown-up beauties
Earlier this month, the French makeup and skincare giant Lancôme named Nyong'o its first black ambassador for its product line, which the actress called an honor.
"I am particularly proud to represent its unique vision for women and the idea that beauty should not be dictated, but should instead be an expression of a woman's freedom to be herself," Nyong'o said.
Bright yellow, sky blue, rich red, shimmering gold — there's not a color that the fashionably adventurous Oscar-winning actress hasn't conquered.
With more than 1 million followers on Instagram, Nyong'o has also shared her own seemingly humble reaction to her quick rise to fame and the praise bestowed upon her. Through selfies and re-grams of magazine covers and photos of her style choices for assorted events, the feed only bolsters what People magazine asserted on Wednesday.
When asked by Guthrie about the craziest thing to happen during her run as a newfound "it girl," Nyong'o said, "I have a good one for you."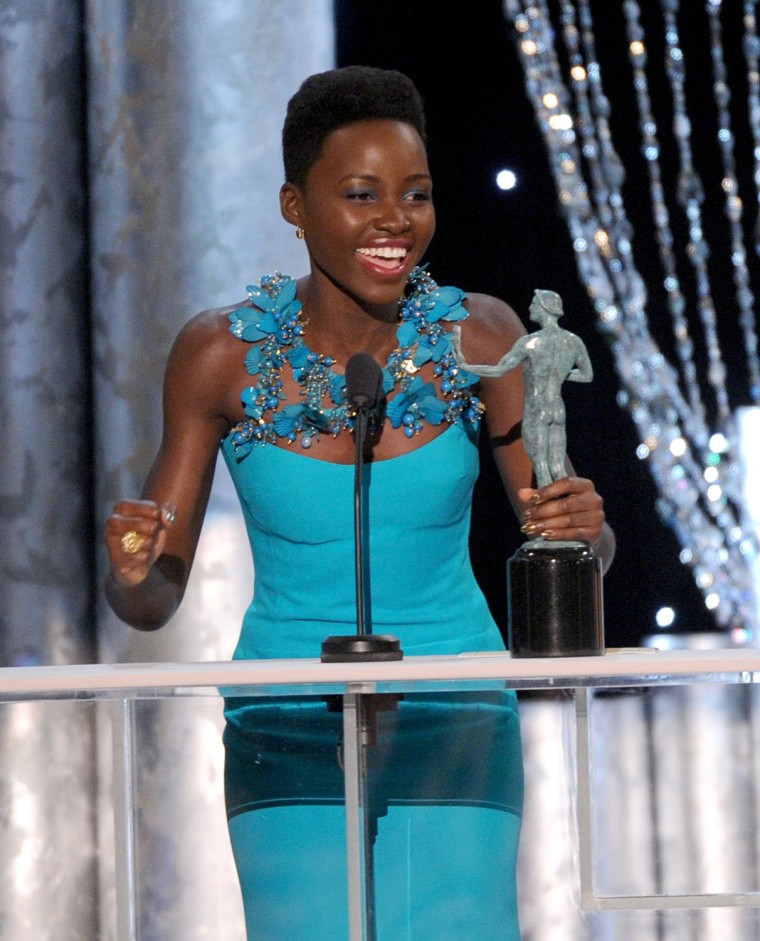 "I was sitting, getting my hair cut, and someone passed by, and peered in and said, 'You're really beautiful.'" Nyong'o told Guthrie. "And I said, 'Thank you.' And he said, 'You know that girl in '12 Years a Slave,' that actress? You look just like her.' I said, 'Thank you so much.'"
This is the 25th year of People's Most Beautiful issue. Michelle Pfeiffer graced the first cover in 1990, and Julia Roberts has the most cover appearances, with four (1991, 2000, 2005, 2010). The magazine also noted that Halle Berry has appeared in the pages of the issue 16 times and once on the cover (2003). Three men have graced the cover: Mel Gibson (1996); Tom Cruise (1997); and Leonardo DiCaprio (1998).
Last year's Most Beautiful person was Gwyneth Paltrow.
Others on this year's list of 50 include Keri Russell, Jenna Dewan-Tatum, Mindy Kaling, Kerry Washington, Pink and Amber Heard.
Follow Kurt Schlosser on Google+