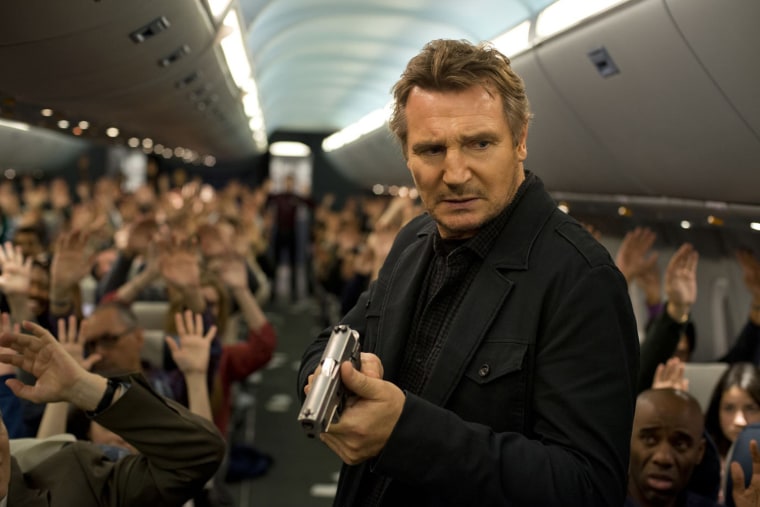 When did Liam Neeson, that Oscar-nominated rock of an Irish actor who starred in "Schindler's List" and "Michael Collins," become the toughest action hero of the day?
When actors pass 50 they generally transition into, let's say, less physically demanding roles. You know, fathers and mentors and sturdy authority figures offering sage advice to the younger folk doing all the running around. But at age 55, Neeson took the lead in "Taken" as a retired special agent who cuts a violent swath through the French underworld to find his kidnapped daughter. He's since led "The A-Team," battled a pack of wolves in "The Grey," and gone continental badass again in "Unknown" and "Taken 2."
It turns out that old dogs can indeed learn new tricks and this month he's got competition. While he takes on hijackers in a transatlantic flight in "Non-Stop," a title that could just as easily describe Neeson's reinvigorated career, Kevin Costner heads back into the field as a veteran Secret Service agent on the trail of a terrorist in "3 Days to Kill."
Veteran action stars on the screen aren't anything new — just look at Sylvester Stallone and friends reliving old times in the "Expendables" reunions and Bruce Willis goofing through the "Red" films with his senior citizen squad. But those guys made their reputation beating up bad guys, dodging bullets and surviving explosions with a smirk and a smart remark. Quite frankly, audiences expect them to keep it up despite their age.
Neeson and Costner, to borrow a line from "Taken," bring a very specific skill set to their brand of action films. They don't wade headlong into fights with fists swinging or toss off deadpan quips while lobbing grenades. These actors show you the wheels turning as they plan their attacks and act with the precision of a finely tuned instrument of destruction.
There's an element of tragedy to Neeson's turn in "Taken." Grieving over the sudden death of his wife, Natasha Richardson, in 2009, he plunged into his work. "I think I survived by running away some," he confided in an Esquire interview. "Running away to work." The physical challenge of "Taken" gave him an outlet, something to focus on during his grief. But after the film's unexpected success he was deluged with action roles. "Hollywood loves to pigeonhole all the actors and actresses, and suddenly I got 're-pigeonholed' as an action actor," he told Digital Spy.
Luckily he enjoys the physical quality of these action films. Neeson was an amateur boxer in his youth and while he may not do the stunts himself, he gets physical in the fight scenes. "The knees creak a little more, you know? But it's good to use that," he said in an interview at Den of Geek.

Costner is no stranger to adrenaline cinema — think of "The Untouchables," "The Bodyguard" and his many westerns — but he's more actor than action star and the stunt-laden, speed-driven espionage picture "3 Days to Kill" is a different breed of modern action thriller. "His character goes through the ringer (in 'Kill')," director McG told Yahoo Movies. "He's beat up, punched, shot at, his car crashes. He really gets beaten up and that's part of the gristle that goes into this Ethan character."

That's a lot to put a headed-toward-60 father and screen star through, even if the stuntmen take the most dangerous scenes. When asked about his preparations by the New York Daily News, he said, "How did I get in shape? Just lift up my kids about a million times a day. After all that, it was easy to get on a horse and do 'Hatfields & McCoys.' It was a vacation!"

In a celebrity culture that values youth and beauty over age and experience, it seems counter-intuitive that these veterans are competing so well in what we think of as a young man's game. But audiences are responding to them and their gritty, ground-level films. Where superhero movies and big-budget spectacles wow audiences with bigger and more elaborate displays of mass destruction, these fights are up close and personal and the stakes are immediate. These guys aren't superhuman action machines, they are mortal and vulnerable men, husbands and fathers who put themselves on the line for duty and for family. And they are pros, applying surgical strikes rather than physical overkill.

Action stars can deliver the spectacle. It takes an actor to show that kind of discipline in every element of the character.
"3 Days to Kill" opens in theaters on Friday. "Non-Stop" opens Feb. 28.