It's called "Frozen," but it's hot, hot, hot. Especially if you're a parent of young kids, it's hard to escape the Disney blockbuster, which just this week crossed the $1 billion mark at the worldwide box office. On Sunday, the film won the best animated feature film Oscar, and its empowering anthem "Let It Go" took home the best original song Oscar. John Travolta helped the film freeze its hold on even more headlines by mangling the name of Broadway star Idina Menzel, who voices Queen Elsa in the movie, when he introduced her "Let It Go" performance.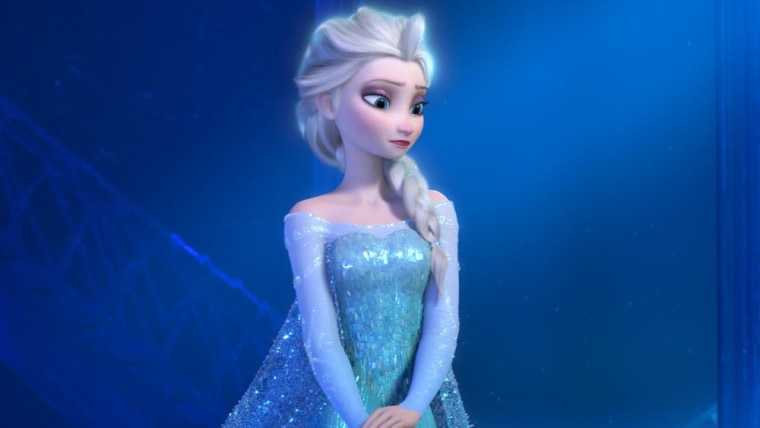 The "Frozen" soundtrack is packed with gems — the goofy snowman Olaf's tropical dream "In Summer," the trolls' get-Kristoff-ready-to-wed "Fixer Upper," and the touching "Do You Want to Build a Snowman?" among them. And naturally, fans have put their own magical twist on the tunes. Here are a few favorites. OK, bye!
'Do You Want to Be My Boyfriend?'
In "Frozen," Anna begs her sister Elsa to come out and build a snowman, but in this snappy parody, a young woman chases guys down on the street, singing "Do You Want to Be My Boyfriend?" Spoiler: They don't.
'Do You Wanna Get a Beer, Man?'
Women aren't the only one who can sing Anna's song. Tommy Chuang turns "Frozen" into "Brozen" when he desperately tries to get a pal to hang out with him (not you, Craig). Note: Some adult language at the end.

"Let It Go' = 'Give Up'
Run anything through Google Translate enough times and it's like that old game of Telephone: the words you end up with are nothing like what you started with. Malinda Kathleen Reese did that with "Let It Go," and here's the result. The chorus of "Let it go! Let it go! Can't hold it back anymore!" comes out as "Give up! Give up! You cannot do it back in!"

'Let It Go' in 25 languages
Disney itself pays tribute to the global reach of "Frozen" by releasing this version of "Let It Go" where every line is sung in a different language.
'Let It Go' meets 'Let Her Go'
Budweiser's commercial about puppy and Clydesdale friendship was a Super Bowl favorite in February. This video, by YouTube music sensation Sam Tsui, mashes up the song in the background of that ad, Passenger's "Let Her Go," with Queen Elsa's "Let It Go."

Children's choir gives 'Let It Go' some African panache
British-born Nigerian singer Alex Boye and the One Voice Children's Choir give an African style to Elsa's anthem. Boye says he was inspired by his own 4-year-old daughter's belting out of the song. 12-year-old Lexi Walker sings Elsa's part here.

A dad who's sick of 'Frozen'
Scott S. Kramer's kids love "Frozen," but he's had enough. "Let it go, let it go, I'm gonna smash the radio," he sings. "Let the song be gone. The Olaf song is better anyway!"