Still fresh off their induction into the Rock and Roll Hall of Fame on Thursday night, the members of KISS took time from rock and rolling all night and partying every day to speak to TODAY Friday about an honor 40 years in the making. 

"It was really vindication because the fans have wanted this for so long,'' lead singer Paul Stanley told Matt Lauer, as the band joined TODAY on the plaza decked out in their costumes and iconic facepaint. "It may not have meant as much to us, but it meant a lot to them. We were very happy to be there. We have 40 years of legacy, and it's a proud time for us."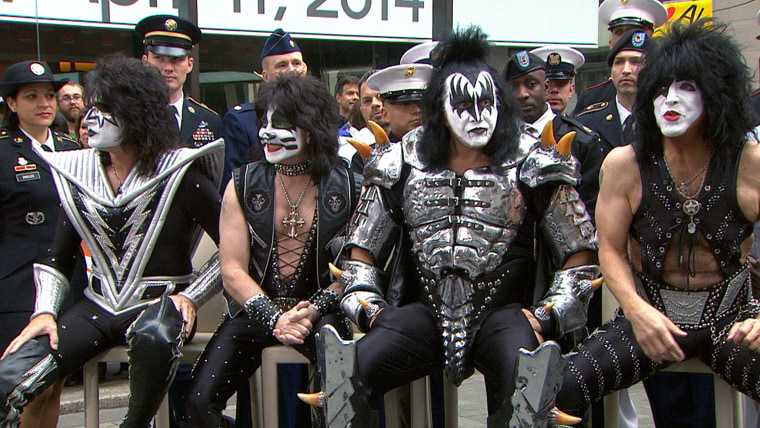 Stanley was joined by guitarists Gene Simmons and Tommy Thayer and drummer Eric Singer. The lead-up to the Hall of Fame induction was not without controversy, as original drummer Peter Criss and original guitarist Ace Frehley, who both split from the band in the early 1980s, traded shots at Simmons and Stanley in the media. While there was no reunion performance on Thursday, the members were courteous to one another in their acceptance speeches.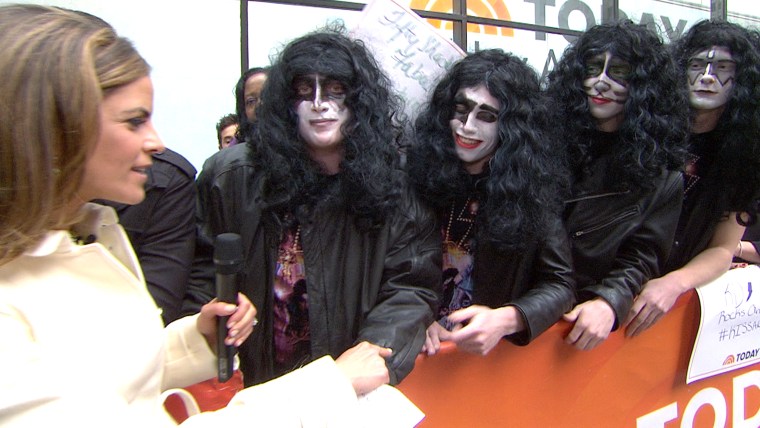 "Yesterday is yesterday,'' Simmons said. "We've never won a race looking over our shoulders in the past. Winners always look straightforward. There are no solutions, there's only we get to decide who and what KISS is. We love Ace and Peter, and they were very gracious yesterday in accepting the award to be part of the beginning, but we move on. This is a 40-year proud history, and Eric and Tommy make every day on that stage a wonderful, wonderful experience, not just for us. We like being together and bonding onstage, but it's an experience for the fans." 

KISS announced their 42-city North American tour in honor of their 40th anniversary, where they will be joined by Def Leppard. They also are looking to hire two military veterans as roadies to work their 2014 Heroes Tour as part of the U.S. Chamber of Commerce Foundation and Capital One's Hiring 500,000 Heroes campaign.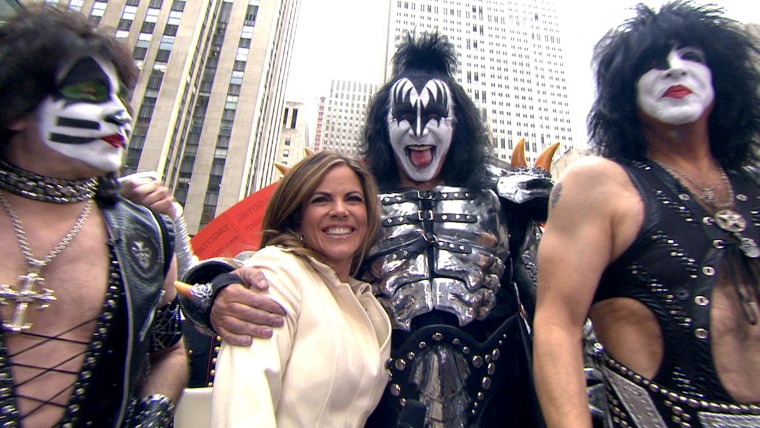 "People have to realize that the freedoms and the liberties that we enjoy here, we take for granted,'' Stanley said. "The people that make it possible are part of the world's greatest volunteer army. These people risk limbs, they risk their lives for us. We owe them everything, so if we can hire a few of them, just to bring attention to the fact that we owe them everything. They are the ones whose uniforms are even more important than ours." 

Another group in uniform who got to meet up with KISS on Friday was a group of four high school seniors from Montgomery, N.Y., who were sent home from school by administrators last month for dressing up as the members of KISS.
Derek Chomyn, Tyler Fisher, Dylan Schoonmaker and Mike Carmody wore the famous KISS greasepaint as the Demon, Space Ace, Starchild and Catman and were dismissed from Valley Central High School's "Senior Celebrity Day,'' prompting one of their moms to tweet about it to Simmons, who retweeted it.
The group went to the Hall of Fame induction on Thursday and were speechlees when they met their idols in person on Rockefeller Plaza on Friday.