Kim Kardashian and Kanye West tied the knot in Italy last week, and now "Keeping Up With the Kardashians" momager Kris Jenner is stateside again and sharing the details — including a tidbit about whether or not her daughter is keeping her famous family moniker.

During a Thursday morning visit to TODAY, Jenner confirmed that Kim took her new husband's name, but she didn't exactly drop her own.
"Kim Kardashian West," Jenner said, though she admitted she wasn't sure if there should be hyphen between the last names or not. "I haven't asked her that!"
(According to a recent tweak to Kim's Twitter handle and her first post-wedding autograph, there's no dash.)
As for the wedding itself, Jenner said she's still catching her breath after the "whirlwind" event.
"It was so beautiful and magical, and that feeling went through every single person," she said. "It was just a love fest. It was the most wonderful time I think ever I had."
And it was even more wonderful than the bride expected it to be, as Jenner revealed when she shared one of her own favorite moments from the big day.
"Kim thought she was walking down the aisle to a recording of Andrea Bocelli singing," Jenner explained.
But as an exclusive photo from the day from E! illustrates, the Italian tenor was performing live.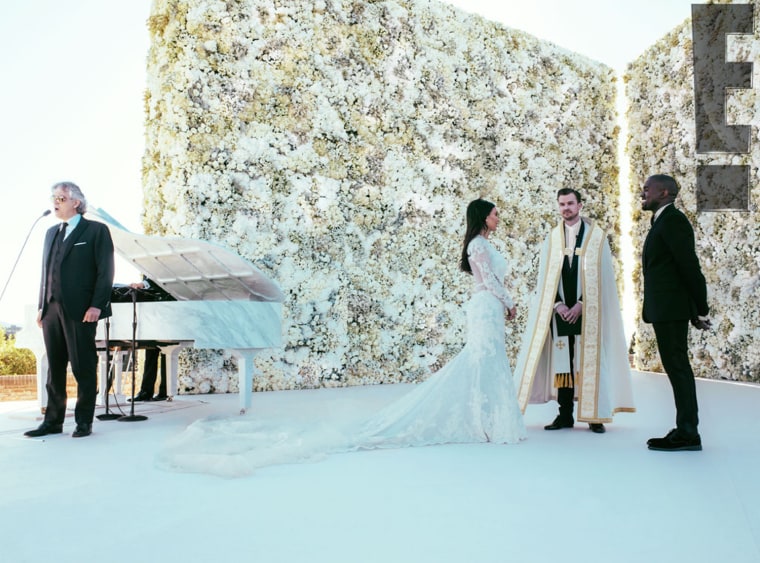 "She looks up, and she actually screamed," Jenner recalled. "I literally just burst into tears."
Emotions ran high that day for another member of the family too. Jenner's son, Rob Kardashian reportedly left before the wedding-day festivities fully got underway. When asked if she was comfortable talking about his situation, Jenner said, "Probably not," but added, "Rob's working on himself. He's going to be OK."
TODAY's Hoda Kotb couldn't resist quizzing Jenner about another one of her kids who's currently making headlines.
"Is Kourtney pregnant? She is, right?" the Kotb asked.
"Well, you know, I think you're going to probably get the answer to that if you tune in to Sunday night's show," Jenner said with a smile.
"Keeping Up With the Kardashians" airs Sundays at 9 p.m. on E!
Follow Ree Hines on Google+.