The split between Johnny Weir and his husband took a bitter turn less than a day after it went public when the Olympic figure skater claimed he was emotionally abused and cut off from his loved ones.
"You would never see a mark on my body but the damage that was done to me, mentally, was crippling," he told Access Hollywood in an interview Thursday. "I was controlled on almost every front of my life. Friends were cut out of my life, acquaintances, managers, even down to my own mother."
Although his husband, Victor Weir-Voronov, claims he was blindsided by the separation, Weir said their marriage began crumbling last fall and he was ready to file for divorce by the time he left for Sochi, Russia, to be an Olympic commentator for NBC.  
"Sochi was one of the hardest times in my life," he said. "When I was on the broadcasting, I escaped my own personal hell that I was living in. My husband was behaving very erratically. The majority of the time off camera I was in tears. I was on the phone. I was fighting. I was not in a good place."
Yet, Weir's rookie turn as an on-air skating analyst earned him raves, along with a gig to provide fashion critiques at the Oscars just weeks later for Access Hollywood. Weir filed for divorce on Feb. 12, while in Sochi and after numerous arguments over his schedule.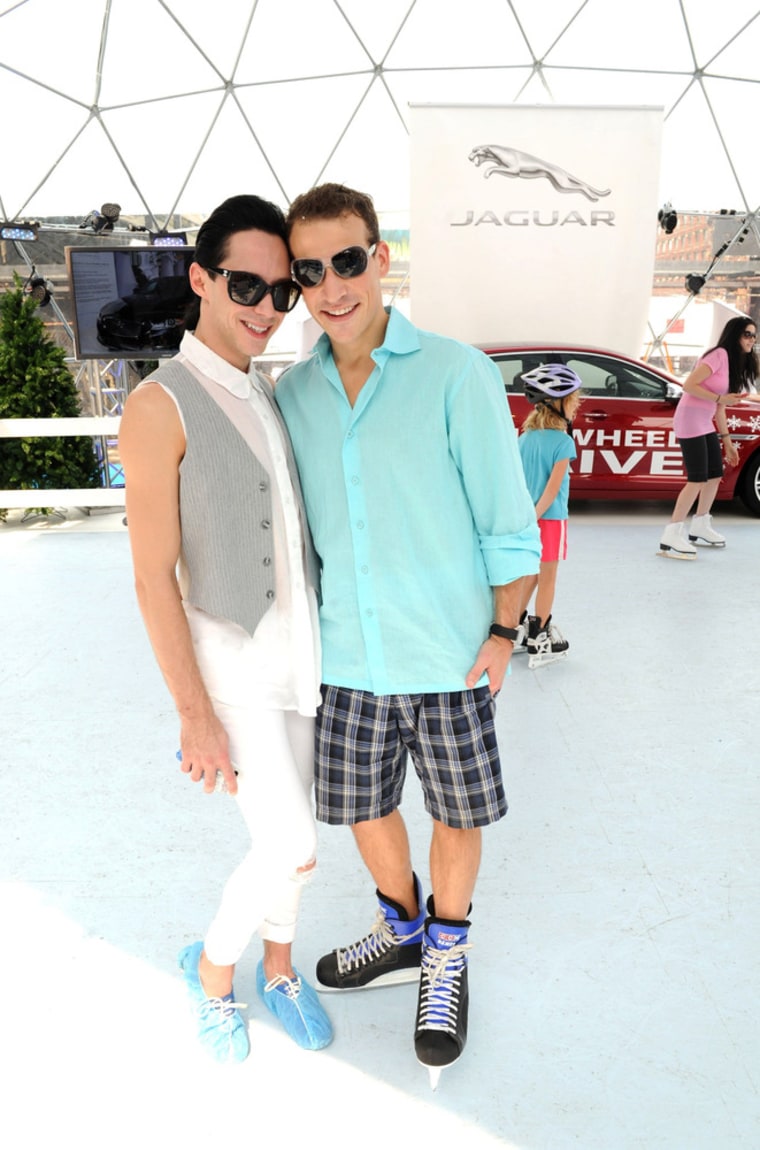 "He was not super accepting of the fact that I work and I have to work this week in Russia, this week in Los Angeles, next week in Tokyo. That's something that's hard to wrap your head around, especially when you are a stationary person," he said, pointing out that Weir-Voronov has a law degree but does not currently practice.
"I was supporting two people and whether it seems like a big deal or not, I come from a lower middle class family that has to work, no matter what," said Weir, 29. "If you can't be an attorney this week, then you better go get a job next week, otherwise the bills won't get paid. I had to travel to work to support myself and to support my family."
Signs of their rocky relationship surfaced earlier this month when the couple, who married in December 2011, appeared in a New Jersey court to address a domestic violence episode. Weir-Voronov claims his husband bit him during a fight, but the case was dismissed.
Wendy Feldman, a spokeswoman for Weir-Voronov, told Access Hollywood her client dropped the case at Weir's urging.
"It is our extreme hope and desire that this divorce could have been handled amicably. Not only is Victor heartbroken but he is now humiliated," she said in a statement.
On Thursday, Weir said he had been defending himself the night of the fight. He said that when men fight, "things are different" from male-female couples.

"There is constant one-upmanship in trying to see who's the alpha in the household," he said. Fights between the couple sometimes turned physical — "usually good-humored wrestling and stuff" — but occasionally, it got violent.
"Some of my closest friends have seen him hit me before," he said.
Weir-Voronov claims he was stunned by the turn of events that started Wednesday, when Weir took to Twitter to announce their separation.

Weir-Voronov responded, also on the social network, saying he was "shocked by the abrupt ending of my marriage." A day later, he said he just learned that Weir had filed for divorce "months ago."

Weir said he doubts that Weir-Voronov, who described Feldman on Twitter as his "crisis manager," could reveal anything about their relationship that could hurt his public image.
"I'm an open book. I don't have skeletons. I had a reality program. I'm not afraid of anything," he said. "If he does sort of the classic thing and starts telling tales, I'll be prepared. 

"The worst that he could do is post naked photos that we have between each other and I look flawless."
Access Hollywood is produced and distributed by NBCUniversal.
Follow TODAY.com writer Eun Kyung Kim on Google+ or on Twitter.