It was 1992 again on "Late Night With Jimmy Fallon" on Friday as John Stamos reunited with his "Full House" band, Jesse and the Rippers.
The group, who's '92 cover of the Beach Boys' hit "Forever" topped the charts in Japan, played on a set made to look like the Smash Club, the music venue Stamos' character, Jesse Katsopolis, owned and operated on the sitcom.
But it was more than the band and the club that were revived on "Late Night": Stamos sported the same mullet he had on the show, as well as the popular red-shirt-and-black-leather-vest-and-pants ensemble. (Have mercy!) Jesse and the Rippers re-melted hearts by performing "Forever," Elvis Presley's "Little Sister," The Beatles' "Hippie Hippie Shake," and of course, the "Full House" theme song.
The night was almost a cast reunion, with Bob Saget, who played Danny Tanner, dancing in the audience as the Rippers performed. As the band wrapped up, Lori Loughlin, who played Jesse's wife Becky, walked out onto the stage and kissed her one-time onscreen love.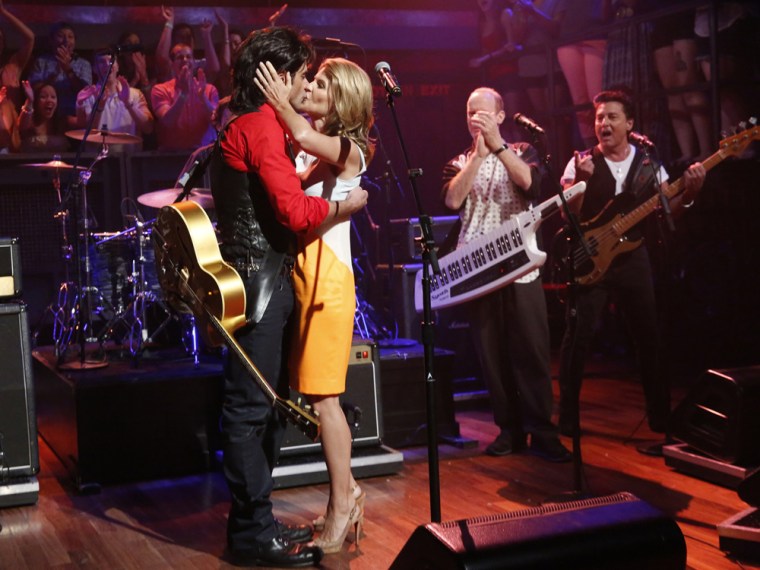 Dave Coulier, who played best friend Joey Gladstone, wasn't able to make it, but tweeted:
Stamos currently stars as Connor McClane on USA's "Necessary Roughness."