Remember when Christmas exploded all over Monroe's house the first season of NBC's "Grimm"? It's happening again Friday, only bigger ... and not necessarily better, Bree Turner, who plays the Blutbad's girlfriend, Rosalee, teased to TODAY.
"They really upped the ante," Turner said. "(It's) just vomitous Christmas decor in his home!"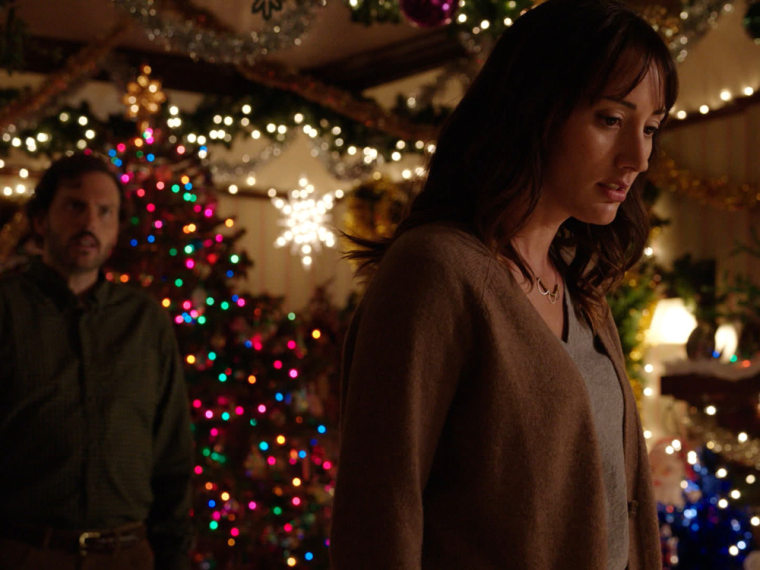 But even worse than having the holiday take over every inch of the house she now shares with Monroe is Rosalee's feelings about Christmas.
"Rosalee has very dark memories attached to the holiday, and she's pretty much shunned it. She's stepped out of Christmas," Turner said of her Fuchsbau character. "She's chosen not to celebrate."
The massive difference between the lovers on this topic does cause Rosalee to question whether the relationship could work, Turner said. And even if they should get past "this first sort of uncomfortable moment," there will be more challenges coming up for the pair, the actress teased.
"There wasn't a lot of strife between Monroe and Rosalee in season two, but I think that was crucial to set up this foundation of trust and love and falling in love, and that beautiful time," Turner said. "And season three has been about revealing the ugliness with sharing your life with someone — the scrapes and bruises and the underbelly of that and really exposing who you are, and can you make it work."
More troubles will pop up in the new year, when "Grimm" returns from its fall season break, in the form of Rosalee and Monroe's parents, and the issues that arise when "two different Wesen species (come) together."
"Monroe's parents are very old school and traditional," Turner reminded. "And Monroe and Rosalee are a modern couple, shunning old-world ideas that you can't have mixed relationships."
("ET" actress Dee Wallace and "Captain Phillips" actor Chris Mulkey will be playing the elder Blutbaden. The two have "outdone themselves with performances" on "Grimm," Turner gushed.)
In addition to the parental drama, Turner said that Rosalee's murky past will bring new trials for the pair. 
"Her addiction issues come back into explanation, and basically when you meet my family, discover why did I drop off (and leave Portland for seven years)," she explained. "My secrets really come out, and the challenge of 'Can Monroe really handle it? ... And is he really going to be able to be there for me?'"
Either way, the relationship is something the show will continue to explore.
"We're kind of chomping at the bit because it just keeps getting better for the relationship storyline, and more fun and sweet and sad and complicated," Turner said. "I just feel like between now and the end of the season, it's going to be a pretty wild roller-coaster ride for fans who enjoy the relationship."
"Grimm's" two-hour fall finale airs Friday at 9 p.m. on NBC.