Hollywood royalty and critical favorites swept up the big movie and TV trophies at a rather subdued Golden Globe Awards Sunday night in Los Angeles. It was a night of contradictions — numerous winners professed shock and seemed to not have even prepared acceptance speeches, and yet many of them talked so long the orchestra had to begin to play them offstage.
Hollywood celebrates the best in television and film at the 2014 Golden Globe Awards ceremony.
"American Hustle," "Breaking Bad," and "Brooklyn Nine Nine" were among the films and television shows receiving multiple awards.

"American Hustle" swept two of the female acting awards. Jennifer Lawrence won the night's first award, for best supporting actress in a motion picture — and even managed to keep her feet beneath her as she took the stage. She praised director David O. Russell, saying she Googled him years ago after seeing his film, "I Heart Huckabees," and loved working with him. The lovably goofy star also apologized for being nervous.

"I don't know why I'm so scared ... I'm shaking," she said. "Don't ever do this again!"
"American Hustle" was in the spotlight again when Amy Adams — and her deep-V neckline — won the best actress in a comedy or musical award for playing a con woman. "I always cry when I'm not supposed to and then when a director asks me to, I can't cry," a tearful Adams said on stage. "It really sucks."
But "American Hustle" wasn't done collecting trophies. The film won best motion picture, musical or comedy, beating out "Her," "Nebraska," "Wolf of Wall Street" and "Inside Llewyn Davis."
"12 Years a Slave" had been talked about as a favorite, but the drama was shut out until the night's final award, claiming the best motion picture, drama award. Director Steve McQueen thanked his large cast, asking them to help him by shouting out names of the personnel he forgot to mention. "And of course, Brad Pitt, this movie couldn't have been made without you," McQueen said of the "12 Years" producer and co-star.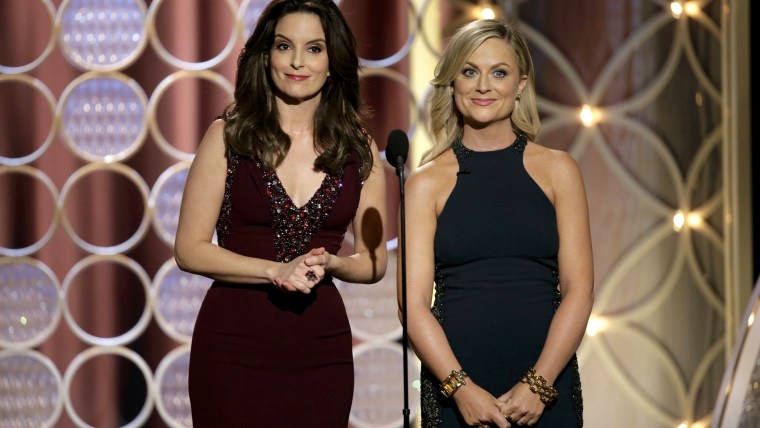 Hosts Tina Fey and Amy Poehler kept the celebrities in the audience laughing at their own expense.  
One of the best zingers: They introduced best-picture contender "Gravity" as "the story of how George Clooney would rather float away into space and die than spend one more minute with a woman his own age." Clooney was not in attendance and the Internet was denied a great reaction GIF. 
Fey and Poehler also joked that the original title of "American Hustle," which features numerous exotic 1970s hairstyles, was "Explosion at the Wig Factory." And Fey praised Meryl Streep's work in "August: Osage County," saying the 64-year-old actress proved "that there are still great parts for Meryl Streeps over 60."
The hosts also promised — successfully, as it turns out — to get the show done in three hours. "Or as Martin Scorsese calls it, Act One," Fey joked.
Poehler also had her own moment in the award-acceptance spotlight, winning the Globe for best actress in a television series, comedy or musical for "Parks and Recreation." She was shown before the win was announced getting a shoulder massage from U2's Bono, and later dramatically kissing him after her win. "I never win, so I can't believe I won," the host said in her speech.
At the end of the show, she relived her moment with the U2 frontman.

"This is the beautiful mess we hoped it would be," Fey said in her signoff.
"And I got to make out with Bono!" Poehler added.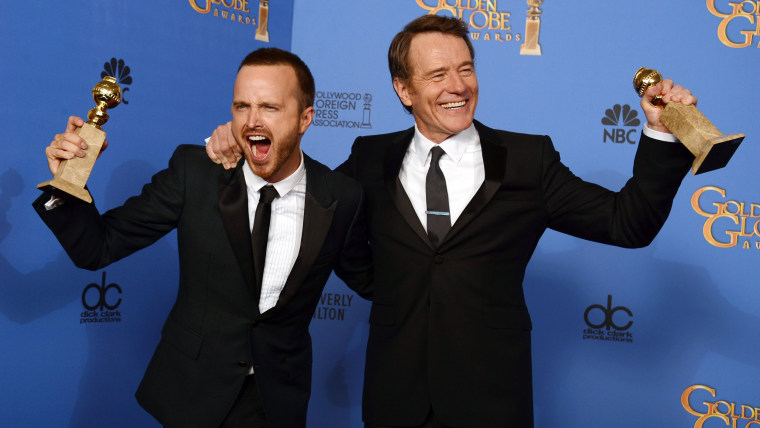 Critically acclaimed AMC drama "Breaking Bad" did itself proud at its final Golden Globe awards, claiming two honors in a row. Star Bryan Cranston won the best actor in a TV drama award for playing teacher turned meth kingpin Walter White.

"This is such a wonderful honor and such a lovely way to say goodbye to the show that meant so much to me," Cranston said of the program, which ended its five-season run in September.
Cranston had barely left the stage when "Breaking Bad" won the award for best TV series, drama. Co-star Aaron Paul put his punctuation mark on the series and the win by delivering his character's signature, "Yeah, b-tch!" into the microphone.
Mexican-born director Alfonso Cuaron won the best director award for "Gravity," and joked about his own heavy Spanish accent, saying he was sure "some members of the Hollywood Foreign Press can sympathize." He also thanked star Sandra Bullock for not quitting the film when she thought he said, "Sandra, I'm going to give you herpes," instead of "Sandra, I'm going to give you an earpiece."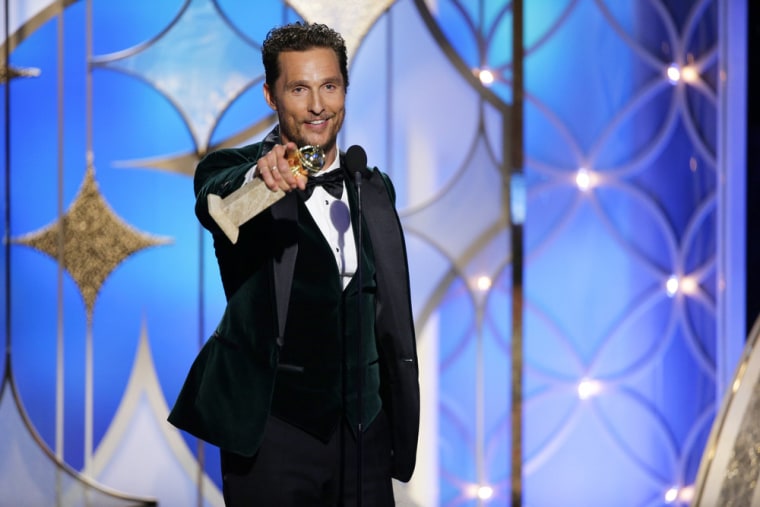 Matthew McConaughey won the Globe for best actor in a motion picture, drama, for his starring role in "Dallas Buyers Club," a film for which he lost 40 pounds. "All right, all right, all right!" he said as he took the stage in a throwback to his famed "Dazed and Confused" character Wooderson.

"This film, Ron Woodroof's story, was an underdog," McConaughey said of the true story of Woodroof, a Texan who had AIDS and smuggled drugs to treat the disease into the country. McConaughey also thanked his parents for making him play outside rather than allowing him to watch a lot of TV and movies, saying the active life was "a pretty good recipe for an actor."
Leonardo DiCaprio won for best actor in a musical or comedy for his role as brash stockbroker Jordan Belfort in "Wolf of Wall Street." 

"I have to thank Mr. Martin Scorsese for allowing me to stalk him into making this movie," DiCaprio said, praising the director as a "risk-taker and a visionary."
Cate Blanchett, who stars in Woody Allen's "Blue Jasmine," won the award for best actress in a motion picture, drama, and was one of many winners who heard the infamous notes of the show's orchestra hinting she'd talked too long.
"Can the people at home hear this music?" Blanchett asked during her speech. "Or do they suddenly think you're just getting real fast because you're having a panic attack?"
"Ordinary Love," by U2, from "Mandela: Long Walk to Freedom," won for best original song. U2 leader Bono said in the band's acceptance speech, "This really is personal for us, very very personal. This man turned our lives upside-down, rightside-up." He added, "We wrote a love song because (the film is) kind of a dysfunctional love story. You know about (Nelson Mandela) the global statesman, you don't know about the man."
Jacqueline Bisset won the award for best supporting actress in a TV series, miniseries or movie for "Dancing on the Edge." Seeming flustered, she was at first silent, began speaking, then heard the telltale sounds of the orchestra, announced "I'm going to get this together."

Robin Wright won the award for best actress in a TV series, drama, for her role in the Netflix series "House of Cards." She thanked director David Fincher and co-star Kevin Spacey, saying of Spacey, "Kevin, you're the best playdate ever."

Jared Leto was named best supporting actor in a motion picture for "Dallas Buyers Club," for which he reportedly lost more than 30 pounds. "I did not use any prosthetics in this film," he said in his acceptance speech. "That tiny little Brazilian bubble butt was all mine."
Spike Jonze won the original screenplay award for "Her," starring Joaquin Phoenix as a man who falls in love with his computer operating system, voiced by Scarlett Johansson.
Andy Samberg won his first-ever Golden Globe, claiming the best actor in a TV musical or comedy series for "Brooklyn Nine Nine." The first-season sitcom also won for best television comedy series.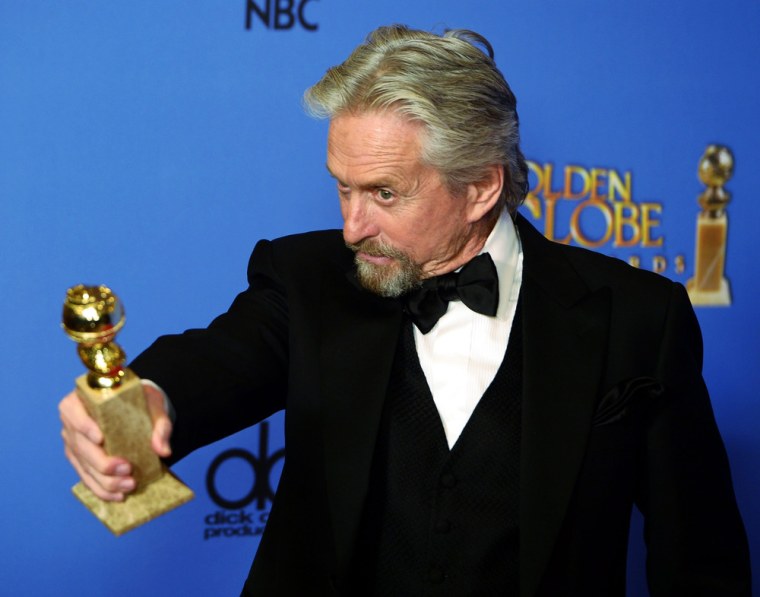 The award for best miniseries or TV movie went to the Liberace biographical film "Behind the Candelabra." Michael Douglas, who stars as Liberace, won the award for best actor in a miniseries or movie. He called co-star Matt Damon the best actor he'd ever worked with and said he only beat him in the category because he wore more sequins.
Disney's "Frozen," based on Hans Christian Andersen's "The Snow Queen," won for best animated feature film.
Elisabeth Moss, known best for her role as Peggy Olson on "Mad Men," won for best actress in a miniseries or TV movie for "Top of the Lake." Jon Voight won the best supporting actor in a TV series, miniseries or movie for "Ray Donovan."
The best original score award went to Alex Ebert for "All is Lost." His acceptance speech may have been overlooked if not for presenter Sean "Diddy" Combs' odd interruption. "He was on a boat with me partying in St. Bart's," Combs cut in to announce to the world.
Legendary director Woody Allen received the Cecil B. DeMille Award, given to a Hollywood figure who's "made an incredible impact on the world of entertainment." Allen famously avoids awards shows and Diane Keaton, who frequently worked with Allen, accepted the honor on his behalf.
The Golden Globes are awarded by the Hollywood Foreign Press Association, which is known for its free-flowing alcohol and for not always marching to the beat of the more staid, Oscar-awarding Academy of Motion Picture Arts and Sciences. But many of the Globe nominees will likely appear on the Academy's list, which will be announced Thursday morning.
Celebrities hit the red carpet in Los Angeles for the Golden Globes.