HBO's comedy "Girls" has heard the criticism before: Why is Hannah, the lead character played by creator Lena Dunham, naked so often? 
But when a male journalist opened up the show's third season press conference at the semi-annual Television Critics Association press tour in Pasadena, Calif., by pointedly asking Dunham why the random acts of nudity are necessary, the show's three executive producers did not hold back.
The journalist said to Dunham, "I don't get the purpose of all the nudity on the show by you particularly. I feel like I'm walking into a trap where you go, 'Nobody complains about the nudity on 'Game of Thrones,' but I get why they're doing it. They are doing it to be salacious and, you know, to titillate people. And your character is often naked just at random times for no reason."
Executive producer Jenni Konner attempted a soft response. "Just like humans," she said with a shrug.

Dunham added, "It's a realistic expression of what it's like to be alive, I think, and I totally get it. If you're not into me, that's your problem, and you're going to have to kind of work that out with whatever professionals you've hired."
"Do you have a girlfriend?" executive producer Judd Apatow asked the reporter, who responded that he did.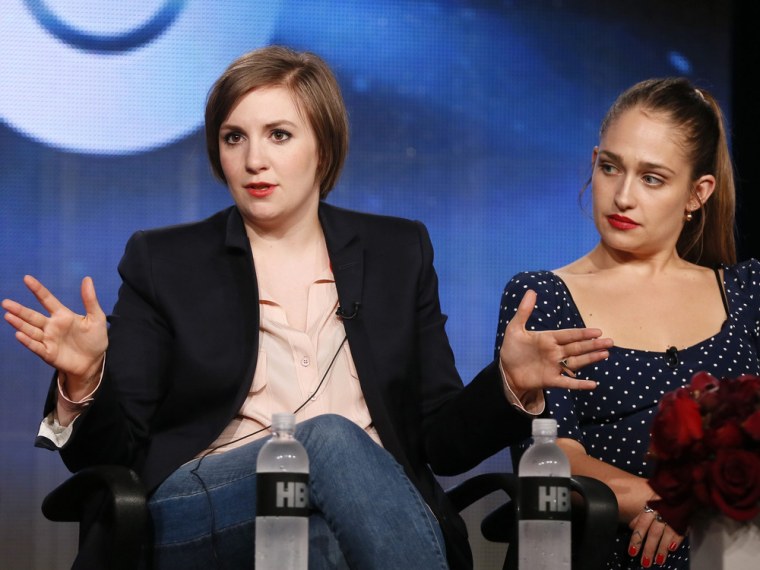 "Does she like you? " Apatow replied. "Let's see how she likes you when you quote that with your question, just write the whole question as you stated it. Then tell me how it goes tonight."
"Maybe she's a misogynist," Konner added.
The Q&A session then turned to whether the young women of "Girls" should be viewed as likable and sympathetic by viewers and whether the writers feel that way about them. 
"I love them," Dunham said. "I love writing them. I'm excited by the unique ways they fail and succeed. ... I think they accurately reflect people I know, people we've all been. I think they're all trying their hardest."
Later, she added, "It's funny because people say a lot, 'How can we sympathize with them?' And I'm like, you seem to like Walter White," referring to the lead character on "Breaking Bad" played by Bryan Cranston.
As the questions continued about how female bad behavior is received as compared to poor male behavior, Apatow took it back to the first question.
"It's uncomfortable because you could be any of these characters," Apatow said. "I don't think any of us think we would sell meth in the desert, and so because it's real, it touches on people's insecurities and the mistakes we make. And as a result, sometimes it's hard to watch because I think everyone relates to it in a way."
He then pointed at the journalist who asked the first question. "Like when that guy goes in the mirror and looks at himself naked, he feels bad, and so he relates. He's like, 'Why is everyone naked?'"
A few minutes later, it appeared things had simmered down. But then another journalist inquired about the challenges of maintaining creative control as TV shows evolve and age. Dunham began to talk about the importance of being fluid.

"I literally was spacing out because I'm in such a rage spiral about that guy that I literally could not hear," Konner interrupted. "I'm so sorry. I really don't mean to disrespect you. I was just looking at him and going into this rage — this idea that he would talk to a woman like that and accuse a woman of showing her body too much. The idea, it just makes me sort of sick," she said choking back tears. "And I just want to apologize to everyone. I'm going to try to focus now, but if I space out, it will be because of that guy."
At that point, the journalist attempted to explain where he was coming from and asked for the producers' help with understanding the show.

"We answered," Apatow retorted.
After the press conference, Konner told TODAY that she was embarrassed by her own outburst and explained she's on a juice cleanse for Sunday's Golden Globes show and in a cranky mood. 
"I'm not usually like that but I can't believe he would speak to a woman like that," Konner said.
The third season of "Girls" begins Sunday at 10 p.m. on HBO. The network has ordered a fourth season.