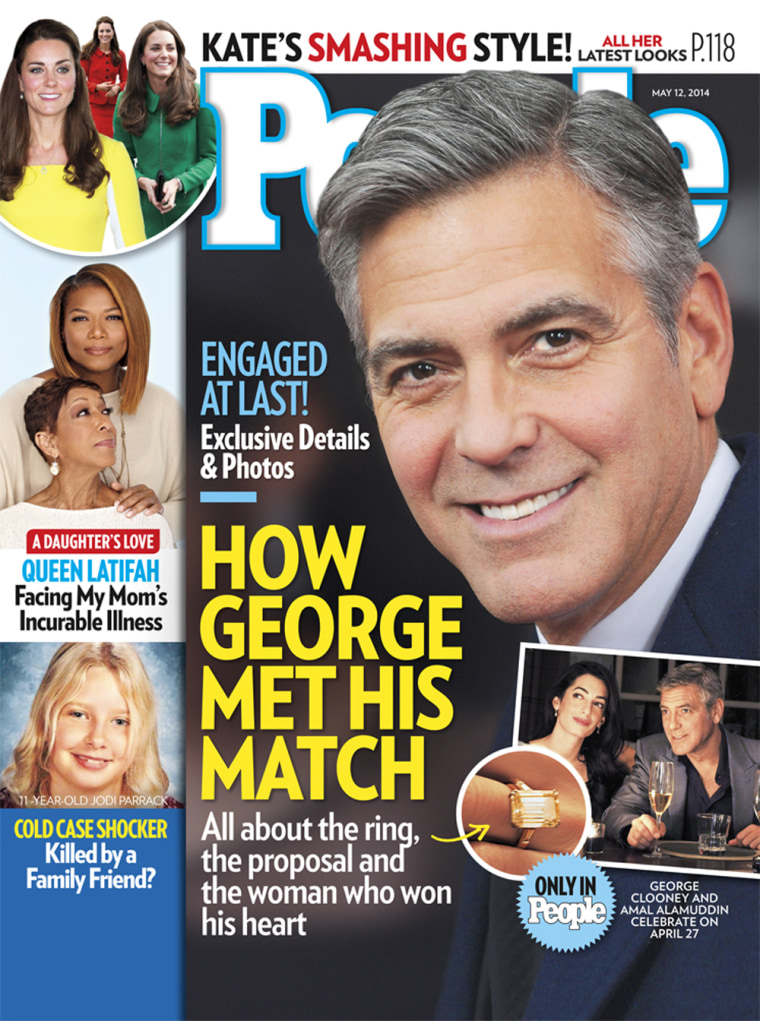 George Clooney found the right woman in Amal Alamuddin, so the two-time Oscar winner made sure she got the right engagement ring — and it is stone-cold gorgeous!
As pictured and reported in People magazine's newest issue, the ring is an emerald-cut diamond that Clooney himself helped design, and is estimated to be bigger than 7 carats. As People's assistant managing editor Kate Coyne noted on TODAY Wednesday, "(It's) probably not ... a surprise that when he went and did it, he did it big."
In the article, the ring is described as being in a platinum setting, with the large diamond set off by two smaller, tapered baguettes, which were "completely ethically sourced," said Coyne.
An exact date for the nuptials is not yet known, she added, explaining that one source inside Alamuddin's family speculated it could happen as soon as September, but a source inside Clooney's camp said there was "no rush," said Coyne.
"This was a huge step for him to propose, something of a whirlwind courtship," said Coyne. "So we ... could be waiting a while."

Clooney, 52, proposed to the British lawyer, 36, on April 22. Alamuddin was seen wearing the ring in public not long after that. The pair was first spotted together last October, dining out in London. According to People's article, Clooney met Alamuddin's family in Dubai and spent two days on a yachting excursion with her sister and half-brothers.
Alamuddin was born in Beirut and studied at both Oxford and New York University, focusing on international law and human rights. And that, noted Coyne, means Clooney has decided to pair with a partner who is on an equal footing with him — successful in her own right, and with a life separate from the glitz of Hollywood.
"This is not somebody who is going to be sitting around waiting for red carpet season," said Coyne.