All men must die, but on "Game of Thrones," your odds of survival are significantly lower — especially at a wedding.
The long-anticipated nuptials between King Joffrey Baratheon and Margaery Tyrell finally took place Sunday night, and like the festivities hosted by Walder Frey, marriage and murder went hand in hand.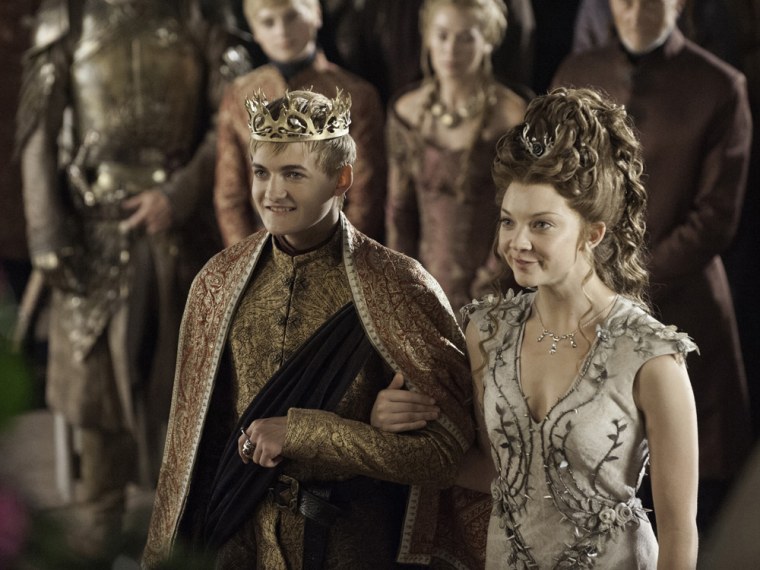 Natalie Dormer, who plays Margaery Tyrell (the unluckiest bride in all of Westeros), chatted with TODAY about filming the infamous Purple Wedding, saying farewell and what's next for her character.
(Spoilers ahead! Cover your eyes if you haven't watched "The Lion and the Rose" yet.)
Although most fans reveled in Joffrey's agonizing death — that sadistic little brat got everything he deserved, right? — Dormer said the cast didn't have to feign their horror while witnessing his suffering.
"It was kind of harrowing for all of us," she told TODAY, "because even when you know an actor is pretending, to watch someone pretend to asphyxiate — to choke and suffocate to death — is quite a traumatic thing to watch, and Jack (Gleeson) did it so well. It's a bizarre experience to watch something that looks that authentic up close. Quite harrowing."
Joffrey's ghastly appearance — veins bulging, blood leaking — owed very little to special effects, Dormer revealed.
"Credit has to be laid completely at the foot of Jack — it was Jack's performance," she praised her former co-star. "(He had) a little bit of help from makeup and he managed to make himself a horrific color. It's Jack's performance, really — there's not many tricks to it."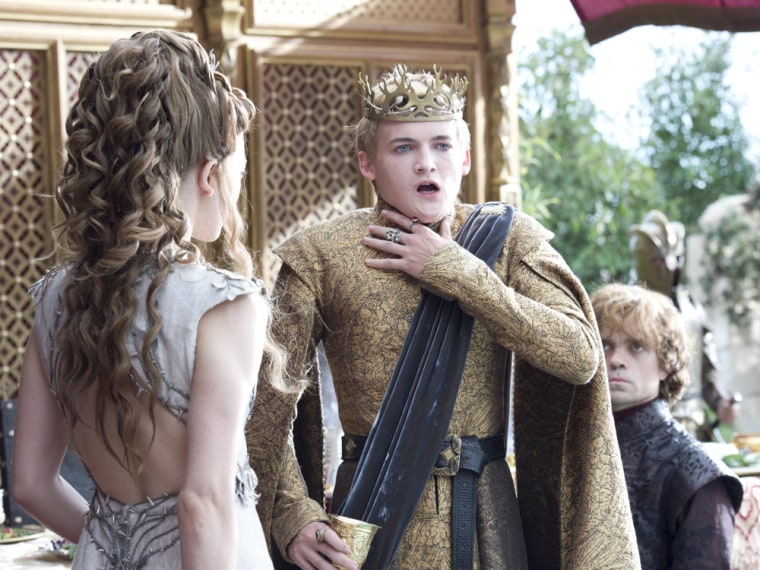 Even their version of slicing the wedding cake didn't rely on CGI.
"Visual effects didn't have to do much with that — there were actual birds in that pie," Dormer revealed about the scene in which Joffrey used his new sword, the "Widow's Wail" (poor Margaery, sigh), to release a flock of doves and accidentally killing many of them in the process (poor birds).
"Jack did an amazing job of striking at them without killing birds — unlike Joffrey," she said, chuckling.
Aside from the intense death scene, the actress — who is now filming the last of the "Hunger Games" franchise — said it was wonderful to spend so much time with her fellow cast members.
"We spent a full week in Croatia shooting the reception," she explained, noting that there were a couple days in Belfast tacked on.
"There are some incredibly opulent, incredible sets that were designed on the cliffs of Croatia, incredible production values, the most amazing spectacle for a wedding you could ever hope to see," she said of filming the scene. "So the whole thing was kind of surreal, to be honest. It was a very highly charged, emotional (shoot)."
The hardest part of the shoot, of course, was saying farewell to Gleeson.
"Jack's been there from day one, and he has very strong relationships with a lot of the cast, not least like Lena (Headey) who plays his mum," the actress said. "It was an emotional thing to shoot as well because we're saying goodbye to one of our members of cast, the cast family."
"I'm going to miss (Jack), I'm going to miss him immensely, I really am," Dormer told TODAY. "He's the complete opposite of Joffrey in every way, and he plays him so well. He created an iconic character. I think people will be referencing Jack's performance of Joffrey for years and years to come, and it's warranted."
As for what's in store for the lovely but unlucky-in-marriage Margaery, Dormer laughingly offered this tagline: "Third time lucky — question mark, question mark!"
"She's lost two husbands and they say things come in threes in life, don't they," she teased. "Poor Margaery — she's had the rug pulled from under her feet for a second time so she has to recalibrate. And she's in a very precarious situation now, and things are about to get very ugly with Cersei, so we have to keep our fingers crossed that it works out for Marge a third time round."
"Game of Thrones" airs Sundays at 9 p.m. on HBO.