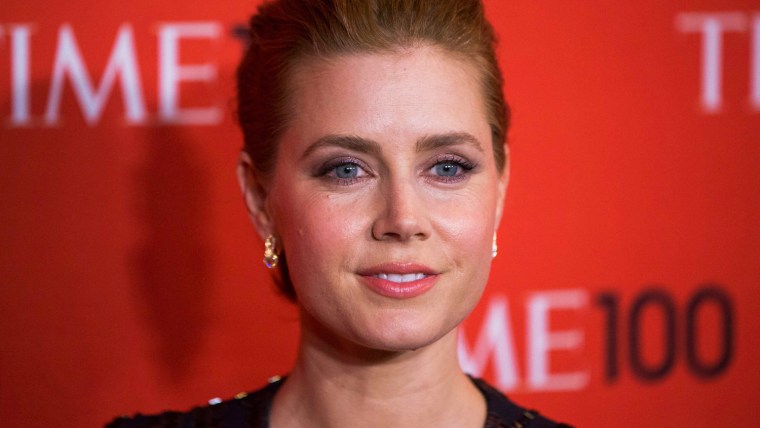 Actress Amy Adams pulled a first-class move on Friday during a flight from Detroit to Los Angeles when she gave up her prime seating to an American serviceman who was also on the plane. An account of what happened was relayed on Twitter by Jemele Hill, co-host of ESPN's "Numbers Never Lie," who also spoke with TODAY.com via email.
"When we were waiting to board, I saw her glance the soldier's way and then she said something to the person she was traveling with," Hill said in an email from the flight. "Once we boarded, I saw she was in first class. I was upgraded to first class and she was a couple rows behind me. I think she must have said something to the flight attendant, because before we took off she had vacated her seat and the flight attendant brought the soldier to her seat."
Hill at first thought that the serviceman was unaware who had surrendered his or her seat to him, but a flight attendant told Hill that the man did indeed chat privately with Adams near the front of the plane.
"I just thought it was incredibly classy and thoughtful," Hill said. "I already was a fan of hers, but now I'm a bigger one after today."

Hill's followers on Twitter echoed that sentiment about the five-time Oscar nominee.
Hill also said that Adams' new seat on the Delta flight was in coach.
A passenger named Ernest Owens even got to shoot a selfie with the actress after telling her that she was classy for giving up her seat. Owens told "Inside Edition" that "(Adams) said it's something she always wanted to do and she just decided to put her money where her mouth is."
When the plane landed in L.A., "Inside Edition" caught up with Adams, who said, "I didn't do it for attention for myself. I did it for attention for the troops."
Adams, 39, received her latest Oscar nomination this past year for her role in "American Hustle." Prior to that, she was nominated for roles in "The Master," "The Fighter," "Doubt," and "Junebug."
One of Hill's Twitter followers pointed out that Adams was born on a U.S. military base in Italy and grew up on a base in Colorado.
A representative for the actress has not yet responded to TODAY.com's request for comment — and Hill didn't want to bother the sleeping serviceman during the flight.
Hill's show, "Numbers Never Lie," airs weekdays at noon on ESPN2.
Follow Kurt Schlosser on Google+