Los Angeles Sheriff's Department investigators said early Sunday that "speed was a factor" in the single-car collision that took the life of actor Paul Walker and friend Roger Rodas over the weekend.
The pair's 2005 Porsche Carrera GT was "engulfed in flames" when deputies arrived at the scene in Valencia, Calif., at around 3:30 p.m. PT (6:30 p.m. ET). Two occupants were later pronounced dead. 

Walker's representative Ame Van Iden and a law-enforcement source both confirmed to NBC News that the 40-year-old actor was among the victims. NBC Sports confirmed that the other victim was Rodas, 38, CEO of an auto-performance shop and a driver in the Pirelli World Challenge series.
The Santa Clarita Valley Signal reported that the Porsche crashed into a light pole and tree and burst into flames.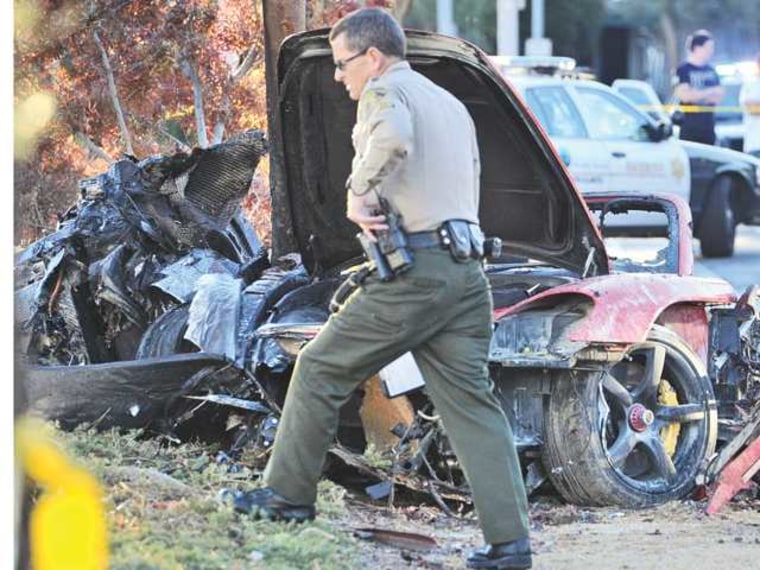 A post on Walker's Facebook page said the collision occurred after the actor attended a charity event for his organization Reach Out Worldwide and that he was a passenger in the car at the time. 
"We appreciate your patience as we too are stunned and saddened beyond belief by this news," the post added. 
The Hollywood Reporter wrote that the "Fast & Furious" star was on Thanksgiving hiatus from filming the latest installment of the film franchise.
An official with the Los Angeles County coroner's office told NBC News that both bodies recovered from the scene had been burned beyond recognition and that it would take days — or potentially longer — for identification to be formalized.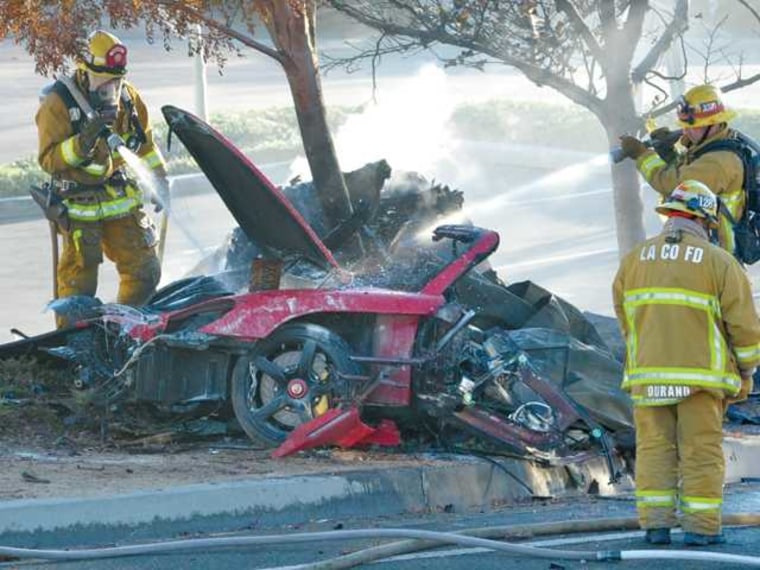 Walker is survived by his daughter, Meadow Rain, who just turned 15.
Walker's "Fast & Furious" co-star, Vin Diesel, mourned his friend on Instagram, posting a photo of the two together. He wrote: "Brother I will miss you very much. I am absolutely speechless. Heaven has gained a new Angel. Rest in Peace."

Bill Townsend, CEO and founder of PacAirVentures, a developer of entertainment centers, posted a photo of himself taken with Walker just two hours before the accident. 

"He was surrounded by friends, talking about cars, seeing hundreds of gifts brought for kids to give out by charity," Townsend wrote on Walker's Facebook page. "The news is terribly sad. The world lost an angel and Heaven gained one. I'm going to commit to helping ensure (that) Paul's charity lives on and that his love of cars and people, especially children, will be remembered forever."
Walker co-founded Reach Out Worldwide in 2010 to aid those affected by the catastrophic earthquake in Haiti and was working to help victims of the recent typhoon in the Philippines. 
"I'm a doer, and whether it was the tsunami in Sri Lanka or the earthquake in Indonesia, I was always saying, I should be there; I should be helping out," Walker wrote on the organization's site. "We're only on the Earth for a short period of time. I want to take my success and parlay it into something bigger and better. As a father, my hope and goal is to help create a sustainable organization that will endure for the benefit of future generations. You put goodwill out there, it's amazing what can be accomplished."
On Nov. 22, Reach Out Worldwide released a YouTube video where Walker, standing with his "Fast & Furious" colleagues, urges fans to donate to Philippines relief. 
KNBC reported that hundreds of Walker's fans came to the crash site to mourn the actor. "Fast" co-star Tyrese Gibson also attended, carrying yellow flowers and crying.

A statement released late Saturday by Universal Pictures read: "All of us at Universal are heartbroken. Paul was truly one of the most beloved and respected members of our studio family for 14 years, and this loss is devastating to us, to everyone involved with the FAST AND FURIOUS films, and to countless fans. We send our deepest and most sincere condolences to Paul's family."

NBC News and Universal Pictures are properties of NBCUniversal. 
The son of a fashion model and a sewer contractor, Walker grew up the oldest of five siblings in a working-class Mormon household in Glendale, Calif. Walker's mother began taking him to auditions as a toddler.  
He apppeared in a Pampers ad when he was aged two. He had numerous small television and film roles before starring in 1998's "Meet the Deedles." He also appeared in "Pleasantville," "Varsity Blues," "She's All That," and "The Skulls."
The star of the "Fast & Furious" film franchise died in a car accident on Nov. 30, 2013. He was 40.
But it was in 2001, when Walker was cast alongside Diesel in the first "Fast & Furious" street-racing movie, that he became a known star. He played an undercover LAPD officer, Brian O'Conner, whose knowledge of the car scene comes in handy as he interacts with Diesel's character. Walker would return for all of the sequels except for 2006's "The Fast and the Furious: Tokyo Drift."

At the time of his death, Walker was working on "Fast & Furious 7," which would chronologically fall after the events of "Tokyo Drift." 
Other recent film appearances included the 2006 live-action Disney film, "Eight Below" and the 2010 crime drama "Takers."
The day before he died, Walker tweeted a photo of himself with Diesel and Gibson and expressed his excitement about the upcoming film.
"Fast & Furious 7" had been set for release in July 2014, but Walker's death leaves that film's future uncertain.
Walker also stars in "Hours," a film about a father struggling to keep his newborn alive in the wake of Hurricane Katrina. That film is scheduled to be released in two weeks. Studio executives behind that film told The Hollywood Reporter they would go forward with a planned Dec. 13 release. 
He also appears in "Brick Mansions," a remake of the French action film "District B13" in post-production that Relativity plans to release next year.
"Paul was an incredibly talent artist, devoted philanthropist and friend," Relativity President Tucker Tooley said in a statement.
NBC News' Andrew Blankstein, Jason Cumming and Justin Kirschner and The Associated Press contributed to this report.
Actors James Gandolfini, Annette Funicello and Cory Monteith are just three of the famous names we've lost in 2013.