"Family Guy" likes to poke fun at everything from pop culture to politics, and now, it's taken a shot at the British royal family.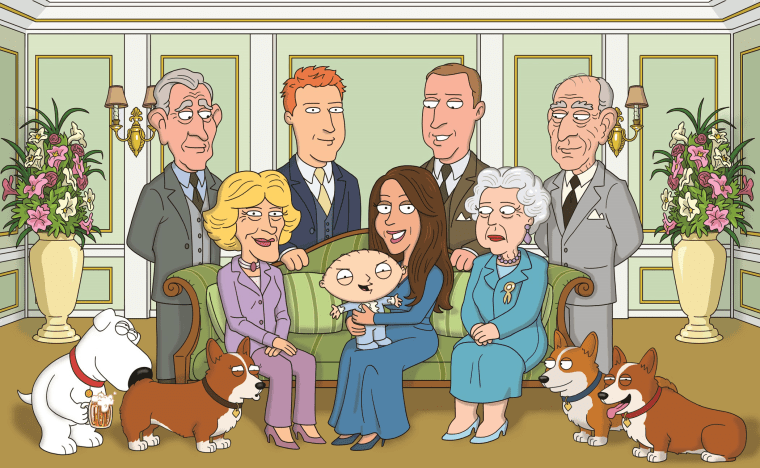 To mark the UK release of the animated show's season 12 DVD box set on Nov. 4, Fox released its own take on one of little Prince George's official christening photos. But instead of her own baby, Duchess Kate is happily holding "Family Guy's" toddler Stewie Griffin, whose expression indicates he's ready to launch one of his devious plans for A) world domination, or B) matricide. (Fortunately, Queen Elizabeth seems to suspect something is up.)
With dog Brian such a central part of "Family Guy," he couldn't be left out of the parody portrait, especially when the Queen is so fond of her own pooches. Unfortunately, that's not exactly good news for one of the royal corgis, who's on the receiving end of Brian's drunken affections.
This photo isn't the first time "Family Guy" and the Griffin family have gone British. In season 10's episode "Viewer Mail No. 2," the show introduced a version of the family living in Britain, with dad Neville (Peter Griffin's equivalent) believing that he's related to the Queen and attempting to get a lock of her hair for a DNA test.
"Family Guy," currently in its 13th season, airs Sundays at 9 p.m. on Fox.