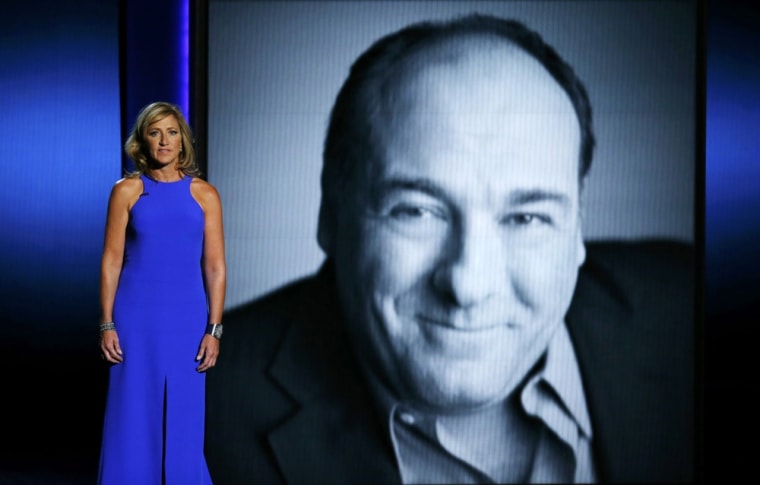 The entertainment industry lost many on-screen and off-screen greats over the last year, and as is tradition, Sunday night's Primetime Emmy Awards honored those who've passed. But the program didn't do it in the usual way.
In addition to the regular In Memoriam roundup, for the 2013 Emmys, five individuals who made an impact on television were selected for standalone honors: "The Sopranos" star James Gandolfini, "All in the Family's" Jean Stapleton, actor-comedian Jonathan Winters, "Family Ties" scribe Gary David Goldberg and "Glee" actor Cory Monteith.
The first tribute of the night focused on Winters. Robin Williams, who worked alongside the comedy icon in their "Mork & Mindy" days, considered him a friend and more.
"Jonathan Winters was my mentor," Williams said of the man whose career spanned more than six decades. "He said, 'Please! I prefer idol.'"
Williams compared working with Winters, who died at the age of 87, to "dancing with Fred Astaire," since the funnyman always brought out the best in his comedy partners.
"In April, Johnny turned out the light, but he sure burned bright while he was here," Williams said.
Later, actor-director Rob Reiner stood before the audience in remembrance of Stapleton, who played the part of his mother-in-law, Edith Bunker, on Norman Lear's classic 1970s sitcom "All in the Family."
Reiner referred to Stapleton's death in May, at the age of 90, as "the second time we said goodbye to Edith Bunker." He explained that when he heard the news of her passing, he and others who knew her felt the same way Archie Bunker did when Stapleton's most memorable character died.
"You had no right to leave me that way, without giving me one more chance to say, 'I love you,'" Reiner said, quoting the famous line.
Monteith's tribute, touchingly presented by his former "Glee" co-star Jane Lynch, was much talked about before it even began.
The inclusion of a standalone tribute to Monteith in Sunday night's ceremony proved controversial. When news first broke that the actor would receive the rare honor (when actors with much longer and varied careers, such as Larry Hagman and Jack Klugman, didn't make the cut), many questioned the call.
But Emmy executive producer Ken Ehrilch promised there would be a message in the segment, that it would all makes sense when the memoriam salute aired.
And it did.
"Corey was a beautiful soul," Lynch told the audience. "He was not perfect, which many of us here tonight can relate to. His death is a tragic reminder of the rapacious, senseless destruction that is brought on by addiction."
The 31-year-old died of an overdose of heroin and alcohol in July.
"To a generation that loved Cory so, please know this gifted and wonderful young man was worthy of your love," Lynch added.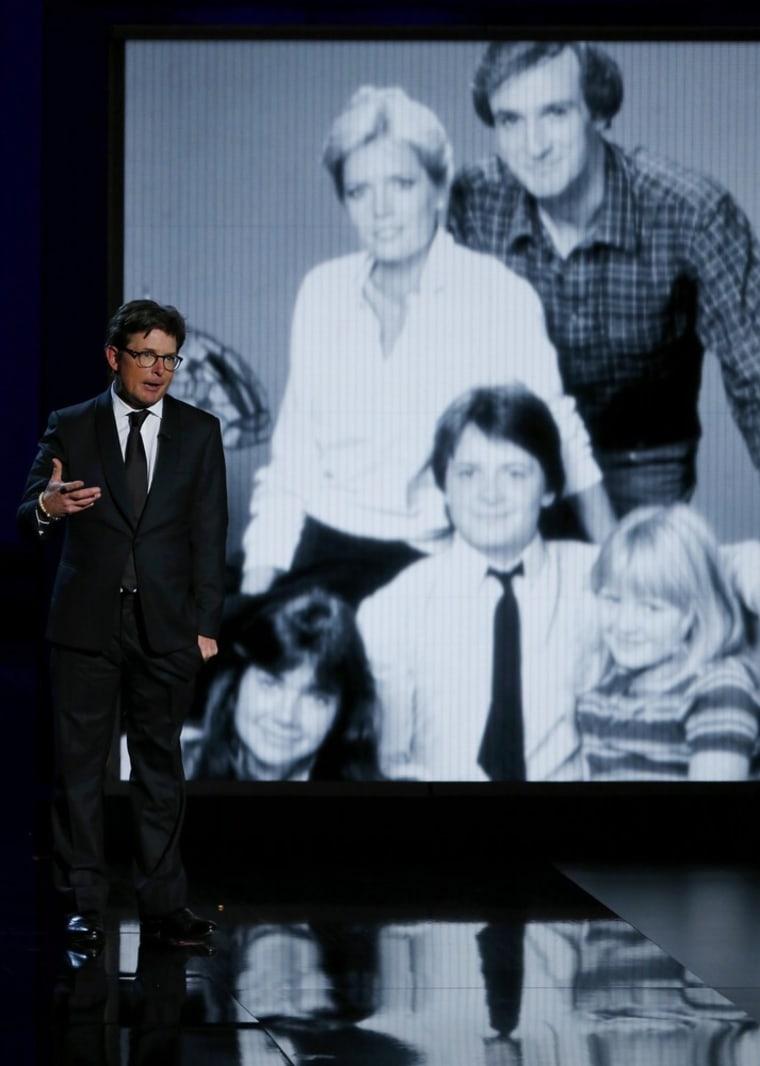 For the tribute to Goldberg, it was actor Michael J. Fox who took the stage. Goldberg died in June at the age of 68, and while it's unlikely that many Emmy watchers considered him a familiar face, his work as a writer on critically acclaimed TV shows was no doubt familiar to them.
Fox, who worked on two of the writer's top shows, "Family Ties" and "Spin City," called Goldberg his "mentor, benefactor, second father and beloved friend."
He captured "the families we recognized," Fox said. And those families "symbolized the families we wanted to be."
And he's someone Fox and his former co-stars will always call family.
"Whenever I catch a rerun of one of our shows, I can hear him," Fox said, adding, "not in my head, right there in the soundtrack. Gary had one of the most recognizable and genuine laughs in the history of television. It wasn't just a gut reaction; it was a tsunami of approbation. It meant the world to us."
For the night's final solo salute, Edie Falco, who played Gandolfini's wife on "The Sopranos," delivered a moving tribute to the actor who mastered the art of the modern TV anti-hero.
According to Falco, the actor's portrayal of Tony Soprano had so much "depth, dimension" that many couldn't separate him from his role. But he wasn't really like Soprano at all.
"You can ask anybody who knew him, if you needed anything at all ever, Jim was there to take care of it before you even had a chance to ask," she recalled.
Then, with tears in her eyes, she explained, "You all knew James Gandolfini the actor. I was lucky enough to know Jim the man — for 10 years as his close colleague and pretend life partner, and for many more years as his friend. And it's Jim the man, the very dear man, that I will miss most of all."
As for the usual In Memoriam presentation (where both Hagman and Klugman finally received some recognition), it aired after the series of special honors, and even that was given a new twist on Sunday night.
Rather than showing a montage of brief clips from each person's most memorable work, as was done in years past, a simple black-and-white slideshow briefly displayed the famous faces, including Dennis Farina, Roger Ebert, Eileen Brennan, Bonnie Franklin, Charles Durning and many others.
Actors James Gandolfini, Annette Funicello and Cory Monteith are just three of the famous names we've lost in 2013.