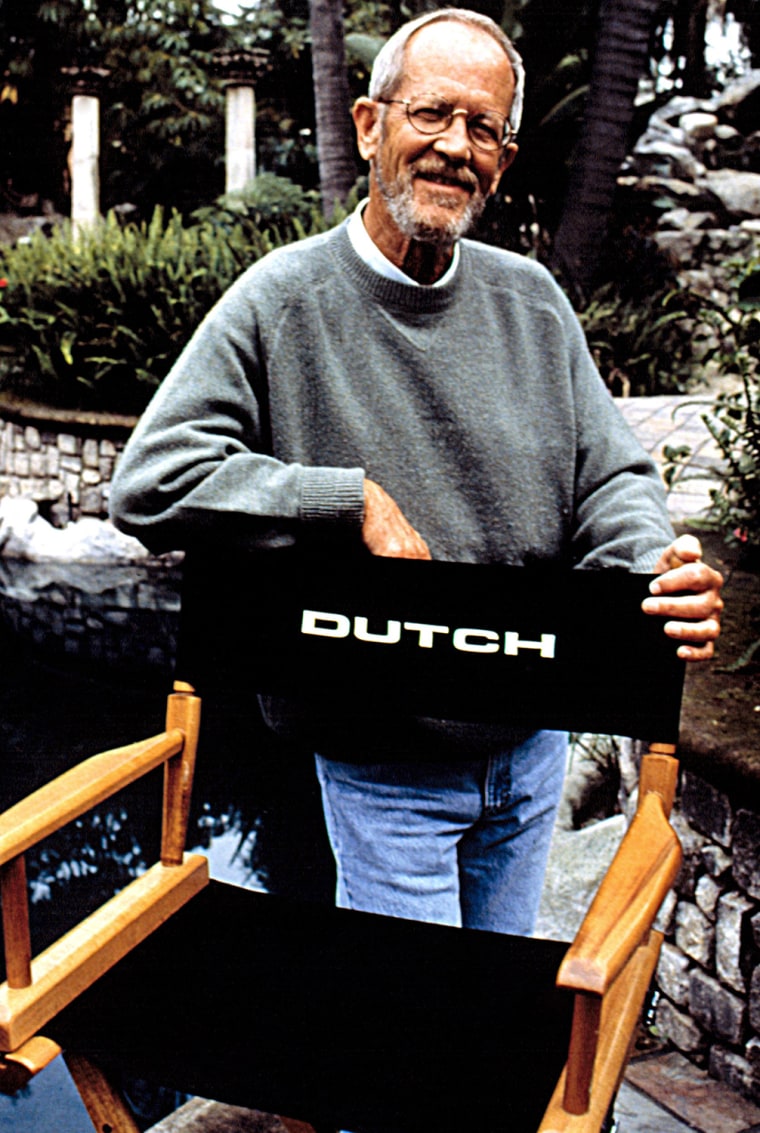 Elmore Leonard, who died Tuesday morning, was one of America's great novelists. But his gritty sense of realism and often hard-boiled words were never limited to the printed page: For over 60 years, his stories and novels have had fresh, vibrant lives in film and television.
The fact is, Hollywood scriptwriters just love his characters. While 26 of his novels and short stories have so far been adapted for the screen, he's one of the few writers to have created characters memorable enough to span the decades, and find homes in multiple projects. 
To put his career in perspective you have to go back to the middle of the last century. His 1953 story "Three-Ten to Yuma" was made into a film (re-titled "3:10 to Yuma") in 1957 and was remade in 2007. 
"Get Shorty," a 1990 novel that became a 1995 dark comedy of the same name, starring John Travolta as a gangster named Chili Palmer who wants to get into the Hollywood biz. The sequel, "Be Cool," was released in 2005 and was based on Leonard's 1999 novel — and brought Chili and Travolta back to the screen.
Other novels of his were turned into movies, such as 1974's "Mr. Majestyk" and 1997's "Jackie Brown." "Out of Sight," started out as a novel published in 1996 and became a 1998 film starring Jennifer Lopez and George Clooney; in 2003 the character Lopez played became the basis for a short-lived TV series on ABC, "Karen Sisco," starring Carla Gugino as a U.S. Marshal. (Sisco has also cropped up in another short story of Leonard's.) 
Even "Justified," FX's critically-acclaimed drama starring Timothy Olyphant as U.S. Marshal Raylan Givens, hearkens back to a regular Leonard character; the laconic lawman appeared in the novels "Pronto" (1993) and "Riding the Rap" (1995); the 2001 short story "Fire in the Hole" became the basis for the series' pilot, while Leonard's novel "Raylan" just came out in 2012.

"Justified" creator Graham Yost, "Justified" star Timothy Olyphant and the rest of the cast and crew issued a joint statement:  "We were blessed by the time we got to spend with him and we will miss him. Our thoughts are with his family. Take it easy, Elmore. PS: We wrote longer versions of this statement, but as Elmore always said: leave out the parts people tend to skip."
John Landgraf, chief executive officer of FX Networks, called Leonard a "treasure" and "one of the greatest contemporary American writers" in a statement.
"'Justified' was the first television show to successfully translate his work to television," Landgraf added. "Elmore was thrilled by the way in which Graham, Tim and the rest of the 'Justified' creative team brought his characters to life. It was one of his proudest moments, and we are honored to have been a part it. He was a genius, and a gentleman, and he will remain in our hearts."
Leonard occasionally dipped into screenwriting for his own works (like "52 Pickup," a 1986 film directed by John Frankenheimer based on the 1974 novel), but largely kept clear of "Justified's" writers' room. As he told StarPulse in 2012, "I don't ask (the writers) what they're doing. I always keep away from them. I'll do some episodes I think will work and they can use little bits then to sprinkle into thirteen episodes. I don't want them feeling that they have to use my stuff, because I'm not a screenwriter, and they have good writers. I think they have very good writers."'

That said, Leonard wasn't shy about sharing his opinions with those who adapted his works. "Justified's" executive producer Graham Yost told The Star-Ledger in 2010 that he had a bracelet made for all of his writers, reading "WWED," as in "What Would Elmore Do?"
"In terms of adapting (him), I'd always felt that the best jobs had been done by Scott Frank in 'Get Shorty' and 'Out of Sight,'" Yost said, "and I always felt that one reason his work was so strong in adapting Elmore was that it seemed to me he used a lot of Elmore's dialogue in the scripts. And there were points when I was writing the pilot where, literally, I would be thinking, 'What's Raylan going to say next?' And I would go, 'Well, what does Elmore have him saying next? And let's try that, because that will be good.'" 
Meanwhile, don't think that just because Leonard has gone, his works won't continue to resonate. There are several projects still due to come out in the coming months, including "Life of Crime," a film starring Jennifer Aniston based on his 1978 novel "The Switch," and "The Arrangement," a USA Network pilot that was adapted from his 2002 short "When the Women Come Out to Dance."