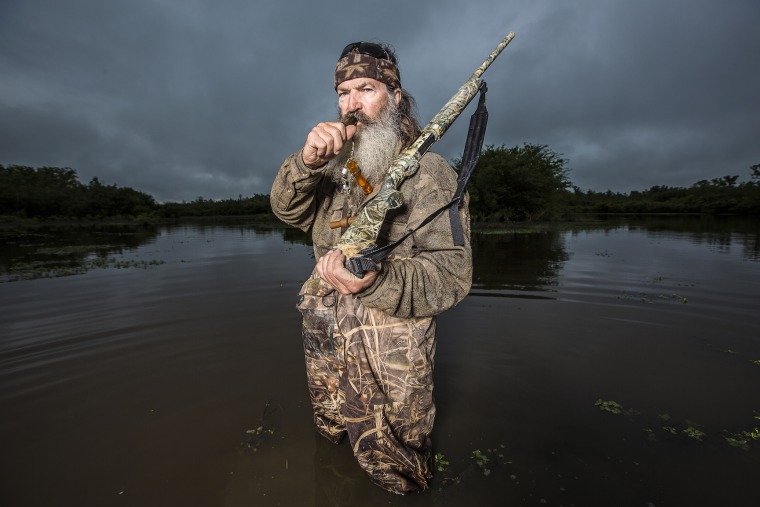 When "Duck Dynasty" returns for its new season on Jan. 15, "Duck Commander" Phil Robertson will be a part of it, an A&E network spokesman told TODAY on Thursday. Most of the 10-episode season was filmed before the network suspended the Robertson family patriarch for anti-gay remarks he made during a GQ magazine interview and the stories would not work without him, the spokesman said.
The hit show starring the wealthy Louisiana family is not currently in production. But on Wednesday, A&E announced it was "indefinitely" placing Roberts on hiatus from filming and he will not be part of the show when production resumes sometime next year.
"We are extremely disappointed to have read Phil Robertson's comments in GQ, which are based on his own personal beliefs and are not reflected in the series 'Duck Dynasty,' A&E said in a statement. "His personal views in no way reflect those of A&E Networks, who have always been strong supporters and champions of the LGBT community."
The Robertson family of West Monroe, La., still live in the backwoods of bayou country despite the wealth they've amassed. A college football star who turned down an NFL offer because it interfered with duck season, Robertson built a mom-and-pop duck call business that his son, Willie, later helped turn into a million-dollar operation. Duck Commander specializes in top-of-the-line duck calls and decoys made from salvaged swamp wood and employs half the family's neighborhood. 
The family's conservative religious views are featured regularly on the show. In the GQ interview, Robertson said in part: "Everything is blurred in what's right and wrong. Sin becomes fine." The Louisiana-based entrepreneur clarified: "Start with homosexual behavior and just morph out from there — bestiality, sleeping around with this woman and that woman and that woman and those men." 
On Thursday, FaithDrivenConsumer, a faith-based consumer organization, launched an IStandWithPhil.com petition drive calling for Robertson's reinstatement on the show and for A&E to apologize to viewers who share Robertson's beliefs. Over 28,000 signatures have been collected. When asked if the network was concerned about alienating the show's huge fan base, a spokesman replied: "We are not commenting further."

The network also declined to comment about the Robertson family's contractual obligations and whether the rest of the cast could refuse to be a part of the show without their Duck Commander.
Before A&E suspended him, Robertson responded to the criticism of his remarks:
"I myself am a product of the '60s; I centered my life around sex, drugs and rock and roll until I hit rock bottom and accepted Jesus as my Savior. My mission today is to go forth and tell people about why I follow Christ and also what the bible teaches, and part of that teaching is that women and men are meant to be together. However, I would never treat anyone with disrespect just because they are different from me. We are all created by the Almighty and like Him, I love all of humanity. We would all be better off if we loved God and loved each other."
High-profile politicians have jumped into the fray in defense of Robertson. In a Facebook post featuring a photo of herself with the Robertson family, former Alaska governor and vice presidential candidate Sarah Palin wrote: "Free speech is an endangered species. Those 'intolerants' hatin' and taking on the Duck Dynasty patriarch for voicing his personal opinion are taking on all of us." 
Louisiana Gov. Bobby Jindal praised the Robertsons as being "great citizens" of his home state.
"I don't agree with quite a bit of stuff I read in magazine interviews or see on TV. In fact, come to think of it, I find a good bit of it offensive," Jindal said. "But I also acknowledge that this is a free country and everyone is entitled to express their views. In fact, I remember when TV networks believed in the First Amendment. It is a messed up situation when Miley Cyrus gets a laugh, and Phil Robertson gets suspended."