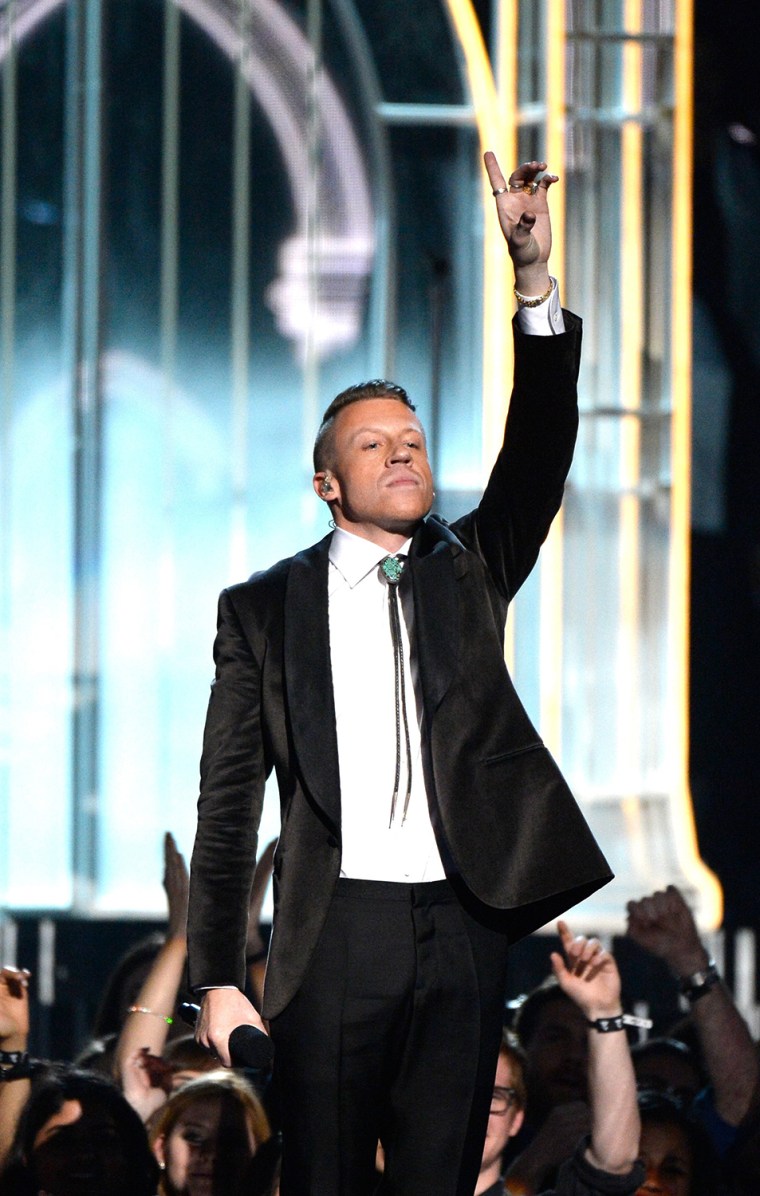 Sunday night's Grammys weren't all about the music: Toward the end of the over 3 1/2-hour show, it also became about weddings.
Dozens of same sex and straight couples tied the knot during the live broadcast of the recording industry's annual event in a spectacle tied to Macklemore & Ryan Lewis' performance of their Grammy-nominated song, "Same Love," which has become an anthem in the campaign for legal gay marriage.
Surrounded by a stage set designed like a church, Macklemore rapped out the tune about tolerance, and paused when Queen Latifah (who had been deputized by Los Angeles County) joined him to officiate. The couples stood with the audience in the aisles of the auditorium while Latifah read out several parts of the wedding vows. 
Undetermined at the time was whether the vows as read were fully legal; as longtime Grammys producer Ken Ehrlich told the New York Times, they were going to keep it all short: "It's not going to take awhile," he said. "We're still a television show."

Following the union of the 33 couples, Madonna took the stage all dressed in white to sing her 1986 hit, "Open Your Heart." She sang alongside Mary Lambert, the featured vocalist on "Same Love."
The event hit personal notes not just for Lewis (whose sister, Laura, and her fiancé were reported to have been one of the couples), but Ehrlich, who has a gay daughter. He told the Times that the idea stemmed from the fact that many of Macklemore's concerts have featured onstage wedding proposals.
The crowd stood during the touching ceremony and cameras caught some of the emotional reaction, including a tearful Keith Urban. The main Grammy twitter feed and the feeds of some celebs conveyed appreciation for the entire spectacle.
The Hollywood Reporter received an exclusive statement from GLAAD praising the addition of the weddings to the performance of the song.
"When such a critically acclaimed and popular rap artist puts marriage equality center stage at one of the biggest events of the year, it is the latest in a long line of signs that our nation not only accepts, but celebrates the love and commitment of gay couples today," said GLAAD President Sarah Kate Ellis. "Macklemore and Ryan Lewis aren't only talented musicians, but are setting the bar high for our allies around the country today."