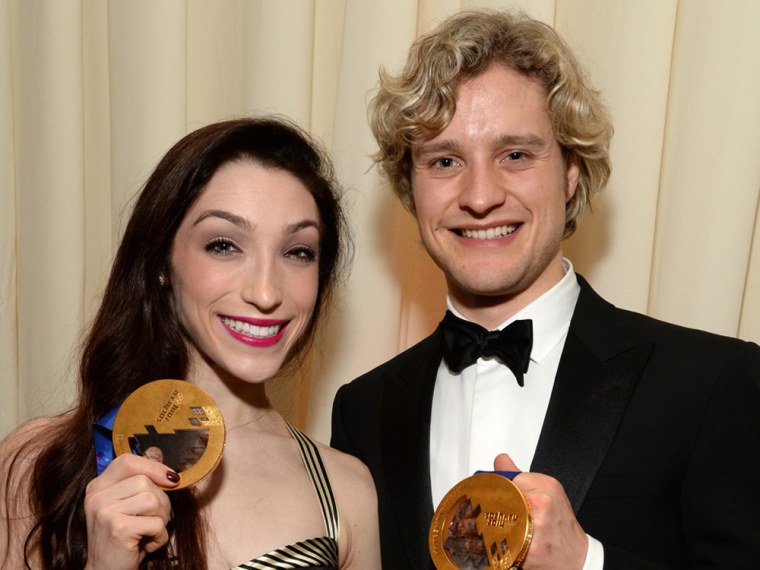 Ice dancers Charlie White and Meryl Davis went for gold and nabbed it in Sochi, but will the Olympic darlings have as much luck in their quest for a mirror ball trophy? The duo is part of "Dancing With the Stars" season 18 cast, but win or lose, they won't do it together this time.
That's because the longtime partners will hit the dance floor separately, with veteran hoofers from the ballroom bash at their respective sides. And, of course, they'll have plenty of competition for that trophy from some other familiar faces.
In what's shaping up to be a bash between a collection of current athletes and retro television and movie stars, the skaters will face the likes of D.J. Tanner, Winnie Cooper and Lando Calrissian — or rather the stars who made those characters so familiar.
On Tuesday morning, longtime "Dancing With the stars" emcee Tom Bergeron and his brand new co-host Erin Andrews announced the full ballroom bunch who'll let their footwork lead the way.
The show goes retro this season with contestants including Danica McKellar, Billy Dee Williams and Candace Cameron Bure.
Charlie White — Instead of moving alongside Davis, the 26-year-old Olympian will dance with pro Sharna Burgess.
Meryl Davis — The 27-year-old will prove she can dance on more than ice when she grooves with returning pro Maksim Chmerkovskiy.
Billy Dee Williams — The 76-year-old actor best known for backstabbing Han Solo in "Star Wars" (and sharing his Colt 45 with lovely ladies) will dance with pro Emma Slater.
Candace Cameron Bure —"Full House's" D.J. Tanner is all grown up now, and the 37-year-old star will dance alongside pro Mark Ballas. Only time will tell if Michelle, Stephanie and maybe even Uncle Joey will turn up to root for her.
Danica McKellar — She was Gwendolyn "Winnie" Cooper (and part-time Kevin Arnold heartbreaker) on "The Wonder Years," but soon the 39-year-old star will show off her moves with dance pro Valentin Chmerkovskiy.
Drew Carey — The funnyman made his way from '90s hit "The Drew Carey Show" to the "Price is Right." Now Carey, 55, will have to make his way across the ballroom with pro Cheryl Burke.
NeNe Leakes — There's nothing classic about Leakes' TV work, but the 46-year-old "Real Housewives of Atlanta" star will be sure to bring drama to the dance floor with pro Tony Dovolani.
Sean Avery — Former hockey player Avery, 33, will join the ballroom bash alongside pro Karina Smirnoff.
Cody Simpson — The 17-year-old Australian pop star will dance with pro Whitney Carson.
Diana Nyad — The 64-year-old swimmer will dance with first-time pro and former Dance Troupe member Henry Byalikov.
James Maslow — Actor/singer Maslow, 23, is best known from Nickelodeon's "Big Time Rush." He's performing with pro Peta Murgatroyd.
Amy Purdy — The 34-year-old Paralympic snowboarder and actress will dance with seasoned pro Derek Hough.
As for the last name on that list, Purdy was the only one who didn't show up for the live announcement on "Good Morning America." That's because she's currently competing for Team USA at the Paralympics.
"She's actually a double amputee," five-time champ Hough explained of his new partner. "She's all about defying the odds."
And she'll do that on the dance floor alongside Hough ... for a while. The stars won't be able to get too comfortable with their pros this season. There's a twist on the way that will see a complete shakeup, with viewers' votes determining revamped pairings before anyone can get too comfortable
Response to the cast announcement has been mixed so far.
Over on our Facebook page, reader Randy West told us that "Dancing With the Stars" is "scraping the bottom of the barrel" with this cast, while Patti Gable Miller said, "Love the new cast!!"
But there seems to be one thing about the upcoming season most can agree on. The return of "Dancing's" fan favorite pro Maks Chmerkovskiy is good news indeed.
His partner is certainly excited.
See the stars show off just what they can — and can't — do on the dance floor when season 18 of "Dancing With the Stars" premieres March 17 at 8 p.m. on ABC.