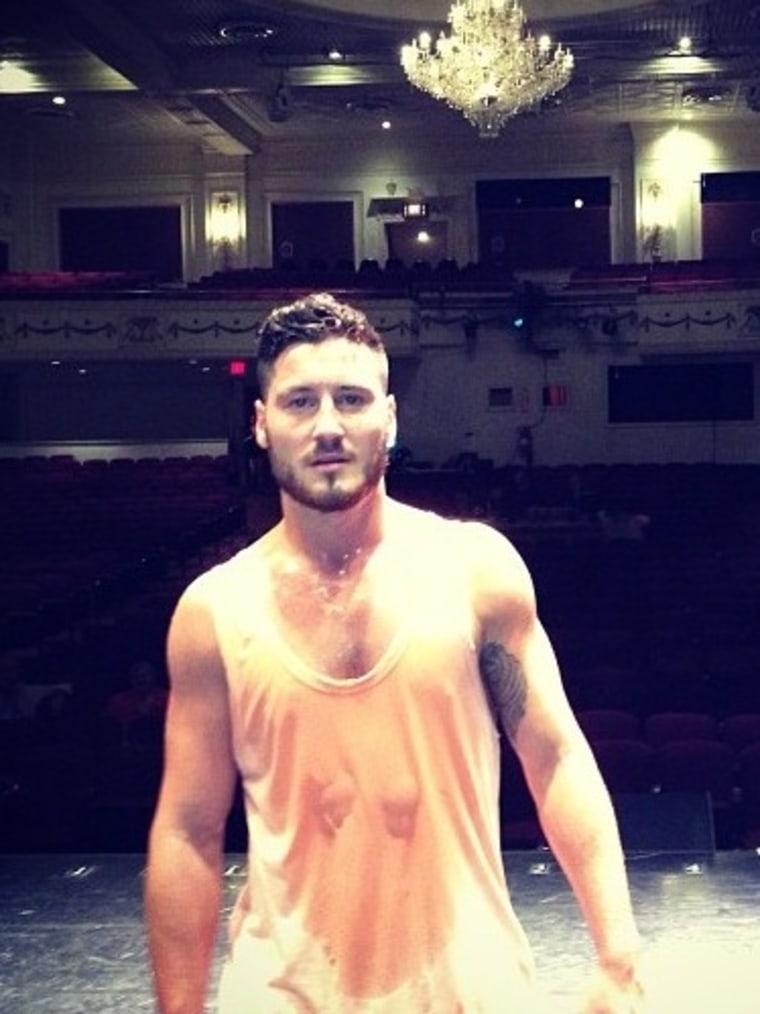 Dancing With the Stars" pro Valentin Chmerkovskiy will be blogging about his experiences and thoughts on his fifth quest for the mirror ball trophy on TODAY.com throughout the season. The 14-time US champion in dance is paired with former "Saved by the Bell" star Elizabeth Berkley.
Yeah, I'm back! Better than ever, working harder than ever. And I hope you guys are going to vote harder than last time!
I'm very excited to get Elizabeth as my partner. The greatest thing is how enthusiastic she came in and how incredibly happy she was to get me. She requested me. She wanted me. For me, that's everything. The producers kept telling her, "Listen, you have no choice. We made the choice, and you're not going to know until you go and meet him."
But when she walked through the door and saw me, she was ecstatic! For me as a teacher – as a person in general – to hear that on a show where slowly but surely I earned my stripes and paid my way and paid my dues, it was awesome. It's confirmation of my work, and it feels great in general for someone to come in and be so excited to be paired up with you and be a fan and respect your work. It's a great feeling. I appreciate that. I reciprocate that.
I knew who she was. I was a big fan of "Saved By the Bell." It was about the time that I came to America. I barely spoke English. I told her that I liked Kelly more … Kelly Kapowski. She was upset! She was like, "Huh?!" I said, "No no no, listen: I thought she was Russian. Kapowski." I made that up on the spot! 
Elizabeth's a huge fan of "Dancing With the Stars." She's been watching it for some time but was always too afraid to commit to doing it. She had a baby last year. … This is a big step for her because dance is her main passion, but she hasn't done that in over 20 plus years. There's a reason for that, which I'm not going to get into. Let's just say that dancing is something that touches a very emotional and on a very personal level for her.
It's awesome for me to be there and be the person who opens it up for her again, and kind of welcome her into this world in a different light. She's like a kid in a candy store! The most important thing is that she's here for the right reason. She's living the dream. She loves being here, and that for me, makes me love showing up to work every day and doing whatever I can to make sure this experience for her will be one she'll never forget.
She danced a long time ago. You know, whatever. She has some movement in her. But I told her: The problem with me is that it's never enough. The better you are, the more I'm going to correct her. I'm not going to think about our competition.
Speaking of, it's a great cast this season! This is probably the strongest celebrity cast we've ever had. We have legitimate celebrities this time! These are all pretty current names and they're all very talented and very capable. From what I have seen this far, they're all very enthusiastic to be here. They really found some good dancers this season.
I don't know how far we're going to go because it's not all about dancing, but I'm going to do my best to make sure we get to dance for as long as we can.
I am personally very excited for this season. I think it's going to be the best one yet, even with the changes. I think it's going to be two hours of a great show. Before, we were able to give you two days — three hours, four hours — of an amazing show. Imagine all that greatness into two hours!
I just want to say thank you to everybody who supported me last season. Hopefully I won't let you down. And vote!