Sid Caesar, a comedy television pioneer and the king of live TV sketch comedy in the 1950s, died early Wednesday in his Beverly Hills home, a family spokesman told NBC News. He was 91.
With his remarkable skills in pantomime, satire, mimicry, dialect and sketch comedy, Caesar inspired a generation of famous writers, including Neil Simon and Woody Allen.
"Undoubtedly and hands down the greatest single sketch comedian and monologist that television has ever known," his friend and collaborator Carl Reiner told NBC News. "He set the template for all comedians that came after him. I was no more than a foot a way to watch his performance — more honest performances I have never seen from any other comic actor."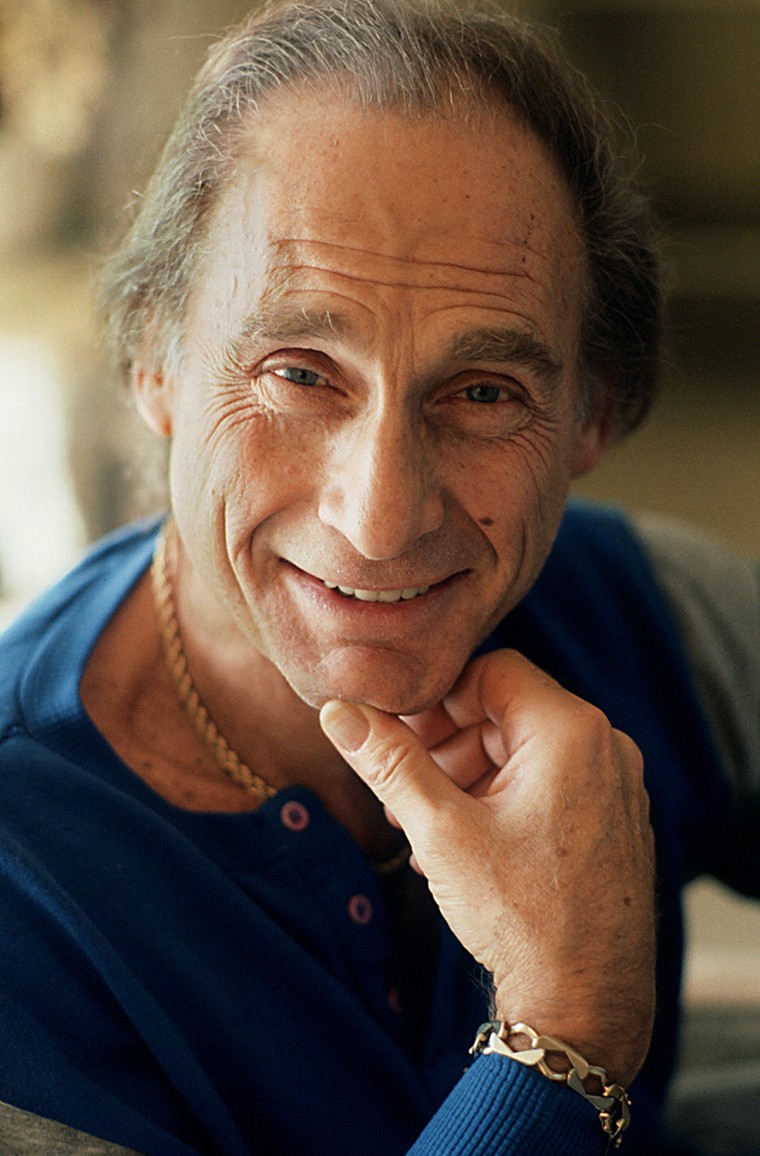 "He was one of the truly great comedians of my time and one of the finest privileges I've had in my entire career was that I was able to work for him," Allen said in a statement.
While his career spanned six decades, Caesar will be best remembered for his work with comedienne Imogene Coca on "Your Show of Shows," which aired on NBC from Feb. 1950 to June 1954, and "Caesar's Hour," which followed it on NBC and ran until 1957. "Your Show of Shows" aired every Saturday night for 39 weeks a year and is considered the prototype for every U.S. TV sketch comedy series that followed, including NBC's "Saturday Night Live."
"The one great star that television created and who created television was Sid Caesar," said critic Joel Siegel on the TV documentary "Hail Sid Caesar! The Golden Age Of Comedy," which first aired in 2001.
Coca and Caesar performed skits that satirized the everyday — marital spats, inane advertising, strangers meeting and speaking in clichés, a parody of the Western "Shane" in which the hero was "Strange." 
"The chemistry was perfect, that's all," Coca, who died in 2001, once said. "We never went out together; we never see each other socially. But for years we worked together from 10 in the morning to 6 or 7 at night every day of the week. What made it work is that we found the same things funny."
On Wednesday, other members of the comedy community and celebrities turned to Twitter to express their condolences.
"Sid Caesar was a giant — maybe the best comedian who ever practiced the trade," Mel Brooks told NBC News in a statement. "And I was privileged to be one of his writers and one of his friends." 
While best known for his TV shows, which have been revived on DVD in recent years, he also had success on Broadway and occasional film appearances, notably in "It's a Mad, Mad, Mad, Mad World."

If the typical funnyman was tubby or short and scrawny, Caesar was tall and powerful, with a clown's loose limbs and rubbery face, and a trademark mole on his left cheek.
But Caesar never went in for clowning or jokes. He insisted that the laughs come from the everyday.
"Real life is the true comedy," he said in a 2001 interview with The Associated Press. "Then everybody knows what you're talking about." Caesar brought observational comedy to TV before the term, or such latter-day practitioners as Jerry Seinfeld, were even born.
In one celebrated routine, Caesar impersonated a gumball machine; in another, a baby; in another, a ludicrously overemotional guest on a parody of "This Is Your Life." He played an unsuspecting moviegoer getting caught between feuding lovers in a theater. He dined at a health food restaurant, where the first course was the bouquet in the vase on the table. He was interviewed as an avant-garde jazz musician who seemed happily high on something.
Some compared him to Charlie Chaplin for his success at combining humor with touches of pathos.

"As wild an idea as you get, it won't go over unless it has a believable basis to start off with," he told The Associated Press in 1955. "The viewers have to see you basically as a person first, and after that you can go on into left field."
Caesar worked closely with his writing staff as they found inspiration in silent movies, foreign films and the absurdities of '50s postwar prosperity.

Among those who wrote for Caesar: Brooks, Larry Gelbart, Simon and his brother Danny Simon, and Allen, who was providing gags to Caesar and other entertainers while still in his teens. Reiner, who wrote in addition to performing on the show, based his "Dick Van Dyke Show" — with its fictional TV writers and their temperamental star — on his experiences there. Simon's 1993 "Laughter on the 23rd Floor" and the 1982 movie "My Favorite Year" also were based on the Caesar show.
But he wasn't just a TV star. In 1962, Caesar starred on Broadway in the musical "Little Me," written by Simon, and was nominated for a Tony. He played seven different roles, from a comically perfect young man to a tyrannical movie director to a prince of an impoverished European kingdom.
The son of Jewish immigrants, Isaac Sidney Caesar was born in 1922 in Yonkers, N.Y., to an Austrian-born restaurant owner and his Russian-born wife. He was a wizard at spouting melting-pot gibberish that parodied German, Russian, French and other languages. 
His first dream was to become a musician, and he played saxophone in bands in his teens. But as a youngster waiting tables at his father's luncheonette, he liked to observe as well as serve the diverse clientele, and recognize the humor happening before his eyes.
His talent for comedy was discovered when he was serving in the Coast Guard during World War II and got a part in a Coast Guard musical, "Tars and Spars." He also appeared in the movie version. That led to a few other film roles, nightclub engagements, and then his breakthrough hit, a 1948 Broadway revue called "Make Mine Manhattan."
His first TV comedy-variety show, "The Admiral Broadway Revue," premiered in Februrary 1949. But it was off the air by June. Its fatal shortcoming: unimagined popularity. It was selling more Admiral television sets than the company could make, and Admiral, its exclusive sponsor, pulled out.
But everyone was ready for Caesar's subsequent efforts. "Your Show of Shows," which debuted in February 1950, and "Caesar's Hour" three years later reached as many as 60 million viewers weekly and earned its star $1 million annually at a time when $5, he later noted, bought a steak dinner for two.
When "Caesar's Hour" left the air in 1957, Caesar was only 34. But the unforgiving cycle of weekly television had taken a toll. He relied on alcohol and pills for sleep every night so he could wake up and create more comedy. It took decades for him to hit bottom. 
In 1977, he was onstage in Regina, Canada, doing Simon's "The Last of the Red Hot Lovers" when, suddenly, his mind went blank. He walked off stage, checked into a hospital and went cold turkey. Recovery had begun, with the help of wife Florence Caesar, who would be by his side for more than 60 years and helped him weather his demons.

Those demons included remorse about the flared-out superstardom of his youth — and how the pressures nearly killed him. But over time he learned to view his life philosophically.
"You think just because something good happens, THEN something bad has got to happen? Not necessarily," he said with a smile in 2003, pleased to share his hard-won wisdom: "Two good things have happened in a row."
— The Associated Press and Reuters contributed to this report.