It was a good night for some familiar faces Wednesday at the 47th annual Country Music Association Awards in Nashville. Married couple Blake Shelton and Miranda Lambert won the male and female vocalist of the year awards, both for the fourth time in a row. And in a surprising but deserved nod to a country icon, George Strait, 61, scooped up the entertainer of the year award, beating four much younger contenders.
Strait seemed legitimately shocked to win. "Never in a million years ... thank you so much," he said. Looking upwards, he added, "My dad's been having some pretty good conversations up there." Strait's father died in June.
Miranda Lambert was the first of the Lambert-Shelton family to take home one of the vocalist of the year awards. "I really didn't think this was gonna happen this year," she said in her acceptance speech.
Disbelief must run in the family. Shelton said that he was equally surprised when he claimed his fourth male vocalist of the year award. "Not to echo the words of Miranda, but I really swear I did not think this was going to happen this year," he said.
Blake Shelton, Carrie Underwood, Taylor Swift and more of country music's biggest stars party in Nashville.
Shelton also won the album of the year award for "Based on a True Story," produced by Scott Hendricks. "Crap, my phone's blowing up all of a sudden," he said with a laugh as he was about to give his acceptance speech.
Hosts Brad Paisley and Carrie Underwood kicked off the Nashville event with an issue-focused comedy patter that included jokes about country-music feuds, Obamacare, and Miley Cyrus.
The hosts enlisted singer Kellie Pickler to run around Nashville's Bridgestone Arena handing out feuding assigments to various stars. Kelly Clarkson was assigned Reba McEntire, the stepmother of her husband, Brandon Blackstock. "Enjoy your Thanksgiving together," cracked Paisley. 
Paisley and Underwood also parodied Strait's famed "Amarillo by Morning," with Underwood pretending she had been trying for days to access the new government health-care site, and hoping for "Obamacare by morning."
The hosts also got in a few jabs at Miley Cyrus' much-discussed routine from the MTV Video Music Awards, thanking nominee Taylor Swift for "never humping a teddy bear or gyrating with Beetlejuice," a reference to Cyrus' teddy bear-themed leotard and partner Robin Thicke's striped suit.
Paisley would later appear in a copy of that same striped suit, with Underwood joking, "you kinda look like a referee who's going to prom." And in another Cyrus parody, Underwood waved a foam claw honoring her husband Mike Fisher's NHL team, the Nashville Predators, in a nod to the foam finger Cyrus cavorted with at the VMAs."I don't think Miley done it that-a-way," Paisley joked.
Luke Bryan and Florida Georgia Line performed a medley to open the show, and Florida Georgia Line was soon back on stage to accept the single of the year award for "Cruise." Later in the show, Florida Georgia Line won again, accepting the vocal duo of the year award.

The duo thanked their fans for "making our dreams come true."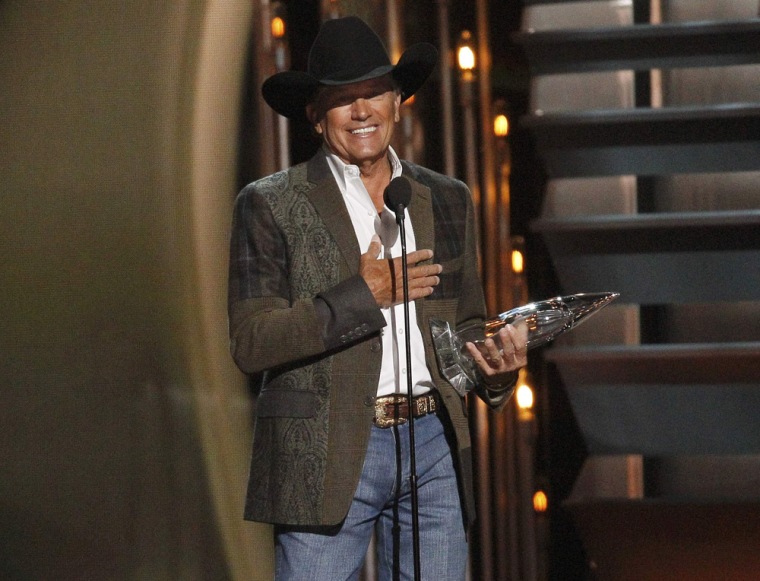 The song of the year award went to "I Drive Your Truck," written by Jessi Alexander, Connie Harrington and Jimmy Yeary, and sung by Lee Brice. The song is based on real events, as it's about how Paul Monti, the father of Medal of Honor winner Jared Monti, who was killed in Afghanistan, still drives his son's pickup truck. It wasn't the only song with a heartbreaking premise represented at the awards. Luke Bryan performed his new song, "Drink a Beer," which honors the memory of his late siblings Kelly and Chris.
Kenny Rogers received the Willie Nelson Lifetime Achievement Award, with singer Darius Rucker singing Rogers' hit "The Gambler," and Rogers and Jennifer Nettles dueting on "Islands in the Stream," which Rogers famously sang with Dolly Parton. The show also honored the late George Jones, who died in April at age 81.
Kacey Musgraves, who performed her song "Follow Your Arrow" on the show, won the new artist of the year award. "This first year has been just indescribable," Musgraves said. She went on to thank her grandmother, whom she noted "was my booking agent when I was 10 years old."
Vote: Which country leading lady looked best?
Taylor Swift, just 23 but already a country veteran herself, was presented with the Pinnacle Award, given to those who take country music to a worldwide audience. The award has been only presented once before, in 2005, when it was given to Garth Brooks. "Thank you, thank you, you made me feel so special right now," Swift said.
Little Big Town won the vocal group of the year award, presented by Kellie Pickler and Sean "Puffy" Combs. "We just got an award from Puffy and Pickle," said Kimberly Schlapman with a laugh.
Some awards were given out before the show. Tim McGraw, Taylor Swift and Keith Urban won the musical event of the year award for "Highway Don't Care," and that song also won CMA music video of the year.
Mac McAnally won musician of the year for the sixth year in a row.