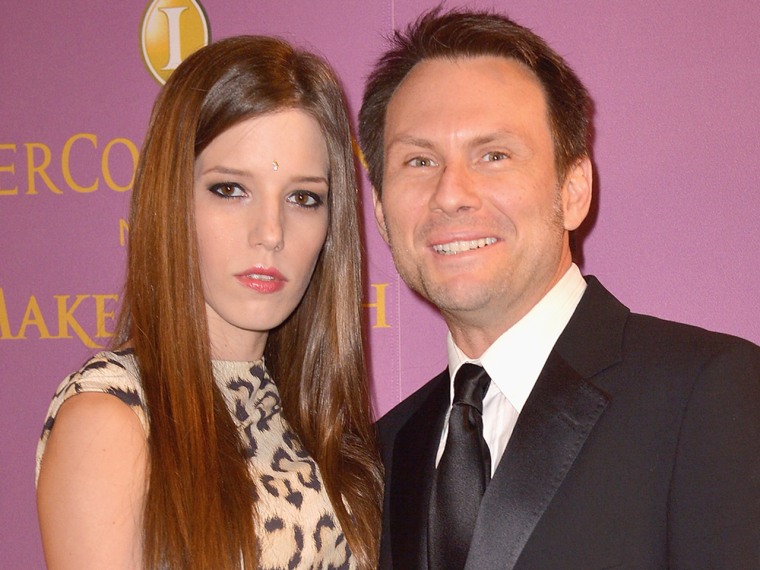 Christian Slater is a married man. The 44-year-old movie star and Brittany Lopez, his girlfriend of a few years, tied the knot in Coral Gables, Fla. Monday, E! News confirms. According to the couple's marriage license, they wed in front of a judge at a local Miami area courthouse.
This is the second marriage for Slater, who has two kids with ex-wife Ryan Haddon, a son, Jaden Christopher, and a daughter, Eliana. Slater and Haddon married in 2000 and separated in 2005.
VIDEO: Britney Spears says she's in love
Slater officially announced his engagement back in February 2013 during an appearance on Late Night With Jimmy Fallon.
"Congratulations, you're engaged!" Jimmy Fallon said to Slater, who replied, "Yeah, that's true," before giving the audience the thumbs-up.
Slater said that he met Lopez when he was staying on Florida's Little Palm Island a couple years ago. "This girl came walking along with another lady, a slightly older lady, and I was sitting in my usual spot eating my oatmeal that morning," he explained to Fallon. "So I'm a filthy old man eating my oatmeal and she comes walking along. This spot, I guess, was famous for people proposing to each other, actually. It was very, very nice. So she's there with this old lady and, next thing I know, she gets down on one knee and proposes to this older lady...I'd seen a lot of crazy stuff down in the Florida Keys! I of course was very intrigued and I went over and sat down in my other usual spot."
"I thought I'd just witnessed a nice lesbian engagement so I was coming over to say congratulations," Slater continued. "But it turns out it was her aunt and she was just trying to help her aunt capture the beauty and the romance of the park...The next thing I knew we were hanging out in the Everglades."