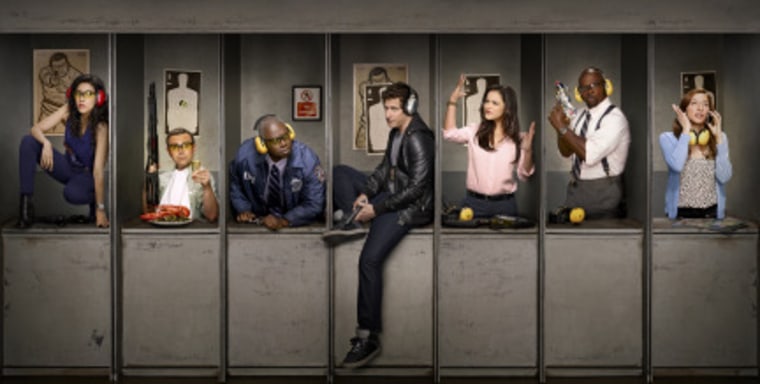 Andy Samberg's "Brooklyn Nine Nine" character, Detective Jake Peralta is seated at his desk at the police precinct, head in hands and hung over when he receives an antidote from fellow detective Amy Santiago (Melissa Fumero), one handed down by her grandfather: a glass of raw egg yolks. "You look like the corpse we just pulled out of the river," says their commander, Captain Ray Holt (Andre Braugher), as he walks in. Jake plays it off by claiming the drink is part of his fitness routine.
"You should drink it all," Holt deadpans and pauses. "For your guns."
It's an amusing line the way the Emmy-winning Braugher dryly delivers it during a recent taping on the show's Los Angeles set. Samberg is inspired to improvise different endings that involve consuming the drink, insulting Santiago's grandfather and trying to one-up Braugher. Soon, both actors are cracking up.
The exercise proves that Fox's new comedy "Brooklyn Nine-Nine" isn't going for edge. "Parks and Recreation" producing team Dan Goor and Mike Schur have teamed up again to create a throwback workplace comedy that features daily life in a Brooklyn precinct without a laugh track a la "The Big Bang Theory" or a fake documentary crew like "Parks."
But the show is quietly breaking ground (it has yet to crack five million viewers) with one of the most ethnically diverse casts on broadcast television. Samberg's star detective is a goofball but skilled investigator whose two bosses are black men—one of whom is gay—and two of his detective peers are Latinas. In the same way that ensemble dramas like "ER," "Lost" and "Grey's Anatomy," paved the way for multiculturalism without tokenism, "Brooklyn Nine-Nine" defies stereotypical comedic expectations and finds the humor in humanity—not skin color or ethnic background or sexual preference.
"The worst kind of comedy, the worst kind of stand-up to me is when they talk about what you're looking at—'I'm Jewish' or 'I'm wearing glasses," Samberg said. "You want to hear jokes about life and things you can relate to. I don't think this show will ever go out of its way to make comments in that regard."
Instead, the laughs are found in how the stoic and hard-to-read new commander Holt reacts to Peralta's antics or how badly Santiago wants to beat Peralta's closure rate—not where they come from or who they sleep with. Detective Charles Boyle (Joe Lo Truglio) is in love with hard-to-get detective Rosa Diaz (Stephanie Beatriz), a tough cookie who doesn't speak with an accent or acts particularly sassy. Sgt. Terry Jeffords (Terry Crews) is a hulk of a man who has become petrified of fighting crime since he became a father of twin girls; office secretary Gina Linetti (Chelsea Peretti) is just plain insane.

"I was working on this thing for a month before I realized that there's two black guys running the precinct—and I work on the show!" said Crews during an interview with NBCNews in his dressing room. "I didn't even think about that, which is so cool because, oh my God, we have all been there. I've turned down a lot of stuff where the message was 'We're going to be diverse!' Give me a break. We're in Brooklyn. If you don't make it diverse, it looks funny. We are what 'Friends' should have been."
During an interview in the set's evidence room, Beatriz, who played Sofia Vergara's character's sister on "Modern Family" earlier this year, teared up as she described what it means to her to play a Latina whose ethnicity is not the butt of the jokes or the essence of her character.
"I remember as a kid watching TV and looking for myself and not being able to find myself very often," she said. "There were very few shows I could see myself. I get a little emotional about it because it's very important. Back in the day, people would go to theater to watch the human story. Now we're watching it from our houses; to know that there are people who are watching it who can see themselves is a good feeling. I don't talk about being Latina every day. I also don't talk about what kind of deodorant I use. It's something that happens or is a part of me. And it's the same on the show. It's almost monumental in its normalcy."
The producers and casting director Allison Jones assembled the cast of veterans and fresh faces by staying open-minded during auditions. Once Samberg was cast in the lead role, Goor said his team went about making the Brooklyn precinct as realistic as possible without committing any characters to certain backgrounds or ethnicities. "Parks," which is set in a small Indiana town, also boasts a multi-ethnic cast that includes Aubrey Plaza, Rashida Jones, Retta, and Aziz Ansari alongside star Amy Poehler.

"Our feeling was not calling attention to their ethnicities and not calling attention too much to Captain Holt being gay,' Goor said. "We just feel like in real life you're in a workplace and the Latina lady is not referencing the barrio. She's a person, just like you're a person. To a certain extent, it's just writing toward reality."
For example, Beatriz auditioned for the role of "Megan." When the producers decided they wanted to hire her, they renamed her "Rosa." That the two top officers in the precinct turned out to be black men, Goor said, was a function of wanting to work with Crews from the outset and being pleasantly surprised that Braugher, who is known for his dramatic heft, wanted to test his comedy chops. The role of the commander was always written as gay because the writers wanted the new leader to be a hard-working, ambitious policeman who had been held back because he had come out of the closet in the 80s.
"I'm not playing a gay police captain," Braugher of his first comedic television role. "I'm playing a police captain who happens to be gay. The distinction is large in my mind. The gay police captain is eventually going to be wearing hot pants and singing 'YMCA.' The police captain who happens to be gay is going to be a huge collection of personality characteristics and motivations. I'll get a husband one of these days but he'll be my sweetheart as opposed to that man candy we bring in for stunt casting."
In that same way, detective Boyle (Lo Truglio) is trying to win Rosa's heart without any mamacita jokes or "spicy" references. "I love that these are traits that don't define the characters," the former "Reno 911" star said in an interview. "They shouldn't. The reality of a police precinct in Brooklyn today is what you see here."
Braugher jokes that he was lost in the "woods of drama" when "Brooklyn Nine-Nine" found him and won him over with its realistic treatment of diversity. "Broadcast TV is very conservative and they're always concerned about reflecting the audience's prejudices rather than reflecting the world as it is. When you're going into people's homes, there's a big pressure to be lovable and acceptable. But life is made up of all these juicy parts. I'm not necessarily a fan of that kind of conservatism. I would like to start by holding a mirror up to life. And this is a show that does that."