With Brooke Shields joining the TODAY crew Monday as a guest co-anchor, there was only one way to start off the chat: Asking her what she thought of Miley Cyrus' performance at Sunday night's MTV Video Music Awards.
And Shields — who made a handful of appearances on "Hannah Montana" as Cyrus' character's mom — had plenty to say. 
"I was Hannah Montana's mother!" she told TODAY's Willie Geist, then slipped into hand-waving faux-hysteria, adding: "Where did I go wrong?"
But more seriously, Shields — herself a former child star who had to transition into adulthood in the public eye — had other things to say about the performance. "I just want to know who's advising her, and why (the VMA display) is necessary.... (Our children) can't watch that.... I feel like it's a bit desperate."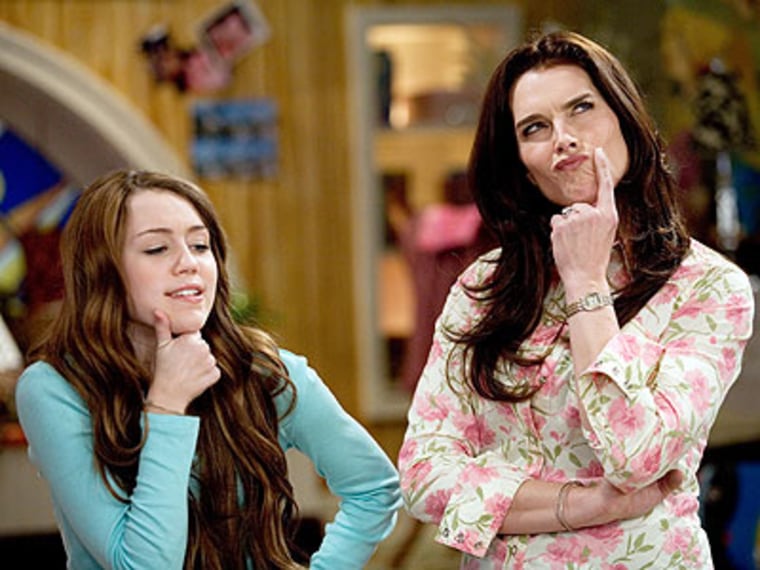 Shields acknowledged that Lady Gaga can be edgy with her performances, but there's a crucial difference: "(Gaga has) a genius behind all of it; it's not just display," unlike Cyrus, said Shields.
Shields recalled taking her young children to see Cyrus in concert while the pair were appearing together on "Hannah Montana," and recalled "it was a very different vibe." Cyrus barely had time to say hello to Shields' children (though to be fair, everyone understood the young actress/singer was tired and working hard), but Shields recognized something else — namely that Cyrus was doing her darnedest to get away from her wholesome, Disney Channel persona.
"You could see her trying so hard to go against that," said Shields. "She can sing beautifully, and I feel like if she lets that lead, rather than let her bottom lead.... (She's) trying so, so hard."
Shields herself engendered controversy when she was 15 and appeared in advertisements for Calvin Klein jeans, noting in the ads, "You want to know what comes between me and my Calvins? Nothing." She told Geist, "I was very naive. I wasn't reading into the dialogue the way other people read into the dialogue."
Still, Shields did have some thumbs-up to offer Cyrus. "She went for it," she said. "You've got to give her some credit. We're all talking about her."