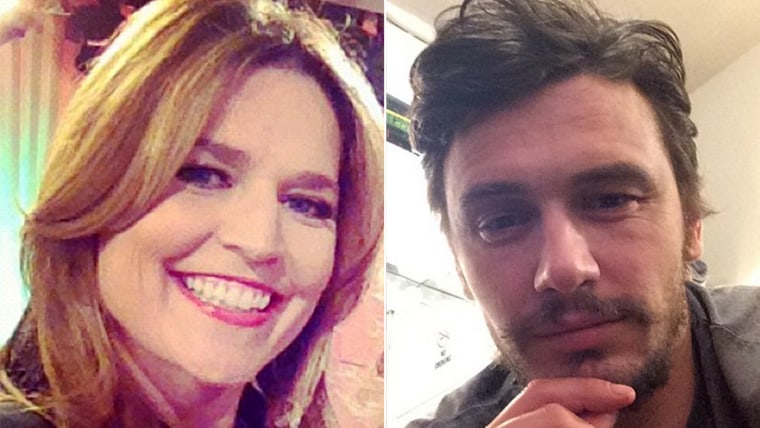 "Oh James, I love seeing you," said Savannah Guthrie at the end of her interview with Franco Wednesday about his new movie, "Palo Alto" (along with director Gia Coppola).
And she'd better! Savannah has interviewed the quirky actor three times in the past year.
And every single time, the two get giggly — and talk about selfies.
This time, Savannah pointed out that his self-shots (which he wrote about in The New York Times with a nod to his recent TODAY interviews) are "barely clothed."
Savannah admitted her own selfies don't get nearly the love that Franco's do online. 
"I think a little skin would get you up in the 50,000 likes," he suggested to the six-months-pregnant anchor. "A little skin with the pregnant belly. That'll get that up there."

In October, the pair chatted about his movie "The Interview." 
And, of course, selfies.
"I've been looking at you on social media," she said. "You're a big guy on Instagram. A lot of selfies."
"I don't want to post those things," he said. "I just look at the number of likes, and, like, if I put on a book or something like that I get this number, and if I just put a stupid selfie it's, like, up 10 times."
And when the stars of "Of Mice and Men" on Broadway got together in March, Savannah was reunited once again with her social-media-loving buddy. 
That March meet-up resulted in — you guessed it! — another selfie.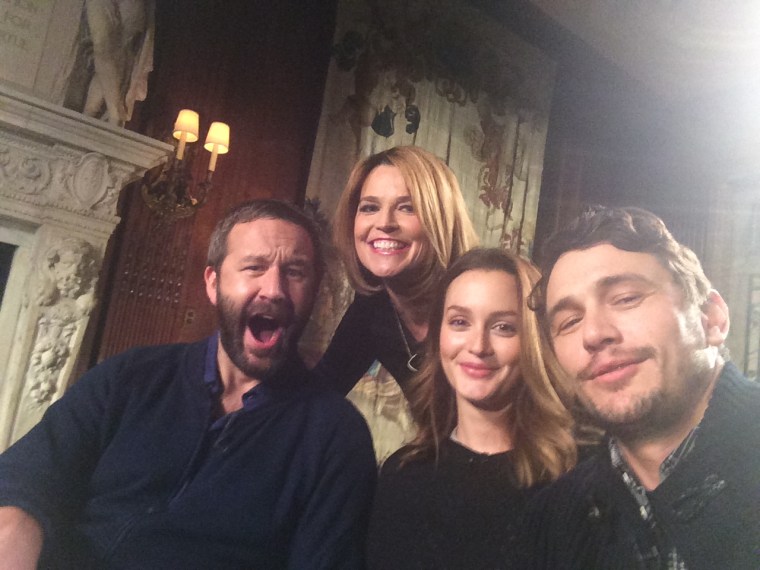 Savannah got Franco to address another selfie star, Ellen DeGeneres, who may have out-selfied the selfie king at the Academy Awards. 

"Oh. Right. Good. It was a good one. I took a few selfies at my Oscars and I got criticized for it. And now she's getting a lot of attention for hers. I don't get it," he said of the awards show he hosted in 2011. 
"I guess maybe I didn't include Meryl Streep and Bradley Cooper in my Oscars selfies. Maybe that's where I went wrong."