Newly crowned "Biggest Loser" champ Rachel Frederickson's dramatic 155 pound weight loss earned her a place on the show's record board — and criticism from viewers.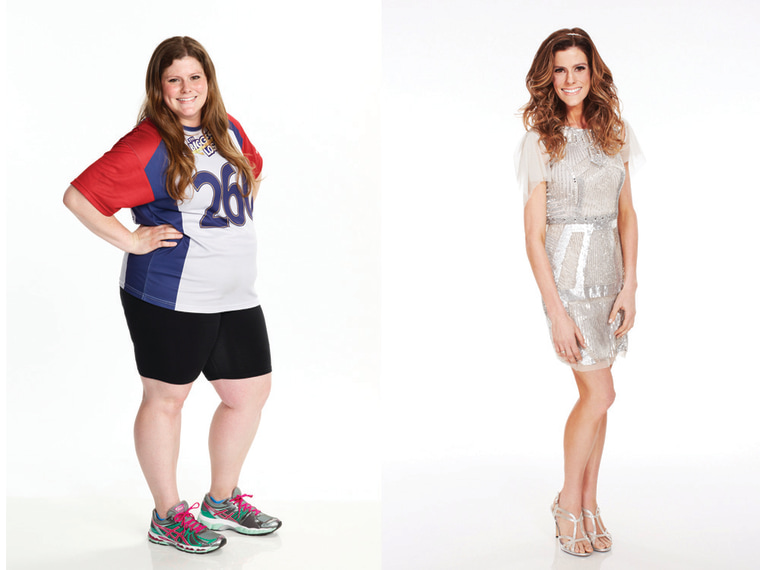 The 5-foot-5, 24-year-old voice-over artist from Los Angeles dropped nearly 60 percent of her body weight, which is the highest percentage of weight lost by any contestant in the show's history. Her noticeably thin frame caused fans to express their concern for her health and shock on social media.
Former "Loser" contestants are also chiming in with their reactions to the winner's dramatic weight loss.
Season 14 runner-up Jeff Nichols defended the players and their strategies.

But Frederickson insists she's healthy and said she doesn't plan on dropping any more weight.
"I'm at the maintenance point now so I need to find some balance and make sure I work out and I eat healthy and make good choices 90 percent of the time," she told TODAY after the finale. "I'm not sure (I'll maintain this weight), but I plan to try new exercises and just continue on this path and see where that takes me."
She added during a conference call with reporters Wednesday that while she was at home for three and a half months after leaving the ranch, she "continued to follow the plan that I had" from the show, trainer Dolvett Quince and the show's nutritionist Dr. Cheryl Forberg. "I worked out a ton and ate super healthy."
Frederickson told reporters that she eats five times a day and has about 1,600 calories. "I followed the advice and support of the medical team," she said.
"I am extremely proud of the way I lost the weight on the show," Frederickson added. "I did everything so naturally."
NBC declined to comment about concerns over Frederickson's health.
Host Alison Sweeney said she's not surprised that the winner was able to drop so many pounds.

"She didn't let anything slow her down on the ranch," Sweeney told TODAY. "She took every challenge head-on and never let anything stop her. She really believed in herself."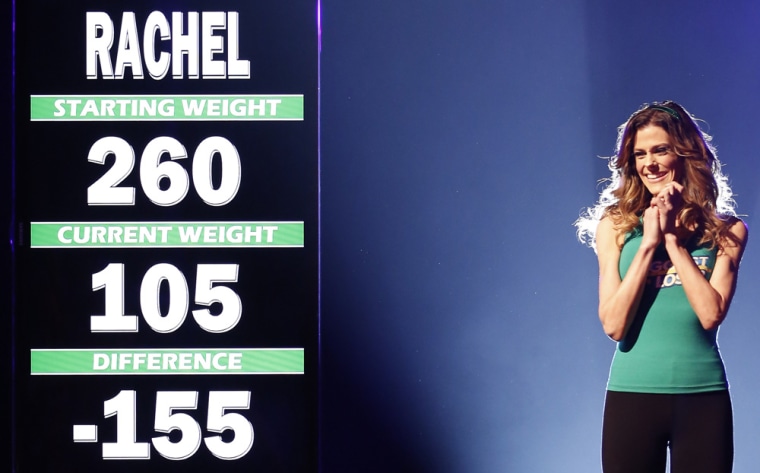 Quince, who trained both Frederickson and runner-up David Brown, said he's in awe of the physical and emotional transformations he's seen in the final two contestants.
"David and Rachel, they gave themselves up on the show," he told TODAY. "The moment that they came on the ranch they were vulnerable. They submitted to it. They wanted my help and they needed my help and they got it."
Frederickson said that while she will continue to do voice-over work, she may also be ready to step in front of the cameras.
"I have that confidence now that I never had before," she said. "I can put myself out there. Before, I didn't even want to be seen. I hid myself and made it so it was only about my voice. Now, I'm definitely open to doing other things, maybe on-camera stuff. You never know!"
Also on her to-do list? Spending some of her $250,000 prize money.
"There's definitely going to be some shopping," she said. "But it's totally not about the prize money. I have this amazing energy I've never had before and I just feel so alive." 
After weeks of grueling workouts and big changes to their eating habits, the contestants of season 15 show off their fab new bodies.