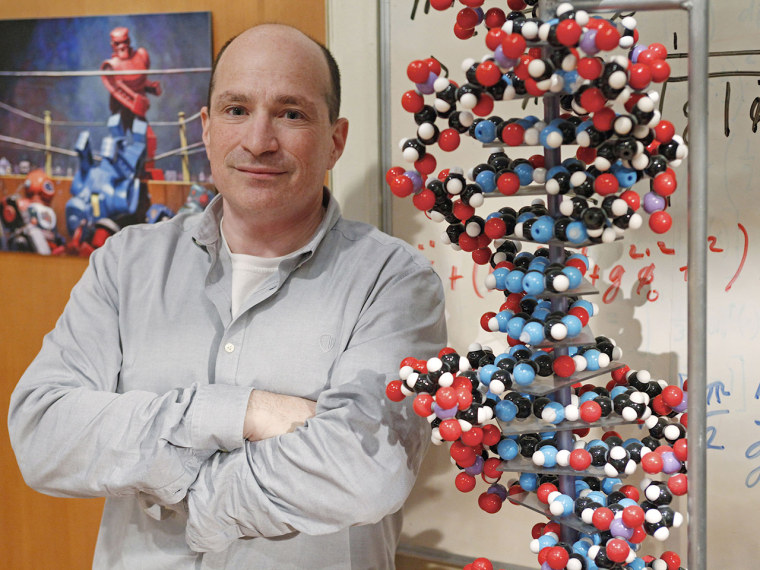 Writers on "The Big Bang Theory" were in a scientific pickle at the end of last season. They were sending Leonard (Johnny Galecki) on a research expedition out in the ocean, but needed to link what he would be studying with theoretical physicist Stephen Hawking. 
The problem? Hawking deals with black holes and quantum mechanics, not so much the deep blue sea.
Dr. David Saltzberg to the rescue! A professor of physics and astronomy at the University of California, Dr. Saltzberg is not a writer, director, producer or actor — but he is one of the hit sitcom's most valuable players: Their science adviser. Thanks to him, the show not only looks smart and savvy about science matters, but is actually smart, savvy and accurate about science matters.
And as the new season's first episode will reveal on Sept. 26, Saltzberg found what he says is the "one unique solution" that would combine Hawking with oceanography (it has to do with replicating certain aspects of black holes under water). "So that's what Leonard is off studying," Saltzberg told TODAY.
For the past seven years, Saltzberg has been coming up just those sorts of real-science solutions for the series. He'll suggest plots like the one above, but just as often he's behind the jargon and scientific theories that pop up in the show's dialogue. When he gets a script, it may include several lines that read "SCIENCE TO COME." That's his cue to start plugging holes with the real deal.
And he's not working for science rookies, he knows that: "The creators of the show really love science — they read up on it, and they know a lot about it. So sometimes they'll try their hand at it, and sometimes it's completely correct and sometimes I offer a little tweak," he said.
"I'm happy to get the science right," he added. "It's a lot of fun — though I live in fear of someone finding a mistake that gets through."
Which happens, but only rarely, says Saltzberg: "Maybe at the 1 percent level we're still making mistakes — years ago, they were talking about how the beat of cricket chirps depends on the outside temperature, and how this was discovered by Amos Dolbear. We got his first name wrong on the show and said it was 'Emil,' not 'Amos.' Then I was contacted by (Dolbear's) great-grandson about the mistake, so we invited him to the show to make up for it."
In addition to his contributions to story and script, Saltzberg is responsible for the equations that appear on the show's whiteboard, and he says he's lent equipment like vacuum tubes and flasks to the show. He might get a call after "Theory" has finished filming an episode and is in post-production, asking if an experiment they've filmed actually looks right. And he's on hand at every taping just in case last-minute questions crop up, sometimes bringing a young physicist or even a Nobel Prize winner to the set with him.
Saltzberg is even kind of a celebrity himself now, though mainly within the scientific community. "It's funny that when I go to a conference, more people ask me about the show than how my work is going," he chuckled. "I still have my day job."
And as it turns out, he's not alone on the series as its resident scientist: Actress Mayim Bialik, who plays Sheldon's girlfriend Amy, has a PhD in neuroscience — and plays a neuroscientist on "Theory." So while that's not Saltzberg's field of expertise, he doesn't have to worry. 
"Mayim will never utter an error about neuroscience on that show," he said. "She totally has my back."

"The Big Bang Theory" returns Thursday, Sept. 26 at 8 p.m. on CBS.