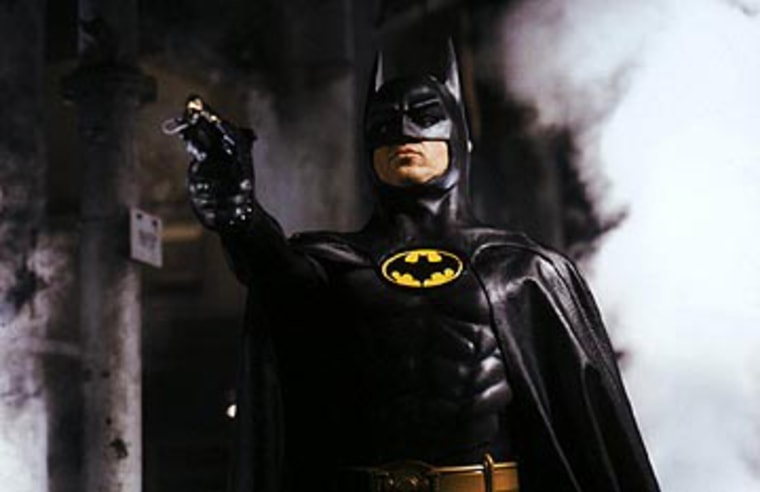 Twenty-five years ago Monday, "Batman" soared into theaters with Michael Keaton as the Dark Knight and unleashed a character that would be revisited time and again on the big screen. 
We can't believe it's already been a quarter of a century (thus it took us a whole day to wrap our heads around the big anniversary), but here are a few other surprising numbers the DC character has racked up since "Batman" arrived in 1989.
Number of movies: 7
Including the original movie directed by Tim Burton, there have been seven feature films, with an eighth on the way that's not solely centered around the Caped Crusader. The upcoming film, titled "Batman v Superman: Dawn of Justice," will see Ben Affleck taking on the role. It's planned for 2016, but expect to see more of Batman to follow. Warner Bros. confirmed in April that a film about DC's Justice League will come after that.
Sign up for top Entertainment news direct to your inbox
Men who've donned the Batsuit: 5
Keaton relaunched the character's popularity (we'd never forget Adam West!), but played Bruce Wayne only once more, in 1992's "Batman Returns." Since then, four others have taken on the iconic role for the big screen: Val Kilmer (1995's "Batman Forever"), George Clooney (1997's "Batman & Robin"), Christian Bale (2005's "Batman Begins," 2008's "The Dark Knight" and 2012's "The Dark Knight Rises") and Ben Affleck (the upcoming "Batman v Superman" and "Justice League").
Evildoers who've tried to thwart him: 10
Let's just ignore the minor henchmen and henchladies, and focus on the big bads, because Batman has certainly faced his share of really formidable foes.
Joker: Jack Nicholson seemed to define this clown-faced character in "Batman" ... until Heath Ledger delivered an infinitely scarier version in "The Dark Knight."

The Penguin: Played by the one and only Danny DeVito in "Batman Returns."

Catwoman: That catsuit ... meow! Michelle Pfeiffer personified the role like no one else could in "Batman Returns." Anne Hathaway tried to leave her own mark in "Dark Knight Rises," but didn't leave quite the same impression. (And yes, Halle Berry slipped into the tight catsuit too, but she never faced Batman in 2004's "Catwoman.)

The Riddler: Played by the quirky Jim Carrey in "Batman Forever."

Two-Face: Played by Tommy Lee Jones in "Batman Forever," and Aaron Eckhart in "Dark Knight."

Poison Ivy: Uma Thurman channeled some of the same sexiness Pfeiffer did, but this time in a skin-tight green suit for "Batman & Robin."

Bane: Jeep Swenson's version of this baddie was pretty forgettable in "Batman & Robin," especially when compared to Tom Hardy's take in "Dark Knight Rises."

Mr. Freeze: Arnold Schwarzenegger's character was as stiff as his portrayal. But he had an excuse: He was frozen!

Ra's al Ghul: Of course Liam Neeson's mentor to Bruce Wayne in "Batman Begins" would turn out to be a baddie!

Scarecrow: Cillian Murphy's creepy mask elicited as much fear as his fear gas in "Batman Begins."

Worldwide box-office total: $3.7 billion
Yes, that's billion with a big fat B. The Batman flicks have always made good money (OK, "Batman & Robin" didn't do quite as well as all the others, scoring "only" $238.2 million worldwide), but the two most recent movies really made bank. "The Dark Knight," which featured Ledger's brilliant performance, brought in $1.004 billion, while "Dark Knight Returns" earned $1.08 billion and is currently the 10th highest grossing film. Here's how the others fared:
"Batman": $411.3 million

"Batman Returns": $282.2 million

"Batman Forever": $336.5 million

"Batman Begins": $374.2 million

Oscar statuettes won: 3
"Batman" snagged a trophy in 1990 for best art direction/set, while "Dark Knight" earned Ledger a posthumous Oscar for best supporting actor. "Dark Knight" also won for sound editing. The seven Batman films have earned 12 other Academy Award nominations.
Follow Anna Chan on Twitter and Google+.