When Sunday's Academy Awards ceremony spent several minutes honoring movie heroes, there was one real-life hero who didn't get a chance to join them: 5-year-old Miles Scott.
Scott, who is in remission from leukemia, made headlines in 2013 when the city of San Francisco dropped everything for a day to honor him and his "Batkid" costume, and he'd been promised a spot in the Oscars show. Only, it didn't happen.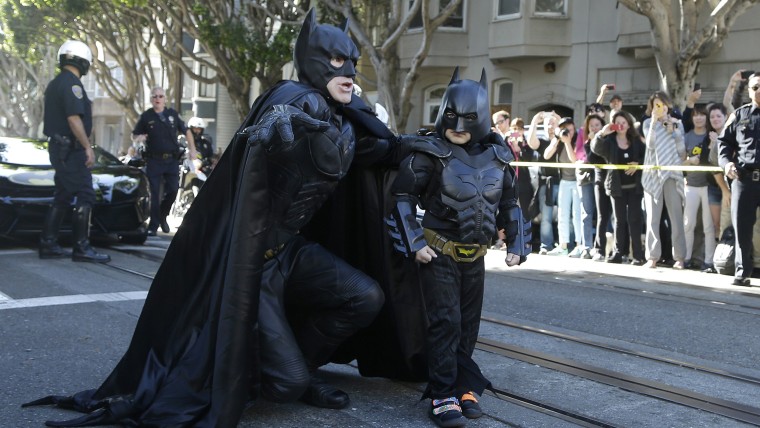 So what went wrong? An Academy spokesperson blamed scheduling conflicts: "Basically, because of the fluid nature of live TV production, ultimately the segment didn't work," the rep told The Hollywood Reporter.

Current "Spider-Man" star Andrew Garfield, who was listed as one of Sunday's presenters and, according to THR sources, rehearsed with Scott on the Saturday before the show, also did not appear. 

But Garfield didn't just disappear from Scott's life. In a statement, an Academy rep told E! News: "Andrew Garfield understood that his segment had to be omitted, and he drove to Disneyland on Monday to spend time with 5-year-old Miles Scott (Batkid) and his family."
On Thursday afternoon, Garfield's publicist issued a statement to TODAY clarifying the matter:
"In full collaboration with the Academy and the show writer, Andrew prepared a segment for the Oscars to honor Miles Scott as the true hero that he is. At (sic) some point overnight on Saturday/ Sunday morning, it was decided by those running the show that the segment didn't work in the ceremony. They decided to pull it—Andrew and Miles were equally upset. The producers arranged for Miles and his family to visit Disneyland on Monday and Andrew drove down to visit them and to bring Miles a personal gift."
The statement also addressed reports that the segment was eliminated because Garfield had pulled out.
"Andrew did the right thing for Batkid and anyone saying otherwise is flat out lying," the statement said.
Scott's mother Natalie told the International Business Times, "I don't know if they ran out of time, or if there was something about the segment they didn't like," she said. "It got pulled so quickly that we didn't have a lot of insight into what was going on."

It's true that the 216-minute Oscars broadcast was long, and that more segments than can air are sometimes worked up (THR says a second musical number was also cut from the final broadcast). But in a show that's being called slow by virtually every critic, and which took time to deliver pizza to some of the nominees, it's easy to imagine why Natalie Scott might have some questions.
Miles Scott finished his cancer treatments last summer, then got a special treat from the Make-A-Wish foundation in November when he went around San Francisco dressed as a small Batman. The resulting media attention led to TV appearances and even a Twitter shout-out from President Obama. 
Meanwhile, Natalie Scott said her son is taking the Oscar snub very well — heroically, even. "We told him that it didn't work out, but we ended up having fun anyway."