The rap on this season's "Bachelorette," starring Atlanta lawyer Andi Dorfman, was that it just wasn't very interesting. Andi, who famously rejected narcissistic Juan Pablo on "The Bachelor," was initially a fan favorite, but perhaps because she's just so darn well-adjusted, her show lacked much of the drama that has characterized past outings. Level-headed, articulate, self-sufficient and self-aware, Andi's not a clinger, a weeper, or an emotional train wreck.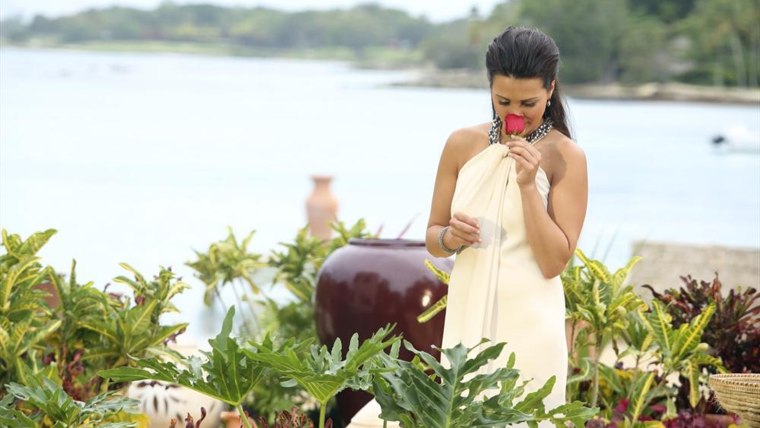 Alas, it was the case of a good person making for terrible TV. The season finale was the lowest-rated in the franchise's history, perhaps because the ending was such a foregone conclusion.

Boredom reigned until Monday night, when the "After the Final Rose" show threw a bunch of double standards about sex and gender into sharp relief, turning "The Bachelorette" from "wake me up when it's over" to Must See TV.
For those unfamiliar with "The Bachelorette," the franchise runs on a highly ritualized process, where a young, conventionally attractive man or woman goes on a series of producer-orchestrated dates with a pool of eligible singles, eliminating some each week at cheesy rose ceremonies. The goal? To have the last man down on bended knee with a network-provided Neil Lane ring in his hand (even on "The Bachelorette," where the woman does the picking, it's the man who does the proposing).
Behind the bestsellers: A peek into Jennifer Weiner's morning routine
"The Bachelor/ette" tells us it's about finding love, but one of the things it's really about is reinforcing some fairly old-school notions about how men and women are.
For women, the show instructs, there is nothing more meaningful than love or marriage. Career? Friends? Family? None of it means anything, and at least once per episode our heroine will be required to give voice to her loneliness, her emptiness, her desperation to have someone put a ring on it.
Women are passive; men are active. Women are emotional, men are rational. Women see sex as a means to the ultimate end – that Neil Lane sparkler, and what happens when the cameras aren't watching stays, for the most part, under wraps.
That rule got broken on Monday, when runner-up Nick Viall demanded, on live TV, to know why, if she wasn't in love with him, she'd made love with him, and also done other, unspecified, "fiancé-type stuff."
Cue 100,000 dropped jaws, tweets of 'He said WHAT?!?,' and many, many jokes about precisely what constituted "fiancé-type stuff." (Clearly: emptying the dishwasher!) 
It was shocking, cringe-inducing TV, kissing-and-telling gone nuclear.

Here's the thing: there may be, as Chris Rock once instructed, no sex in the Champagne Room, but there assuredly IS sex in the Fantasy Suite, where the Bachelor or Bachelorette is permitted — nay, encouraged — to entertain his or her final three choices all night long, away from the cameras. In 2014, where the median age of first sex is somewhere around 17, and where between 75 and 80 percent of Americans have had intercourse before the age of 19, it's ridiculous to imagine that a 27-year-old woman would agree to marry a 33-year-old man without sampling the merchandise/kicking the tires/making sure she is sexually compatible with the person she might wed.
So, yes, Nick, we know you did it. But, clearly, knowing that we know wasn't enough. Nick wanted to plant his flag (and, maybe, to let victor Josh Murray know that Andi may not have chosen Nick, but that he got there first). It was churlish and ungentlemanly at best, slut-shaming and sloppy-seconding at worst, a way of slapping a scarlet 'S' on a woman's chest with the whole world — including her newly announced fiancé and, presumably, her parents — looking on.
Andi handled the situation with her typical class and restraint. She told Nick he was "hitting below the belt." She reiterated that she wasn't faking anything, but her feelings were simply stronger for Josh. She sounded … a lot like a guy would sound in a similar situation, if he was forced to confront a teary woman he'd slept with, then dumped, after deciding he just wasn't that into her.

Imagine a world where Andi could have coolly said, 'Of course I slept with you! Before I let you propose, I had to know whether you were any good at it!" (Beat). "By the way, you're not."
We aren't there yet…but it sure looks like that's where we're going. Hookup culture is a thing, and some — many — young woman are joyful, unconflicted participants in the booty-call economy. Yes, a part of me wishes that sex was special and rare and meaningful, even on a cheesy ratings-driven reality show where "winning" is less about a marriage and more about a future stint on "Dancing With the Stars."
But I don't have any right to tell Andi Dorfman how to live her life, or handle her sex life. If equality means that a young woman can choose to enjoy casual, unencumbered sex, just the way men have been doing forever, I'm not going to judge. And if Nick truly cared for Andi, he should have manned up, swallowed his sore-loser hurt feelings, and refused to expose her to the world's judgment. 
Jennifer Weiner is the bestselling author of 11 books. Her latest, "All Fall Down," was published June 17.