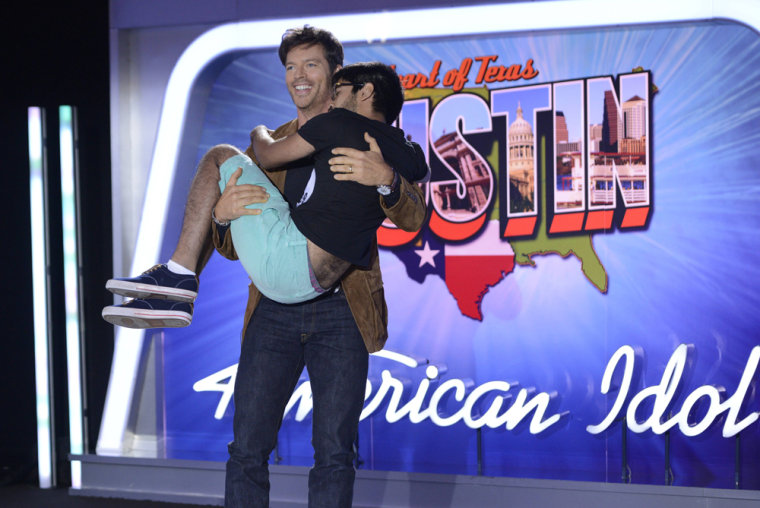 Could cradling be the new twerking? After all, viewers saw both in the season premiere of "American Idol" on Wednesday. 
But with all apologies to Troy Durden, who twerked to "Somewhere Over the Rainbow," that's so 2013. If Harry Connick Jr. has his way, this year will be characterized by a kinder, gentler and far more intimate way of showing appreciation for a fellow musician: cradling.
After several hopefuls revealed they had no idea who the new judge is — "Can you Google him right now?" one asked while in the holding area, and another called him "Tony Connick" — Harry was happy when someone finally recognized him.
Fan Munfarid Zaidi told Connick, "I read your Wikipedia page every day before going to sleep." Instead of thinking, "Wow, that's kind of creepy," the crooner got out of his seat, picked up the 19-year-old and gave him a bear hug.
"There's something weird about that, Harry," fellow judge Keith Urban noted. Then, he got inspired. "Could he actually sing while you're holding him?"
Why not? After all, "Idol's" trying to change its narrative this season anyway. Wednesday's episode was all about showing how so much is different from last year: the golden tickets are smaller, the judges don't hate each other, Randy Jackson is hidden away and there was nary a trainwreck auditioner to be found. Why not extend the innovation to displaying America's first reality TV singer who can hug and carry a tune at the same time?
Not one to back down, Harry raised the stakes still further.
"How about this? You blow us away on the first song, I'd like to pick you up and hold you like a baby on the second," Harry offered.   
Three notes into his version of Adele's "Crazy for You," judge Jennifer Lopez turned to the newbie judge and said, "I feel a cradle coming on." Sure enough, when Zaidi finished, Harry got up out of his seat and cradled him.
"Relax, just relax," Harry said, adding, "you can put your head on my shoulder."
It might have been uncomfortable for Zaidi — and much of the audience — but Keith and J.Lo couldn't contain their laughter.
That wasn't the end of it. The Austin auditions also earned Keith some cake and some applause for the news that his album was No. 1 in three countries: the United States, Australia and Canada. Cake might have been enough for most of us, but not on "Idol" ... and sure enough, the country star got the cradle treatment as well — though not as long this time, since they spent too much money on Harry to see him wind up in traction.
If only Miley Cyrus and Robin Thicke had come up with the same plan at the VMAs.
"American Idol's" premiere continues Thursday at 8 p.m. on Fox.