Most actors feel lucky if they have one long-running TV series on their resume. Alyson Hannigan already has two. On "Buffy the Vampire Slayer," she played Willow, the shy and intelligent best friend of Sarah Michelle Gellar's titular character for eight seasons. As Lily Aldrin on "How I Met Your Mother," which wraps its nine-season run on CBS on Monday, she also portrays a great friend in addition to a loving mother and wife.
Though she never saw it coming. When Hannigan shot the "How I Met Your Mother" pilot in 2005, the actress thought it was too good to be true.
"It was so wonderful, and everybody got along so well and it was just too perfect," she recalled of her first experience filming with co-stars Neil Patrick Harris, Jason Segel, Cobie Smulders and Josh Radnor. "You are like, 'Well, that's doomsville!'"
Of course, she was wrong. And now, instead of taking a break as "Mother" ends, she's attempting to go back for thirds. "I love television. It's been very good to me. I love working and I love having this family," said Hannigan, who spoke with TODAY as production was winding down on the show.

Despite 17 successful years on television, there was something "Buffy" and "Mother" couldn't offer: the chance to act in front of a live studio audience in multi-camera sitcoms such as "Friends" or "The Big Bang Theory." 
"I've been incredibly blessed that I've gotten two wonderful shows, but when I signed onto this, this was a hybrid show. It was going to be partially pre-taped, and partially in front of an audience," Hannigan, 40, said of "Mother," which ended up being entirely shot without one. (The laugh track is added in later.) "Well, we've yet to have the audience! So my next one is definitely an audience multi-cam."
To that end, Hannigan is on the cast of CBS' multi-camera sitcom pilot "More Time With Family" which is competing against nine other comedies for a spot on the network's line-up next season. Produced by Ben Affleck and Matt Damon, Hannigan plays the wife of comedian Tom Papa, who undergoes a career change to spend more time with his family. It will be shot in Los Angeles in early April.
"My instincts have been really good so far, knock on wood, and they've led me to two great shows. I feel like I would know when it's right," she said.
Hannigan also wasn't tempted to find a show that her two daughters with actor husband Alexis Denisof — Satyana, 5, and Keeva, 22 months — could finally see her in, given that "neither one of my kids watches TV yet!" But she did have them in mind when passing on offers projects with more demanding workloads than multi-camera shows."Even though I think I'd have a great time doing it," she says, "my family's too important for me to go into those hours."
But the family-friendly schedule is only part of it. Hannigan craves the instant reaction to her work — the applause and laughter from an audience — she has yet to experience. 
"I want feedback, because I've never had that! It was surprising that all these people like 'Buffy,' Hannigan said. '"It took years." With "Mother," which was close to cancelation during its first few seasons, it also took time.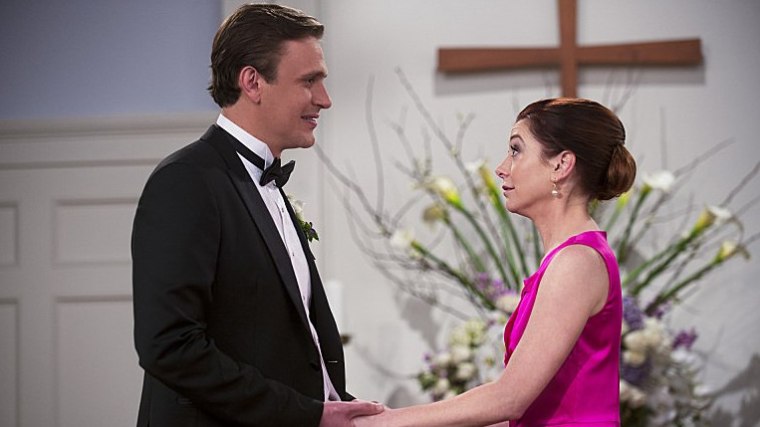 "Now, just being at Comic-Con and seeing the reaction the fans had and being in the room with them was so rewarding," she said, tearing up. "It was like, 'You guys like us!' Obviously we knew because we're still here, but it was like this slow build. I love the response, and I love interacting with fans."

She also loves being on TV, which she dreamed about since moving to California as a child.
"When I was a little girl, I would beg my mom to take me to tapings of shows," she said. "I would sit there and watch 'Webster' being taped, and 'Silver Spoons,' and I was like, 'I want to do that so bad!' So TV has always been such a passion of mine, because it was my escape."
After "Buffy," experimenting with a few independent movies ("which were terrible!" she said with a groan), and starring in the successful "American Pie" movies, Hannigan said she settled on where her performing heart lies.
"I love to make people laugh!" she said. "So when 'Buffy' ended [in 2003], I was very adamant that I wanted to do a sitcom," she says of her decision to do "Mother." "I wanted an audience, and that never panned out. But" — she adds, crossing her fingers — "third time's a charm!"