It's easy to see why TODAY's Matt Lauer has been smitten with Diane Keaton since she shot to stardom in "Annie Hall," but on Tuesday, the affable movie icon totally shared the love. 
"You look good, by the way," Keaton said at the top of the interview, the first of many times she came on strong, yet sweetly, in her famously quirky way.
Keaton then went on to talk about her book, "Let's Just Say It Wasn't Pretty," but slipped in several charming tidbits that demonstrated why so many have found her endearing over the years. Here's a look at the top interview moments that made us adore her even more:
1. She loves to give out compliments, and she doesn't care who it embarrasses.
"I was trying to think about what's beautiful about you because my book does deal with beauty," she told Matt after admitting she looked up pictures of him before the show. "I noticed that I saw a picture of you and you had on swim trunks and I noticed your body. It's good."

She didn't stop there.
"It's a nice body. You have a nice chest," she told him.
Lauer thanked her but reminded her, "OK, but I'm supposed to do this to you."
"But I like you better than me," Keaton insisted.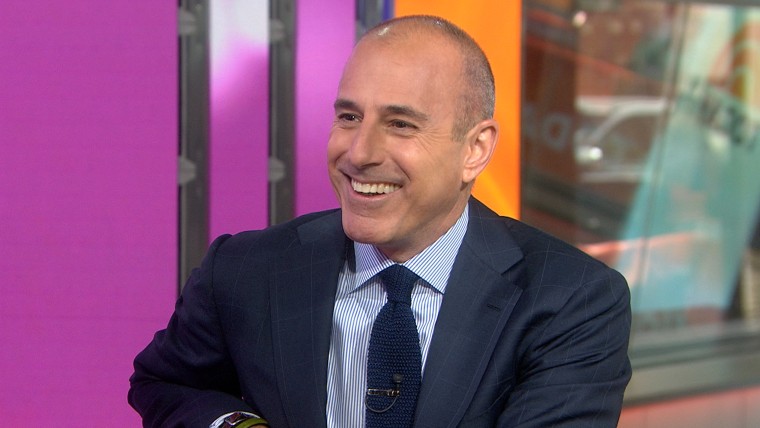 2. She's honest about her age and her limitations.
"I have often expressed on the air my undying love and affection for you," Matt told Diane. "I think you're beautiful and fascinating."

Keaton joked she needed to act upon the compliment.
"What can we do about it? Sooner is better for me. I mean, I'm 68. How old are you?" she said.
"I'm 56," Lauer said.
"You're 56. That's good for me," she said.
3. She makes shameless, and cute, plugs for her book.

Keaton slipped the title of her new book into the conversation — and was totally gleeful about it.
"I think when you're insecure, you sort of live with insecurity all your life. That's what's nice about the book in this regard. In my effort, in any event, with my book, let's just say it wasn't pretty — I said the title! Did it sound good?" she said with a smile.
Lauer agreed it was "very subtle."
4. She dishes on her amazing love life.
Keaton dishes in her book about the Hollywood stars she has dated, including Warren Beatty, Jack Nicholson and Al Pacino.
"Do I regret not marrying? Yeah, I do," she said of her love life. "I wasn't asked. But I did ask. I asked all of them. I did. Every one of them, and they all said no."
Then she admitted she was lying.
"I didn't really ask them to marry me. But they didn't ask me either," she said.