Can't get enough of Harry Potter? Then this is for you. Since March, best-selling author J. K. Rowling has been writing original stories about the imaginary 2014 Quidditch World Cup Finals for Pottermore, the online home for the world of Harry Potter. 
Rowling shared her latest Pottermore.com story exclusively with TODAY.com. Written in the voice of the fictional Daily Prophet's gossip correspondent Rita Skeeter, this post centers around the reunion of Harry Potter and his friends at the Quidditch World Cup Finals.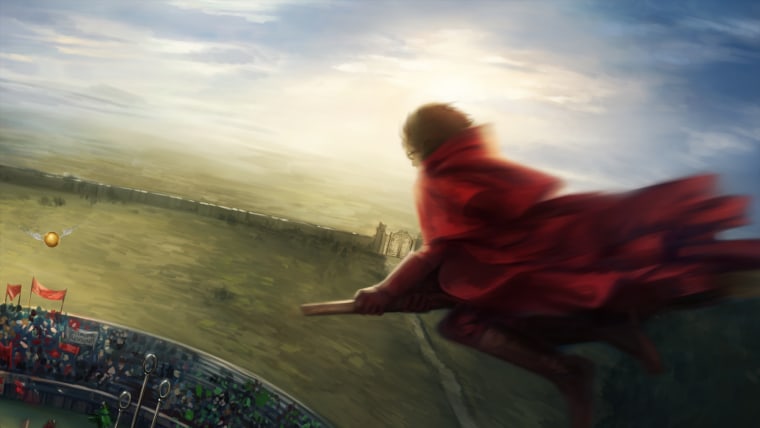 Dumbledore's Army Reunites at Quidditch World Cup Final

By the Daily Prophet's Gossip Correspondent, Rita Skeeter
There are celebrities – and then there are celebrities. We've seen many a famous face from the wizarding world grace the stands here in the Patagonian Desert – Ministers and Presidents, Celestina Warbeck, controversial American wizarding band The Bent-Winged Snitches – all have caused flurries of excitement, with crowd members scrambling for autographs and even casting Bridging Charms to reach the VIP boxes over the heads of the crowd.
But when word swept the campsite and stadium that a certain gang of infamous wizards (no longer the fresh-faced teenagers they were in their heyday, but nevertheless recognisable) had arrived for the final, excitement was beyond anything yet seen. As the crowd stampeded, tents were flattened and small children mown down. Fans from all corners of the globe stormed towards the area where members of Dumbledore's Army were rumoured to have been sighted, desperate above all else for a glimpse of the man they still call the Chosen One.
The Potter family and the rest of Dumbledore's Army have been given accommodation in the VIP section of the campsite, which is protected by heavy charms and patrolled by Security Warlocks. Their presence has ensured large crowds along the cordoned area, all hoping for a glimpse of their heroes. At 3pm today they got their wish when, to the accompaniment of loud screams, Potter took his young sons James and Albus to visit the players' compound, where he introduced them to Bulgarian Seeker Viktor Krum.
About to turn 34, there are a couple of threads of silver in the famous Auror's black hair, but he continues to wear the distinctive round glasses that some might say are better suited to a style-deficient twelve-year-old. The famous lightning scar has company: Potter is sporting a nasty cut over his right cheekbone. Requests for information as to its provenance merely produced the usual response from the Ministry of Magic: 'We do not comment on the top secret work of the Auror department, as we have told you no less than 514 times, Ms. Skeeter.' So what are they hiding? Is the Chosen One embroiled in fresh mysteries that will one day explode upon us all, plunging us into a new age of terror and mayhem?

Or does his injury have a more humble origin, one that Potter is desperate to hide? Has his wife perhaps cursed him? Are cracks beginning to show in a union that the Potters are determined to promote as happy? Should we read anything into the fact that his wife Ginevra has been perfectly happy to leave her husband and children behind in London whilst reporting on this tournament? The jury is out on whether she really had the talent or experience to be sent to the Quidditch World Cup (jury's back in – no!!!) but let's face it, when your last name is Potter, doors open, international sporting bodies bow and scrape, and Daily Prophet editors hand you plum assignments.
Update: To read the complete story, visit the Daily Prophet offices in Diagon Alley on Pottermore.com and sign up.