In 'Living the Good Long Life,' Martha Stewart shares her practical tips to ensure a fruitful and healthy lifestyle for you and those you care about. Here's an excerpt.
STAY ACTIVE EVERY DAY
When you were a child, you didn't have to schedule exercise—you just ran outside to play. And whether that meant jumping rope, climbing trees, or racing bicycles, you experienced all of the benefits that exercise has to offer, almost intuitively. Your muscles grew stronger, your lungs became sturdier, and your imagination was stimulated as well. You absorbed fresh air and sunshine, and you knew about every intriguing hollow tree or secret wild raspberry patch in your neighborhood.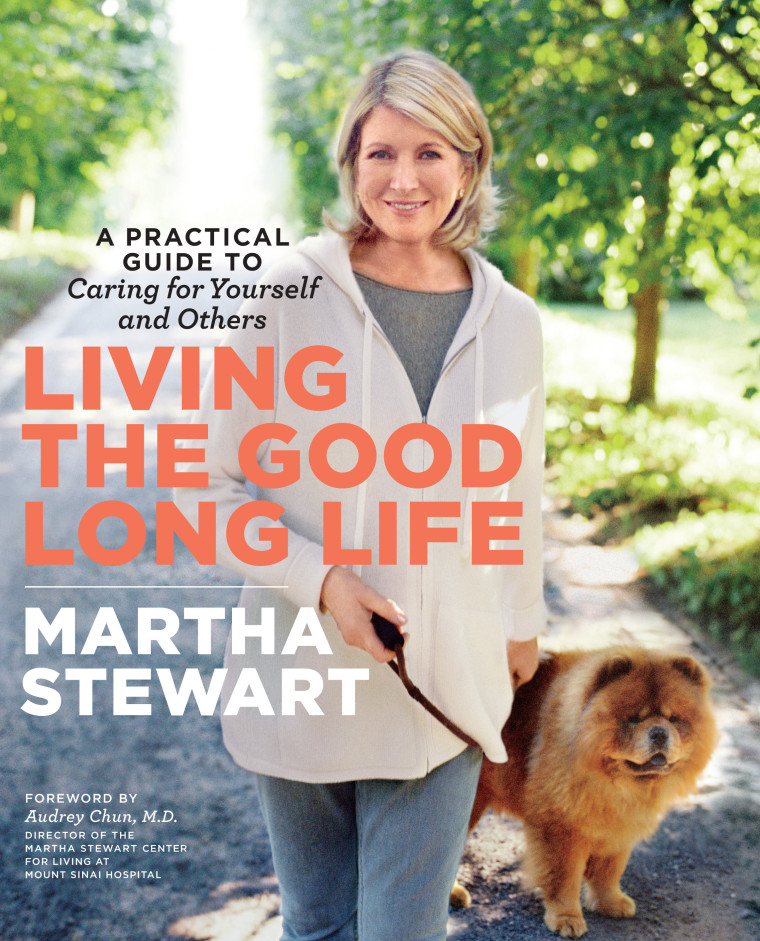 Of course, today's schedules are busier, and you probably can't skip and climb quite the way you did as a kid. We have to push ourselves to stay active, or life gets in the way. But that doesn't mean physical activity can't offer those same benefits, opening the door to a more active, satisfying life. Exercise adds years to your life and life to your years, making every day more productive and enjoyable. And even if you've been sedentary for most of your adulthood, it's not too late to start. If you are fit in midlife, you double your chances of living to 85 or older, according to an analysis by cardiologists at the University of Texas Southwestern Medical Center.
What makes exercise such a powerful weapon against aging and disease? "Arteries have walls that contain muscles, so they can dilate or constrict," explains Dr. Jana Klauer, the New York–based physician specializing in nutrition and metabolism. "When you exercise, you strengthen those muscles so they can dilate to allow more blood flow. That means the heart can pump more efficiently."
And that's just the beginning. Exercise also keeps your lungs healthier, counteracting the diminishment of respiratory capacity that often comes with age, and reduces the risk factors for chronic conditions that can shorten the life span: high blood pressure, blood sugar, and cholesterol. "Exercise is an especially effective way to improve health and extend healthy longevity," Dr. Klauer adds. "There's no better medicine I can prescribe!"
Martha Stewart to date online, seeks man for bed, breakfast
This chapter contains lots of tips for designing your own, customized workout plan— one that will keep you engaged, challenged, and running outside to play and participate in the world around you for decades to come.
GET MOVING
You don't need to invest in a fancy gym membership or expensive equipment to make a commitment to regular physical activity. When you see fitness as just another component of your daily life, you'll see so many ways to increase movement throughout each day—parking a little farther away, taking the stairs instead of the elevator, spending an afternoon outside in the garden, or exploring your neighborhood by bicycle.
You'll have more energy, feel less stressed, and sleep better at night—and the more you move, the easier it becomes. Here are a few suggestions for staying active:
SPEND TIME OUTDOORS
The outdoor world truly is your playground, and there's an outdoor activity that's right for everybody. In the warmer months you can rent a rowboat, canoe, or kayak, learn to sail or to ride a horse, play golf or tennis, go tubing on a local river, pick in-season produce at a local farm, or attend an outdoor yoga retreat. When it's colder, consider skiing, snowshoeing, sledding, or ice-skating. Try to spend two afternoons per month playing outside with loved ones. Outdoor exercise challenges the muscles in unexpected ways, and all that fresh air and sunshine can boost your production of vitamin D, a key player in both bone health and mood elevation.
MAKE TIME TO "PLAY"
When you can't get outside, find ways to play indoors. Try Ping-Pong, bowling, bocce ball, or play video games that require you to move or dance in tandem. Dancing is another invigorating, full body tune-up. Whether you prefer ballroom, belly, clogging, or lindy-hopping, you'll be working your muscles, bones, and joints. You'll also improve your posture, increase your flexibility, and, depending on the intensity, boost your physical stamina. It's a great activity to pick up as you age, because dancing can make you more sure-footed—one study found that adults who took dance lessons weekly cut their risk of falling by half in just three months. And because many dance styles require a partner, it's a built-in opportunity to make new friends and stay engaged with longtime ones.
GET "ACCIDENTAL" EXERCISE
Make a point of doing as many of the following as you can on a daily basis, and you could burn about 200 extra calories per day. None of these activities alone will get you into shape, but when combined, they'll help you stave off weight gain and provide little "movement breaks" throughout your day to stretch your muscles and clear your mind. Remember that even the littlest bit of activity can go a long way toward keeping joints supple and muscles toned.
•Climb stairs instead of taking the elevator.
•Walk up and down moving escalators.
•Park at the far end of a mall parking lot and walk to the entrance.
•Take a stroll around the block at lunchtime or whenever you need to clear your head.
•Clean the house.
•Race yourself to the mailbox.
•Get off the bus a stop early and walk home.
•Swap your car for a bike
•Pace while you talk on the phone.
•Line-dry your laundry.
•Stand instead of sitting whenever possible.
For extra motivation, wear a pedometer to track how much more you're walking, and challenge yourself to beat your records. Research has shown that taking 10,000 steps a day promotes optimal health. (See www.thewalkingsite.com for more information.) And remember to keep exercise as part of your daily routine even when you travel.
COMBINE TRAVEL WITH EXERCISE
I love to walk. But when I discovered hiking, it took walking to a whole new level. Suddenly, I found I could combine walking with my passion for traveling. In one sense, it's just walking, but it takes me to new heights, literally. I've hiked all over Acadia National Park in Maine, near where I have my summer home, but it's fun to figure out where else in the world I want to hike. So far I've accomplished a few major hikes, such as Mount Kilimanjaro, the Inca Trail, and Northern Sikkim. They were all so fabulous and memorable. Next I'd love to do some trails in China. There are so many ways to take a vacation that keep you physically fit, and where you can keep discovering new things about the world while testing your physical limits.
From Living The Good Long Life by Martha Stewart. Copyright © 2013 by Martha Stewart Living Omnimedia, Inc and reprinted by permission of Clarkson Potter/Publishers