Samantha Shannon's "The Bone Season" is the first pick for the new TODAY Book Club. Read an exclusive excerpt and RSVP to join a Google Hangout with Shannon and Natalie Morales on September 16. Keep up with the TODAY Book Club by subscribing to our newsletter and follow @TODAYsBooks for book club conversation starters and special free giveaways. Tweet your insights and favorite quotes using the hashtag #TODAYBookClub.
The publishing industry is a brutal business, and even the most talented writers experience the heartbreak of rejection.

Take for instance 21-year-old publishing wunderkind Samantha Shannon, whose debut novel "The Bone Season" is TODAY's first book club pick. Not too long ago, 10 agents declined to represent her first manuscript.
Related: The next Rowling? 'Bone Season' author, 21, on surprise success
Shannon persisted because she felt called to write "The Bone Season." "It just came to me so strong, I had to tell it," she said.  
That persistence is a common refrain amongst authors who endured numerous setbacks early in their careers.
James Patterson, known for his popular Alex Cross series, told TODAY.com, "I always thought it was presumptuous to think I could make a living writing. I just wanted to do it. Why do I keep doing it? Because I love to tell stories."
Thirty-one publishers said no to Patterson's first novel, "The Thomas Berryman Number," but it eventually won a prestigious Edgar Award for mystery writing in 1977. Since then, Patterson has authored dozens of books in several genres, many of them best-sellers.
Related: Early bloomers: Authors who blossomed to fame by 25
Mary Higgins Clark, the author of dozens of best-selling thrillers, spent six years trying to publish her first short story in the 1950s. Forty rejection letters later, she sold it to a magazine for $100 and framed that first acceptance letter. Fast forward to the 1990s, Higgins Clark snagged a $64 million book deal with Simon and Schuster.  
"I was absolutely convinced I was going to make it," Higgins Clark told TODAY.com. "Every rejection slip made me that much more determined."
While it's hard to say what the exact odds are of getting a book deal, the truth is, it's a tough business -- even for those with talent.
"Most writers who want to publish books do not get published," said Rachel Mannheimer, Bloomsbury's U.S. editor for Samantha Shannon. "And there can be so many reasons for that, beyond whether the writing is good – or 'good' in the sense of appealing to the taste of a few specific people!"
Khaled Hosseini, author of three novels including the critically acclaimed international best-seller "The Kite Runner," which was turned into a film, said that writing has always been a "compulsion." He thought doing it professionally was akin to being an astronaut – a nearly impossible feat. He set his expectations of landing an agent for "The Kite Runner" accordingly low, and was rejected more than two dozen times before finding a match.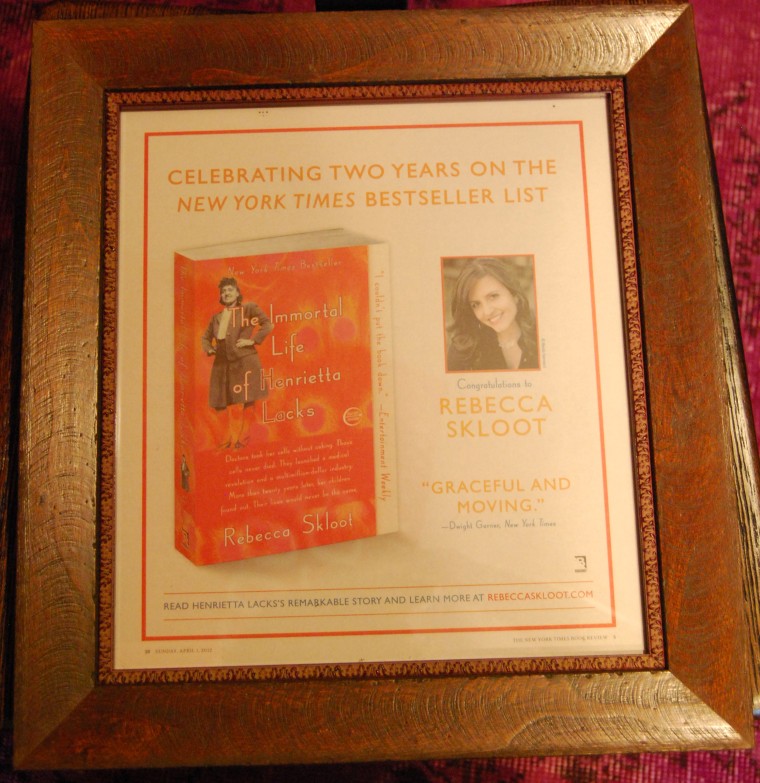 When author Rebecca Skloot first circulated her proposal for the non-fiction book "The Immortal Life of Henrietta Lacks," plenty of editors turned her down. Some said they just couldn't envision a broad audience for a book about one unknown woman's cells and how they changed medicine forever. The book, Skloot's first, was published in 2010 and has spent more than three years on the bestseller list.

Skloot spent 11 years reporting and writing "The Immortal Life of Henrietta Lacks." She even started the process anew after the proposal sold to a publisher, but an unexpected turn of events paired her with an editor who wanted to remove key characters. Rather than fundamentally change the book, she fought for more than a year to leave her contract and find a new publisher.  
"Here's this story that's important for me to tell," she said. "When I have something to fight for, I fight really hard. No one's going to tell me I can't publish something."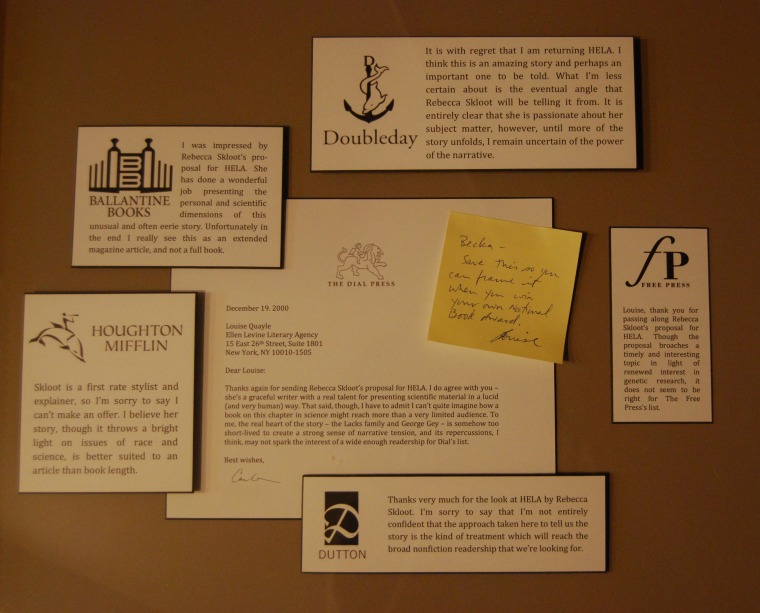 As for the many rejection letters, Skloot assembled the best in a collage in her office alongside mementos of the book's massive success, including a framed copy of the millionth print. It's a rather sweet victory compared to notes from editors who doubted Skloot's vision.

"I always felt like from the beginning that they were wrong," she said. "The [collage] is a reminder of why it's important to fight for what you believe in."
Yet, even commercial success doesn't completely free writers from the specter of rejection. There are still negative reviews, failed television or movie options and the possibility that a once loyal audience might abandon them.
After a decades-long career, Higgins Clark still worries that she'll disappoint her fans. "Readers are smart, and they will say 'I used to like her, but she's just not the same anymore,'" she said. "You've got to tell a fresh story."
She also pays heed if critical reviews point out similar flaws in her work, but tries to balance that responsiveness with a knowledge that someone will gripe. "You will always get some negative reviews," said Higgins Clark. "Very few people can escape it -- maybe the Bible did."  
Patterson, whose Alex Cross books have been made into three major films, said Hollywood continues to offer up one rejection after another. "Life is good, but that doesn't mean everything goes your way," he said. "It's easier to shrug and smile now. You get accustomed to it."
Hosseini advises aspiring writers to prepare for inevitable rejection, but on their own terms.
"I tell them first to make sure to write the single best book they can," he said. "To leave no room for doubt in themselves. Then you can go out with peace of mind and let other people react to your book. And be ready [by knowing] what may speak to you may not speak to a whole lot of people."
If no one expresses interest in your book, he said, it's time to ask why, and accept that it may not be published. But that shouldn't necessarily spell defeat for a writer – and Samantha Shannon agrees.
"If you're going to be in this industry, you have to be thick-skinned and be able to take criticism," she said. "Just use that to learn and keep writing."
Vidya Rao contributed to this story.