Like thunder, the news reverberated far and wide when Marvel Comics released it in July, the same week the Disney-owned comics publisher announced a black Captain America: Thor, formerly the brawny, bearded god of thunder, would now be a woman.
The change has left many thunderstruck since the new character was unveiled on "The View." "Thor is a chick," Tucker Carlson declared disapprovingly Sept. 21 on "Fox News Sunday." Similar dismay echoed on Twitter:
But "Thor" writer Jason Aaron says the new thunder goddess, who makes her debut in "Thor" No. 1 this Wednesday, Oct. 1, is not about political correctness. "I don't write any sort of story with any sort of agenda," Aaron told TODAY.com. "It's not a good way to tell a story. That said, I've never shied away from feminism. It's not a dirty word in my house."
"I believe that the only agenda Marvel has is to excite their fans and sell more comics," said Gerry Gladston, co-owner of Midtown Comics, the largest comics retailer in New York City. "The charge of political correctness run amok sounds like pure fantasy on the part of commentators."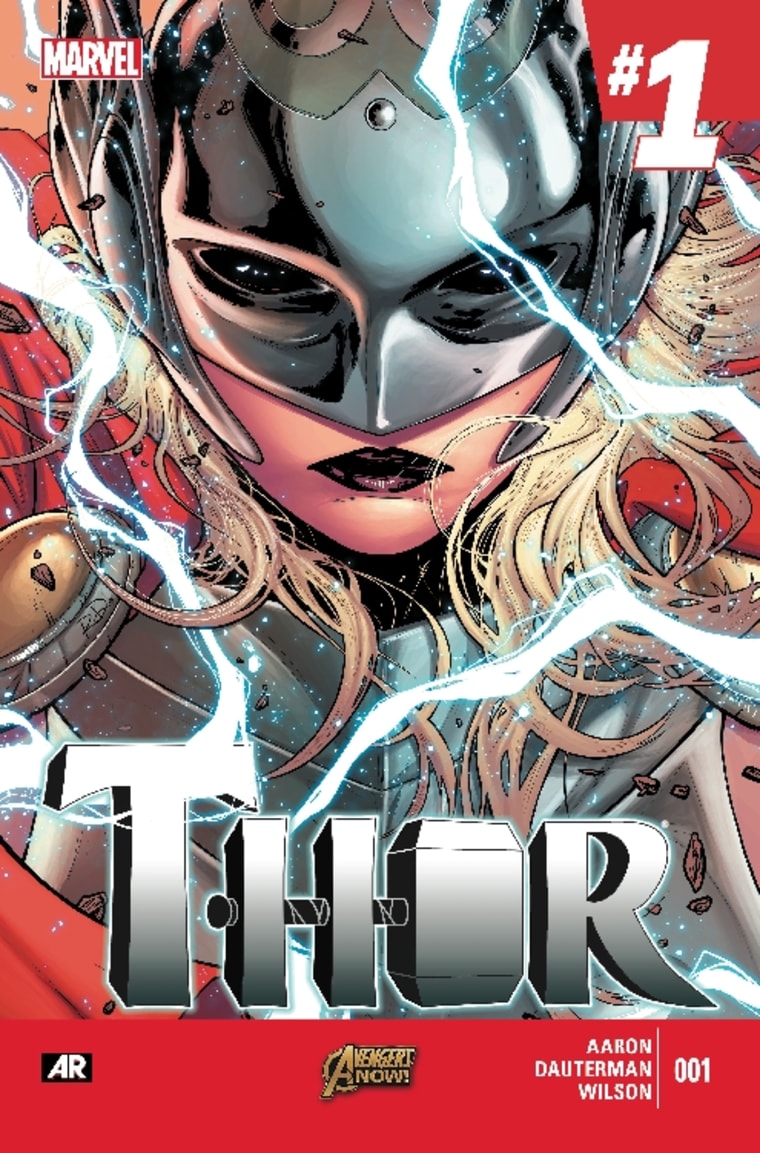 In the stories Aaron has written over the past two years in "Thor: God of Thunder," a preceding series, Thor's father, Odin, has been AWOL from Asgard, home of the Norse gods, leaving his wife, Freyja, in charge. "Most of Thor's supporting cast is female now," Aaron said. In fact, Asgard itself has been renamed Asgardia.
Those developments in the fantasy world of Thor reflect real-life demographic shifts in the traditionally male-dominated comics business. Brett Schenker, who blogs about politics, technology and comics, recently reported on comicsbeat.com that 46.7 percent of self-identified comics fans on Facebook — a population that grew in February to a new high of 24 million fans in the U.S. — are female. "Women are an already significant but still growing segment of comic fandom and readership," Schenker told TODAY.com. 
"Female comics fandom has been on the rise for many years now," Gladston agreed. "Nowadays lots of young women read many different types of comics and graphic novels."
"Marvel has recognized this and made a concerted effort to build that segment of their readership," Schenker said. "From every stat I see, they're succeeding."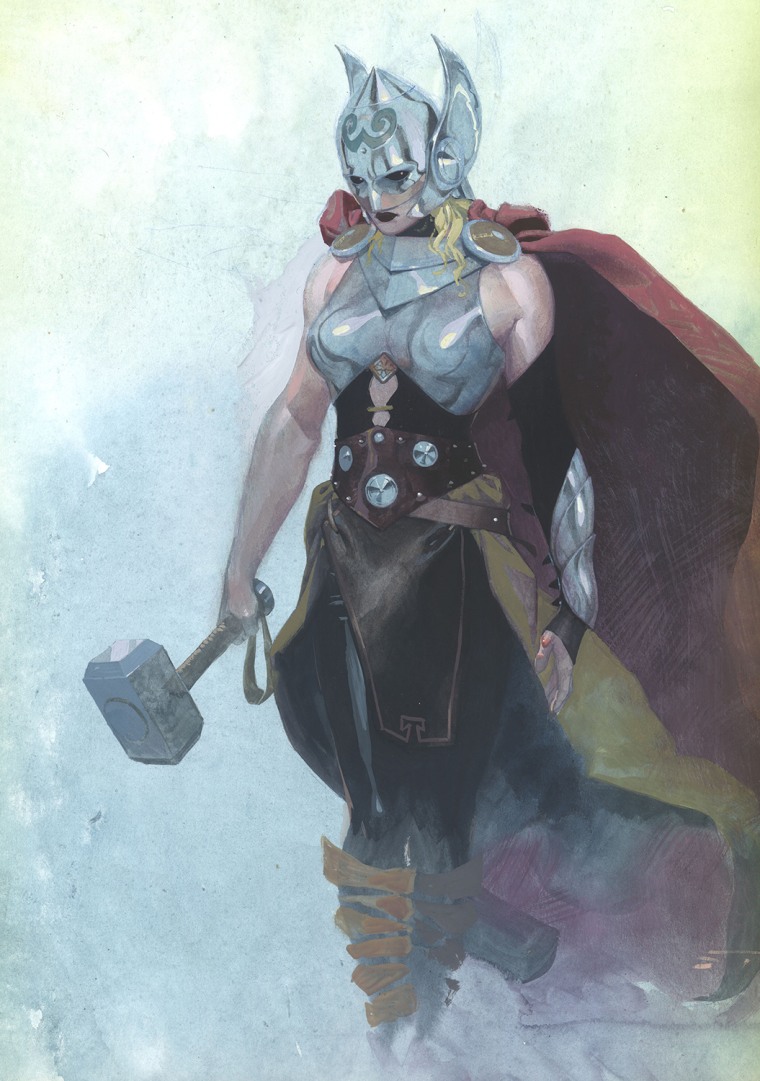 The new Thor series, written by Aaron and drawn by Russell Dauterman, can be seen as part of that effort. "In 'Thor' No. 1 we see the next step in the political story of Asgard," Aaron said. Odin has returned and is ready to take back control of both his kingdom and his son from Freyja, but "she's not ready to step aside." 
Meanwhile, the male Thor finds himself unable to pick up his own enchanted hammer, Mjolnir. "It sets the stage for someone else to pick up the hammer," Aaron said.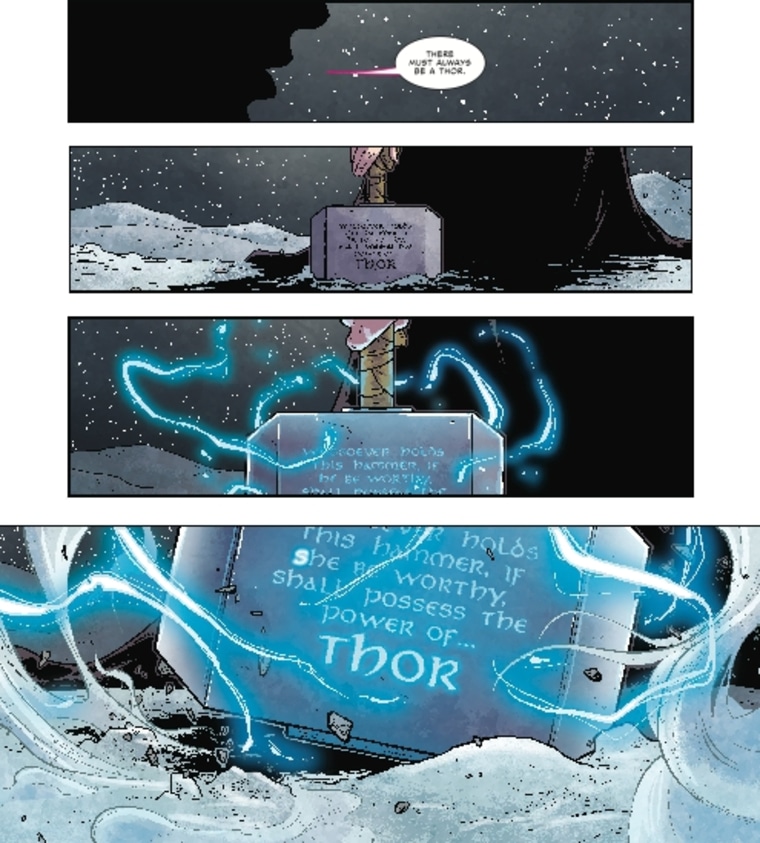 The female Thor will "be able to do things the other guy couldn't do; she'll have a different relationship with Mjolnir," Aaron promised. "I'm not going to say it's gonna start talking, but it will definitely be a presence in the book."
"Fans are very excited to meet the new goddess of thunder in 'Thor' No. 1, and the new Cap in 'Captain America' No. 25, and advance orders are very high for both titles," Gladston said. "We expect to have a very big day on October 1."
Here is a sneak preview of "Thor" No. 1: