It's arguably TV's most memorable soaked-shirt scene for literature lovers, and now, it's been immortalized in all its dreamy damp glory in a London lake.
A 12-foot statue of Mr. Darcy, one of Jane Austen's best-known romantic heroes, was unveiled Monday in Hyde Park's Serpentine lake.
The fiberglass sculpture shows Darcy emerging from the water, his white long-sleeved shirt drenched. The image pays homage to a pivotal scene from a 1995 television adaptation of Austen's "Pride and Prejudice" that featured Colin Firth as the dashing Darcy.
The figure – which stands as tall as a double-decker bus – took a team of three sculptors more than two months to construct, said Adrian Wills, general manager of UKTV's new channel, Drama, which commissioned the sculpture to mark its launch.
The channel surveyed 2,000 television viewers on the most memorable dramatic scene in a British drama, and "the most iconic moment was Mr. Darcy's emergence from the lake and his meeting with Ms. Bennett," Wills said in press materials released about the project.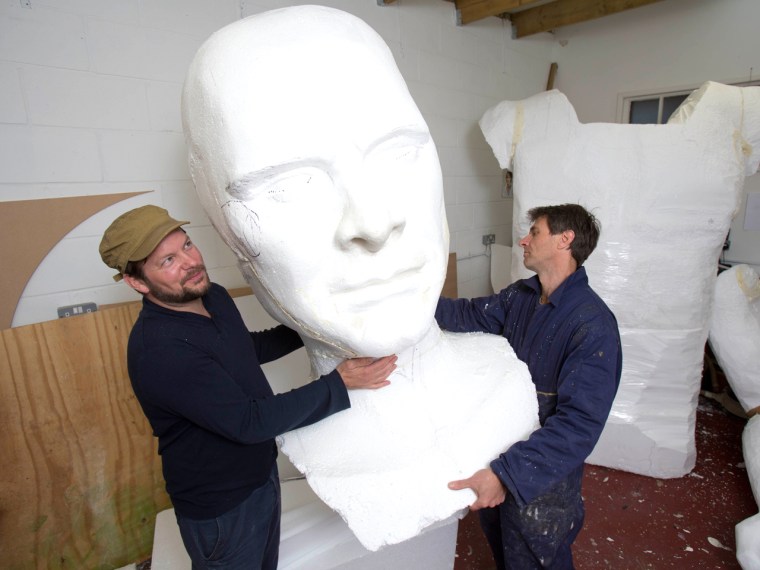 That confrontational scene helped turn Firth into a star, who now counts among his famous fans Helen Fielding, the author who based one of her key "Bridget Jones" characters on Mr. Darcy. Firth later played that role in the film versions of Fielding's books.
Lead sculptor Toby Crowther said that while Firth was used as "a starting point for creating Mr. Darcy," artists also read the Austen book and looked at other portrayals of the character, including Laurence Olivier's performance.
"The challenge for us was capturing the spirit of Darcy as handsome and noble but also aloof and proud," he said.
The massive installation has amused the swimmers and boat peddlers who use Serpentine lake, Wills said. Runners have even been seen diverting their regular path to take a closer look.
"Even the swans have been a bit curious," he said.
The Mr. Darcy statue will only remain in Hyde Park for a week. It then heads to Scarborough beach for several days before finally resting at Lyme Park until February 2014.