Comedic television legend Tim Conway ruminates on his life and career in "What's So Funny? My Hilarious Life," touching on his eleven years on "The Carol Burnett Show" to "Dorf on Golf" and beyond. Here's an excerpt.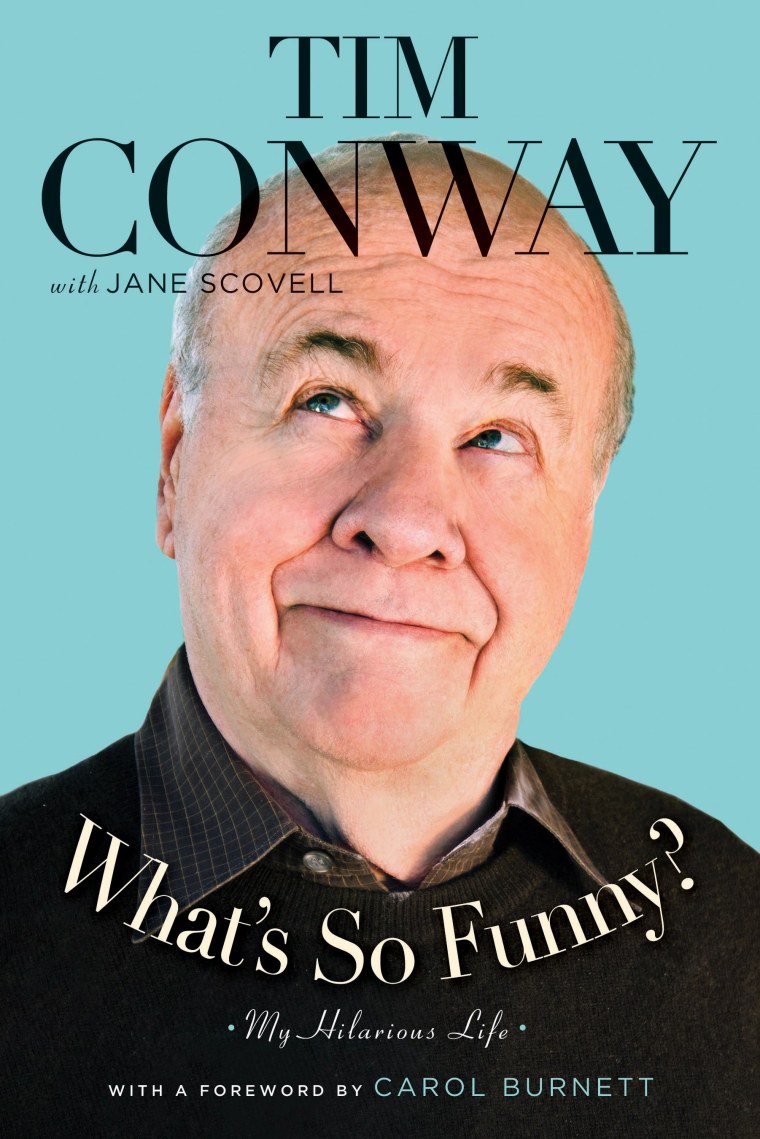 It all began in 1962 when Joe Hamilton, a producer on The Garry Moore Show and Carol's future husband, requested me as a guest. At that first meeting, Carol was a delightful, kind, brilliant comedian, and nothing's changed. Even though we didn't actually appear together, she took a shine to me, and filed "short, funny man" somewhere in the back of her head. Then when The Carol Burnett Show began broadcasting from CBS in Hollywood in September of 1967, she remembered that short, funny man. She also knew that I had relocated to Los Angeles and also knew about my work on McHale's Navy.
Since my honorable discharge from the Navy, I had won the Tour de France and the Nobel Peace Prize and was kicking around the variety show circuit when, out of the blue, Carol and Joe called.
"Why don't you come over to our show on Stage 33," she said. "You can try it on and see if it fits."
So I dropped into Television City and tried on the show. It was a 34 short, a perfect fit, and I was booked for a guest appearance. At the same time, Carol asked me if I knew a guy named Harvey Korman. I told her that I'd never met him but that I'd seen him many times on The Danny Kaye Show.
"Well, I'd like you to meet him," Carol said, "because you're going to be doing a sketch with him. I have a feeling that you two might work well together. Let's go see him."
We hopped on an elevator and went down to the subbasement. Carol led me into the furnace room, and there, handcuffed to a water pipe, was Harvey Korman.
"Don't get too close to him," she cautioned, "he can be dangerous."
Despite Carol's warning, Harvey was as nice as pie and even offered me some moldy apple crumble from a tin plate that was on the floor next to him. I took a bite, and we chatted about comedy and the interwoven dialectics of what we thought was funny. I thought it was funny to put on a white wig and pretend to be an addled old man. He thought it was funny to dress up as a meddling old Jewish woman. We were made for each other.
I did my first sketch with Carol and Harvey that week and immediately was asked back as a guest star. And that's how it went for seven years until they broke down and asked me to be a regular. By then they were doing twenty-three shows a year.
"Well I don't know," I said playing it cool. "I don't want to be a regular because that doesn't leave me open to do other things. I tell you what, I'll do twenty-two shows and be a guest on the twenty-third."
I still haven't figured out their thinking. It must have had something to do with paying me health benefits. Why didn't they make me a regular from the beginning? I mean I did everything they asked of me—well, almost everything. I balked when they wanted me to sing in one of the big musical numbers Carol loved to do. You've heard of a tin ear? I have no ear. I said I couldn't sing. They wouldn't believe me. I was brought over to a rehearsal piano, and Peter Matz, the musical director, sat down at the keyboard.
"Look, Tim," Pete said, "let's make it easy. You know 'Row, Row, Row Your Boat,' don't you?"
"No, no, no I don't," I protested.
Pete wouldn't take no, no, no for an answer. He started playing and I started (trying) to sing. It was torture . . . for everybody. At last, Pete took his hands off the keys and looked over at me.
"You really don't know it, do you?"
"No, I don't. I can't sing."
Pete stood up, closed the lid over the keyboard, shook his head, and walked off.
So don't look for me singing in any musical numbers in Carol's show. I only agreed to try it because I would do anything for her.
From the beginning, I realized that there was something special about this Burnett girl. When Harvey and I ran through our routines for that week's show, those watching would laugh, and that included Carol. Let me tell you, most stars would have been surveying the scenes to see how they could appropriate the big laughs for themselves. Carol, the PhD graduate of the Garry Moore University of Good Clean Fun, never did that. Like her mentor Moore, she always put the show and the other performers first. In the eleven years I was with her, I never heard a guest express any dissatisfaction with the way they were treated. That's a record.
The routine for doing The Carol Burnett Show was pretty simple. We had a sit-down reading on Monday, we'd rehearse on Tuesday, we'd learn the lines, and on Wednesday we had a run-through for the network and the staff. Thursday was for blocking, so we couldn't do much rehearsing, and Friday night was the show. When you think of it, the whole thing was so quick. We had cue cards but we didn't use them in the sketches. Actually, I was on the show for years before I realized that the cards they held up were the script. Even though the show was filmed, Carol wanted it to have the feeling of a live performance. That's why viewers saw so many instances of the cast breaking up on camera. I know that there are viewers out there who still believe that many of those moments weren't really spontaneous. I assure you they were never staged. What I'd sometimes do was go to the director and ask him to keep the camera rolling even if I departed from the script. My pals never knew what hit them. We had a real audience, two of them, since the show was taped twice, and I had the freedom to do what came naturally. I never got the feeling that I was overstepping my bounds when I took advantage of situations that were ripe for improvising. I give you my word, I could not, and would not have done it, if Carol and Joe hadn't let me.
By the way, Carol is no slouch when it comes to ad‑libbing, either. She's quick, really quick. When we get together and talk about those days, certain moments in the show always resurface. We've given most of them code names. All you have to say is "The Curtain Rod," "The Dentist," "Nora Desmond," "The Elephant," or "The Horse" and everyone knows exactly what sketch we're talking about. "The Horse" provides the perfect example of Carol's ability to take charge of any situation, no matter how off-the-wall. The sketch was a take-off on the old-fashioned Judy Garland and Mickey Rooney musicals that were set into motion by the immortal line, "I know a barn where we can put on a musical." In the sketch, Carol was singing a song in front of the barn while outside a real horse stood behind the fence. As Carol warbled, the horse felt the call of nature and answered it. When a horse makes a decision like that, it doesn't go unnoticed; he began to pee, big time.
The wrangler in charge of the gallant steed rushed out and put a pail underneath him. Meanwhile, unaware of what was happening behind her, Carol kept singing as the horse kept peeing. She wondered why the audience was laughing hysterically and glanced over her shoulder to see what was going on. She saw the horse (still going), the pail, and the wrangler. Carol sized up the situation and, instantly, worked out everything in her head. After the audience calmed down, she turned to the wrangler and asked, "Is he through?"
The wrangler nodded. Carol then turned to Peter Matz and said, "Okay, Pete, let's start again. Do you want to take it from Number One or Number Two."
I'm sure I don't have to tell you how the audience responded, that is, how every single person in that studio, from the control booth, to the stage, to the audience, erupted. You could have passed the pail around the entire room. You have to be a special performer to top an impromptu animal act like that, and that's exactly what Carol was, and did.
Reprinted by arrangement with Howard Books, a division of Simon & Schuster, Inc.. Copyright © Tim Conway, 2013.