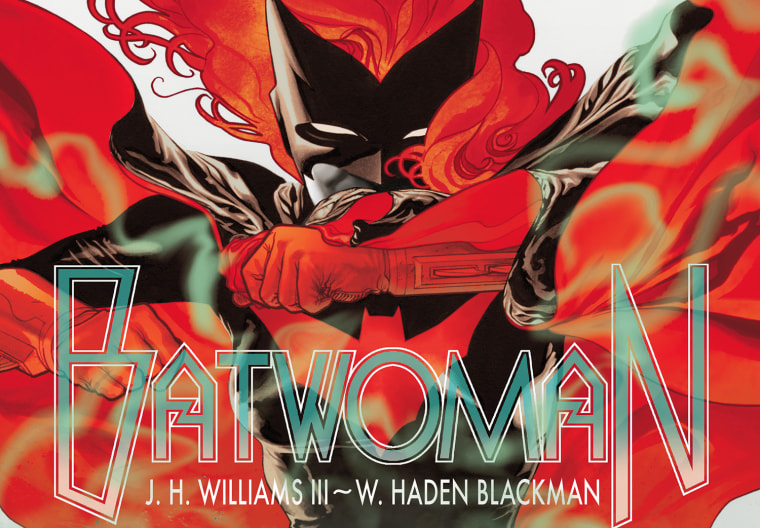 The creative team on DC Comics' "Batwoman," a comic book starring a lesbian crimefighter, have quit the title, citing editorial decisions by DC that they say "compromise the character and the series" — including the scuttling of a planned wedding between Batwoman and her policewoman girlfriend. But while acknowledging editorial differences with the creators of the GLAAD award-winning comic, DC maintains that they are not related to the character's sexuality.
Writer W. Haden Blackman and artist and co-writer JH Williams III wrote in a blog post that they'll leave the comic after issue 26, the Hollywood Reporter said. Since the comic launched in September 2011, the pair had chronicled the adventures of a lesbian of Jewish descent who, inspired by Batman, finds super criminals as the masked vigilante Batwoman. Meanwhile, in her civilian identity as Kate Kane, she conducts a romance with police detective Maggie Sawyer.
In issue 17, Batwoman popped the question to Sawyer, the first lesbian wedding proposal in a mainstream comic. But in a tweet to a ComicsAlliance.com editor this week, Williams said, "We fought to get them engaged, but were told emphatically no marriage can result."
In their blog post, Blackman and Williams wrote, "In recent months DC has asked us to alter or completely discard many long-standing storylines in ways that we feel compromise the character and the series." Among the "eleventh-hour" directives they said left them "frustrated and angry," the creative team said that they were "most crushingly, prohibited from ever showing Kate and Maggie actually getting married."
The creators also declared, "We're both heartbroken over leaving."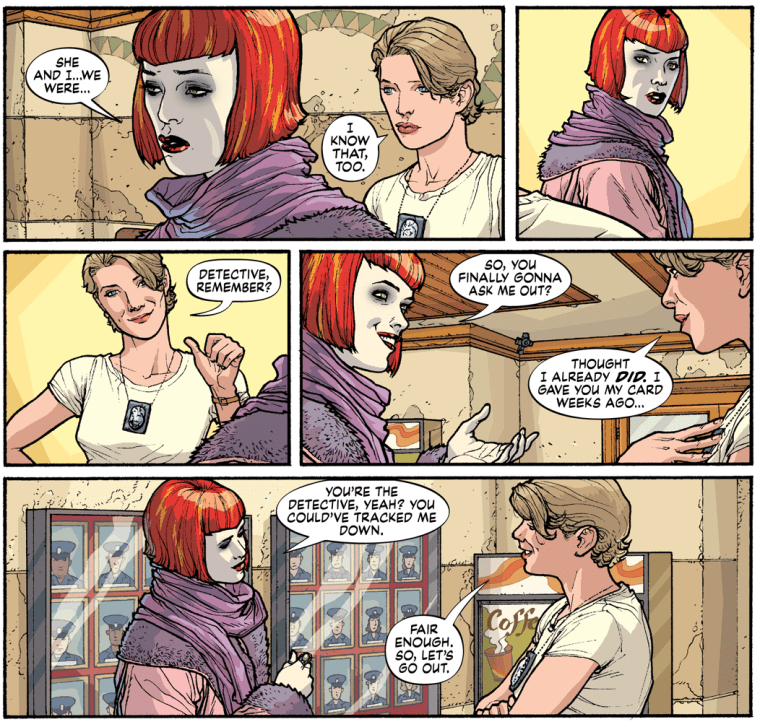 In a statement of response, a DC Entertainment spokesperson said: "As acknowledged by the creators involved, the editorial differences with the writers of BATWOMAN had nothing to do with the sexual orientation of the character."
When the Batwoman comic debuted two years ago, DC Comics touted the character as "the first LGBT character to star in an eponymous series published by either of America's Big Two comic book publishers." At the time, Blackman told TODAY.com that he and Williams felt "a lot of responsibility to show her in meaningful adult relationships."

"Her being a gay character is not the number one formative aspect; it's only one aspect" of Batwoman, Williams told TODAY.com at the time.
"One of my aunts is a redheaded lesbian; she's been in a committed relationship for 18 years," Blackman said during the same TODAY.com interview. He said that "seeing how she lives her life has helped" him write the Batwoman character.
In March 2012, the Batwoman comic won the GLAAD Media Award for Outstanding Comic Book — one of a number of instances of gay comics characters capturing the media spotlight over the past couple of years. For example, Archie Comics launched a series starring a gay Riverdale High student named Kevin Keller; superhero Northstar married his boyfriend in a 2012 issue of Marvel Comics' "Astonishing X-Men," and last summer, DC relaunched the original incarnation of Green Lantern as a gay man.
But gay marriage has also been something of a lightning rod for DC. In February, LGBT-advocacy group Allout.org launched an online petition protesting the news that Orson Scott Card, a prominent science-fiction writer and outspoken opponent of same-sex marriage, was among writers participating in a digital anthology comic starring Superman. Subsequently the artist announced as writing Card's story withdrew from the project.