Texas has never seen a storm like Hurricane Harvey before. It's buried Houston and its environs, and part of Louisiana, under water. More rain is coming in the next few days — as much as 50 inches are expected to fall on some parts of the area.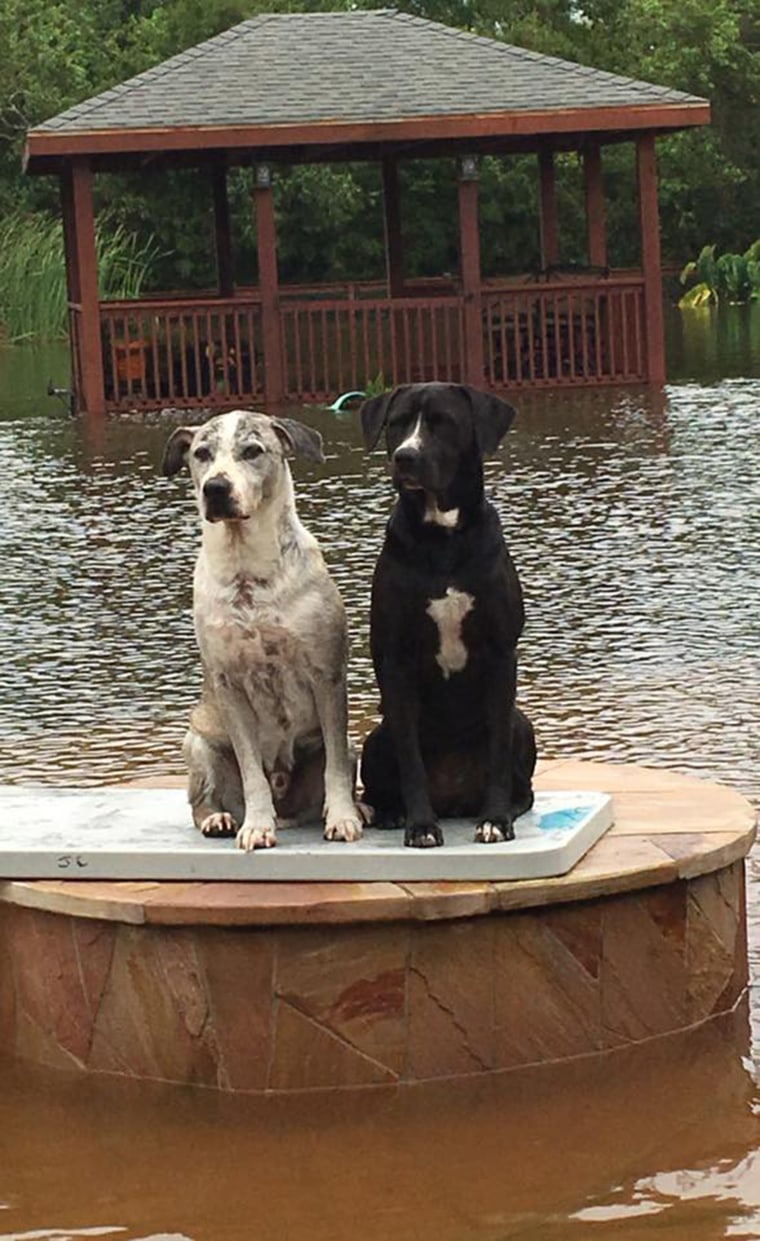 This is a near-impossible number to get your mind around, and photos and videos from the affected areas are utterly heartbreaking.
Even while dealing with this natural disaster, folks throughout the state and beyond are doing their best to make sure the animals affected by this hurricane aren't left to fend for themselves. It's heroic, selfless work and they can't do it alone.
Here are some ways you can help:
1. Support local shelters.
Staff at animal shelters in the affected areas are working around the clock to keep their animals safe. These include BARC in Houston, the Harris County Animal Shelter and the SPCA of Brazoria County, which is about an hour south of Houston and also experiencing what's being described as "catastrophic" flooding.
The SPCA of Brazoria County, in addition to caring for its usual number of pets, also has a temporary shelter at the local fairgrounds. There, they've got an additional 150 dogs and puppies, 20 cats, 22 pot-bellied pigs, 10 regular pigs and 25 goats, as well as chickens and horses. They're anticipating the figure will increase significantly in the coming days as the flooding continues, and then again by even more when the waters recede.
"This is going to be a long-haul operation," executive director Stacey Allen Suazo told TODAY.
You can help by donating, or making purchases from the shelters' Amazon wish lists. Here, for example, is the Harris County shelter's wish list.
(Of course, given the vast expanse of Texas and Louisiana that is flooding, this list of shelters is by no means comprehensive. There are many, many others in the area also needing help.)
2. Assist local rescue groups.
Even before the storm, local animal rescue groups struggled to care for the city's mammoth homeless pet population. Many of these groups' resources are even more stretched now. They began taking in extra animals before the hurricane began, when these creatures were at risk of being left behind in unsafe conditions, like water-filled homes, chained up or out on the streets.
"We knew we had to get them before the deluge because otherwise we would not be able to make it out there again," said Anna Barbosa of Houston K911 Rescue.
Houston K911 Rescue is just one of the many area groups that will now rely on donations to be able to continue saving animals. Others include Warriors Educate About Rescue, S.A.V.E Rescue Coalition, the Rescued Pets Movement and the Forgotten Dogs of the 5th Ward Project. The nonprofit Houston PetSet has set up a Hurricane Harvey Disaster Relief Fund, through which money will be distributed to support local animal welfare efforts.
3. Help animals that evacuated with their families.
Thanks to lessons from Hurricane Katrina and a federal law passed in its wake, more emergency shelters now welcome pets to stay with their families.
It's estimated there are a few hundred pets now residing at the George R. Brown Convention Center in Houston, which has been turned into a temporary shelter. Initially at least some pets were turned away, causing families to wait outside in the rain with their animals, but as of Sunday night that policy had changed. (A local mattress chain is welcoming families with pets to shelter in its stores, as well.)
Many families have arrived at these shelters not knowing how long they'll be there, and without being able to bring enough supplies. So volunteers are helping make sure their dogs, cats and other companion animals have what they need for as long as they need it.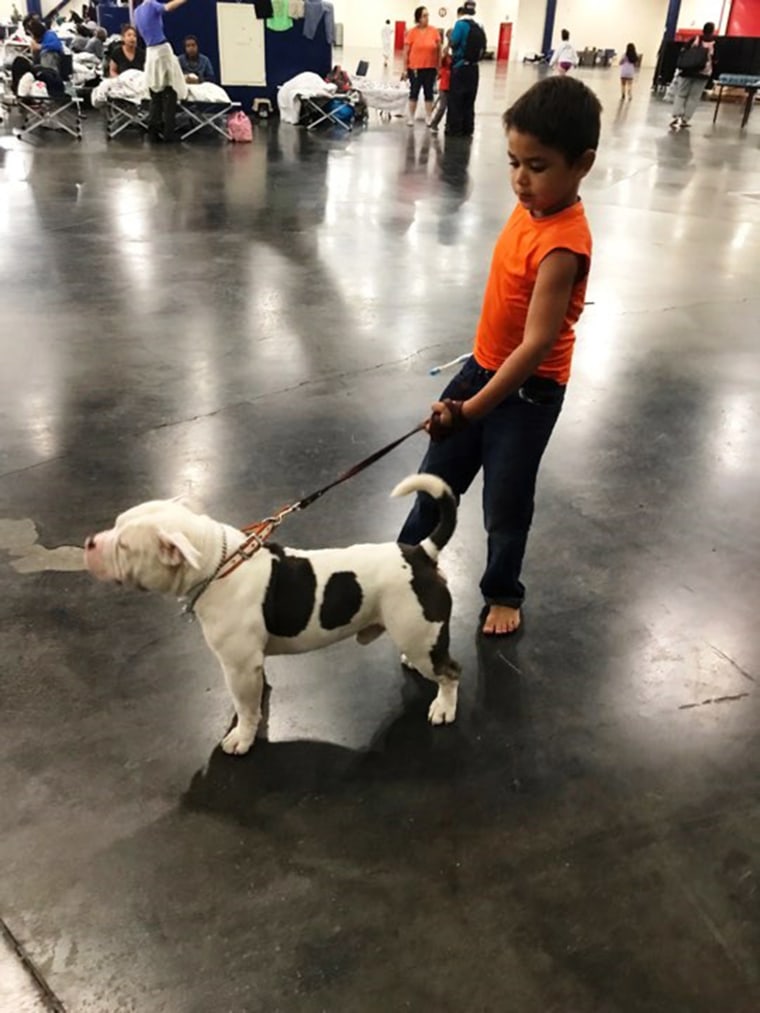 On Monday, Laura Carlock, co-founder of the Rescued Pets Movement, dropped off 75 dog crates, 40 bags of dog food, kitty litter, cat food and more. "They needed leashes, so we brought a couple hundred leashes," she told TODAY. "No one is being asked to leave animals behind."
BARC and Friends for Life are also bringing supplies to Houston shelters. The SPCA of Texas is assisting at a mega-shelter in Dallas that will be home to some 5,000 evacuees from the Gulf coast. Donations will help them do even more.
4. Get animals to safety.
A number of animal shelters and rescue groups from outside of the area are taking in animals whose lives might otherwise be at risk. Others are helping them get there.
Austin Pets Alive! now has some 400 hurricane-affected animals. One hundred and twenty-three cats from The Cattery cat shelter in Corpus Christi came to the SPCA of Texas before the storm. The City of San Antonio Animal Care Services, the San Antonio Humane Society and San Antonio Pets Alive are opening their doors to many evacuee animals, and are expecting more as families are able to leave flooded areas.
Many shelters and rescue groups farther afield are also pitching in — among them the Atlanta Humane Society, which brought 30 cats and dogs from a flooded Louisiana shelter up north.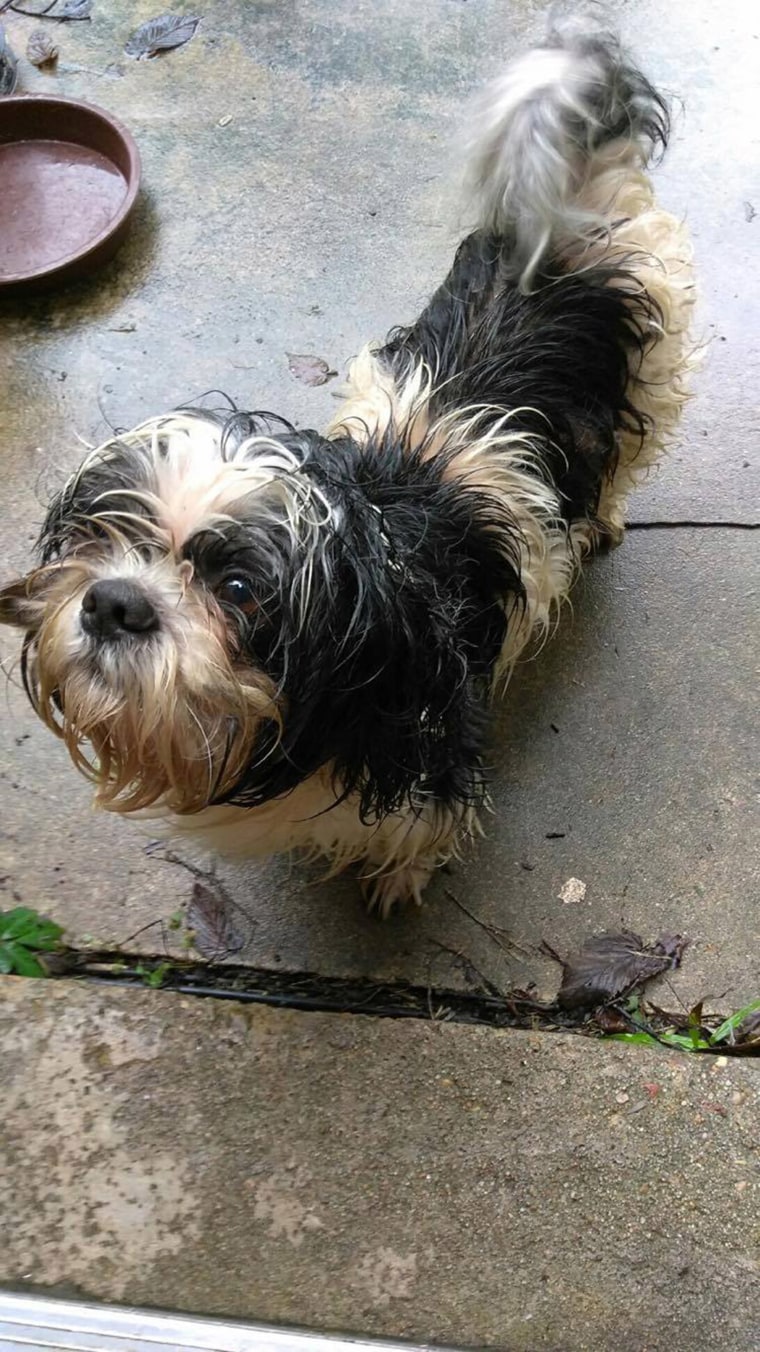 As for how the animals get to their new destinations, it's everything from individual rescuers using their own cars and vans; to groups with dedicated resources for transport like Mission Miracle K9 Rescue; to the shelters themselves driving the animals from one place to the next. The Humane Society for the United States is coordinating massive transports, and volunteer pilots from Wings of Rescue are swooping through.
One Houston nonprofit, Day of the Dogs, had its regular transport van flooded and ruined in Harvey. The group is now raising $2,700 to replace it so they can get back to saving the city's animals.
Your help is needed on a number of fronts. First and foremost: donations. Next, now is a great time to adopt a pet, or to become a foster — this frees up space in shelters and rescue groups, which leaves more capacity for bringing in pets from these storm-ravaged places. (Note that the pets being moved out of the area are generally those who were in the shelter before the storm, and were already up for adoption; these aren't pets separated from their owners due to the hurricane.)
And if you are affiliated with a shelter or rescue group yourself and have room for Harvey pets, or if you are able to help move animals from place to place, reach out to the shelters and rescues now trying their best to keep as many of these animals as safe as they can. Let them know what you can do.
5. Support big national groups that are providing key assistance.
The Humane Society of the United States, the ASPCA, Petco Foundation, RedRover and Best Friends Animal Society are all working in Texas and Louisiana's affected areas.
Petco Foundation is currently giving out emergency grants and necessary supplies. After the storm the nonprofit will give out resources to help affected animal welfare groups recover. It's too soon to give a dollar amount for this storm; they gave out more than half a million dollars to help with recovery after last year's Louisiana floods.
Teams of HSUS and ASPCA rescuers are on the ground getting animals out of the actual floods, among other things. Best Friends also has an emergency response team, and has sent down animal sheltering, handling and transport experts in addition to giving out disaster relief funds. Volunteers with RedRover are coordinating efforts with the SPCA of Texas to provide temporary shelter to animal evacuees.
As for how you can help, you might be sensing a theme: Donations are needed. Best Friends Animal Society is currently operating at the Pet Reunion Pavilion at NRG Arena in Houston. People can visit Best Friends' Amazon.com wish list and donate today to help the organization continue to care for animals still looking for forever homes.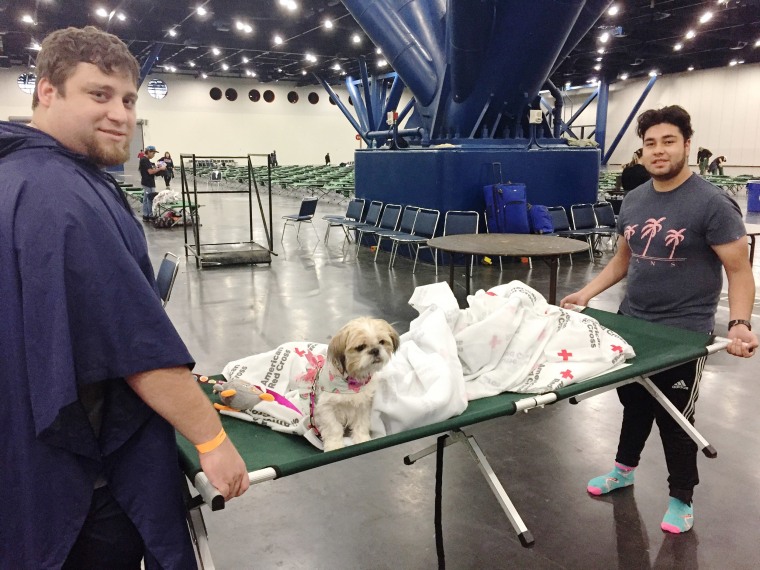 6. Keep your own pets safe.
Harvey was so much worse than anyone expected that it seems nearly inevitable that some pets would wind up in harm's way. Even with the incredible efforts to save as many of these animals as possible, there is no doubt that when the flooding subsides there will be some real horrors revealed.
To give your own pets the best chances of staying safe in the event of a natural disaster — for their sake, your sake and so others' lives aren't put at risk trying to save them — Tim Rickey, the ASPCA's vice president of field investigations and response, recommends following some guidelines:
Do everything in your power to take your pets with you if you evacuate. Make sure your pets have on collars with up-to-date tags, and that their microchip information is also current.
Have a pet emergency kit on hand, with water, bowls, food and medication. Arrange with a friend, relative or neighbor to be your pets' designated caregiver if you're not able to do it yourself.
If the worst comes to pass and you can't bring your pets, be sure there is a rescue alert sticker on your window so emergency responders know animals are inside. Let your local emergency management office know your pets need rescue.
And "never tether your pet to a pole or tree, which prevents your pet from escaping high waters and getting to a safe area until they can be rescued," Rickey said.
Should you and your pets become separated, there are a number of online resources that can help reconnect you — city-specific lost and found pet Facebook pages, for example. Check with your local animal shelters; go in person if you can.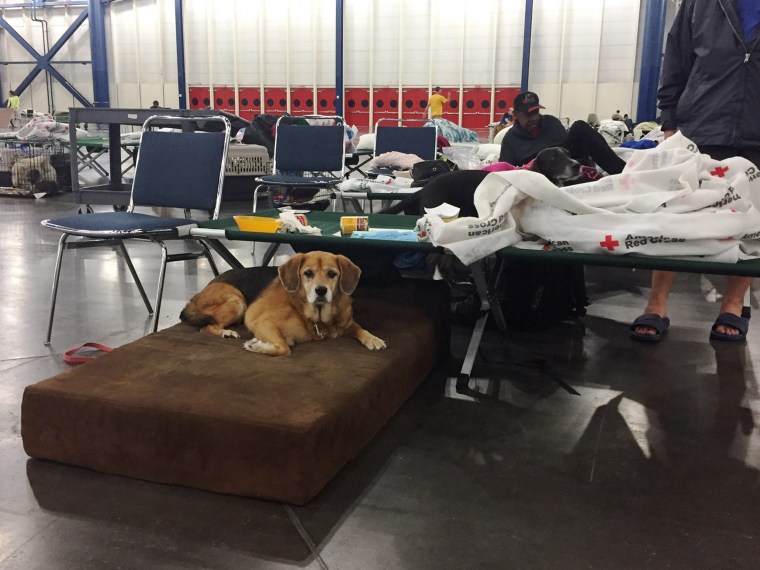 These shelters will probably have been caring for your community's lost, stray and abandoned pets through the worst of the dangers. They, like you, will want nothing more than for your animals and you to be able to go back home together.